Glasgow Short Film Festival: Meet some of the local filmmakers
The occasion of the eleventh Glasgow Short Film Festival gives audiences a chance to check out the fantastic shorts being made on the local scene. We speak to five of the best young Scottish and Scotland-based filmmakers with work in this year's programme
There are many reasons to recommend attending Glasgow Short Film Festival, from its flawlessly curated Bill Douglas competition for international shorts to its kick-arse parties, retrospectives and special short film programmes. One of the festival's most vital roles, however, is its support and nurturing of local filmmakers through its dedication to showcasing the most interesting shorts made here in Scotland.
You'd expect the quality of work in the Scottish Competition to be variable, given the relatively small pool of films GSFF have to choose from, but every year the festival's programmers unearth a clutch of films displaying innovative form and storytelling. This year's crop of Scottish shorts is particularly promising, featuring talented young filmmakers pushing at the boundaries of narrative filmmaking and in many cases breaking down these boundaries completely.
With The Welfare of Tomás Ó Hallissy, artist Duncan Campbell takes a sledgehammer to the anthropological documentary, reshaping the genre with this witty, questioning mockumentary. The Turner-prize winner's stock-in-trade is to blend archival footage with his own images, and he does so here with particular relish as he imagines the ethical dilemma facing two American filmmakers who have travelled to a small village in the west of Ireland to study its inhabitants and their dying way of life.
You'll find a similar questioning in Taking Stock, Duncan Cowles' hilarious examination of his own practice as a documentary filmmaker – although Cowles' concerns are financial rather than ethical. The film takes the form of stock footage the filmmaker has shot over the last few years, which he hopes to flog online. In mumbling voiceover, Cowles bitterly laments his lack of commercial success and the phoniness of his images. It's sure to prove a bittersweet viewing experience for any freelance filmmaker trying to make ends meet in this gig economy.
Another expressive approach to documentary can be found in Plastic Man, which sees an average Joe turn superhero (or is he a supervillain) as he takes to the Scottish outdoors to set fires. Filmmaker Yulia Kovanova seems less interested in Plastic Man's motivations – "Am I destroying the environment or celebrating its resilience?" he muses in voiceover – than the aesthetic possibilities of eccentric behaviour. As he takes to the Scottish wilderness, Kovanova finds innovative new angles to frame her protagonist, making him look like an astronaut exploring a strange new planet.
An artist who always breaks the mould is Bryan M Ferguson. He has a pair of shorts playing at GSFF this year, and they're as wonderfully deviant and visually sumptuous as we've come to expect from the Glasgow-based filmmaker. The more comic of the two is Blockhead, a skew-whiff noir involving a traveller with an erotic fixation on hotel ice machines and the pain their output causes to his bleeding gums and fractured tooth enamel. Umbilical Glue, meanwhile, is the kind of candy-coloured fetish movie that would send David Cronenberg – who gets a namecheck in the film – weak at the knees.
More genteel but no less pleasing on the eye is Salt & Sauce, Alia Ghafar's vivid portrait of a young woman stuck in post-high school limbo. She passes the time by taking photographs while working in her family's chip shop, hoping life has more in store for her than serving up fried foods.
The eclecticism of the Scottish shorts at GSFF extends to period film 1745, a bonnets and bodices chase movie across the wilds of Scotland following two young black slaves on the run from their lascivious master. There's also lo-fi sci-fi in Helen Wright's lively genre piece Joey, which centres on a young lesbian who's having a tough time on the unforgiving gay dating scene when she discovers a kindling of latent telekinetic powers within her – abilities that come in handy when she's messed around by a more experienced woman on whom she has a major crush.
An outsider is also the subject of Peter Marsden's poetic Not Required Back, an impressionistic study of a young man who's in a deep malaise following redundancies in Scotland's oil industry. Young Fathers' Random White Dudes, meanwhile, is a barnstorming response to the National Portrait Gallery's Looking Good exhibition from last year, and sees the band's Kayus Bankole stripped to the waist and shadowboxing against faces of the white, rich, long-dead men that hang on the gallery's walls.
These directors have emerged from various backgrounds – art, documentary, commercial films, cooperative filmmaking, music – but each displays a keen eye. These aren't short doodles as calling cards for future features, but short films as unique works of cinema in their own right. We speak to some of the above filmmakers ahead of GSFF, which opens on Wednesday 14 March and runs till Sunday 18 March.
Bryan M Ferguson – Blockhead & Umbilical Glue
Bryan M Ferguson is a self-taught stylist who grew up glued to Kubrick and Hitchcock. In his teens, the French New Wave and other film movements crept into his peripheral vision. You can spot one of Ferguson's films a mile off thanks to his expressive use of colour – acid yellows, electric blues and neon pinks are his preferred palate. His protagonists often fall into cults, have singular sexual kinks and enjoy unconventional pursuits like erotic amputation. Ferguson describes his style as "somewhere lodged between candy-coloured nihilism and 'anti-genre'".
His films are self-funded. "I've never had much support," says Ferguson, "so I got into filmmaking on my own by just experimenting with different cameras from age 11." Despite the lack of institutional assistance, the Glasgow-based filmmaker is prolific. "I like to keep pushing myself. Thankfully in recent years this has started to pay off since my work is now recognised – even if it leaves a lot of people scratching their heads."
Ferguson has a pair of films screening at GSFF: Blockhead and Umbilical Glue. Rather than playing in competition, both have pride of place in GSFF's brace of Round Midnight programmes, the late night screenings for the more extreme shorts.
Blockhead, which concerns a young man's erotic fixation with ice machines, was inspired by Ferguson's love of motels. "I don't know about everyone else but I really love the utility and vending areas of American motels," he says. "I find the ice machine quite soothing. It's devoid of any complexities, it's simply there to serve you little cuboid pieces of ice for no money. Objectively I find that really bizarre. So I started to research America's obsession with hotel ice cubes and this lead to a news article about some guy in Florida who was pissing in local ice machines." Look our for Ferguson's cameo as said piss-vandal.
Umbilical Glue, meanwhile, follows a young woman who's fascinated with umbilical cords and her own belly button. "For whatever reason I was aesthetically curious about umbilical cords and that got me thinking about how a belly button is essentially the first scar on a person's body," explains Ferguson. "When researching I discovered all these medical studies on sexual partialism and the lengths some subjects would go to get off by mutilating their navels, and the germ just started to spread from there." It's a navel-gazing short, but not in the metaphorical sense.
Umbilical Glue screens in Round Midnight 1: Sex, 16 Mar, CCA, Glasgow, 11.15pm; Blockhead screens in Round Midnight 2: Violence, 17 Mar, CCA, Glasgow, 11.15pm
Helen Wright – Joey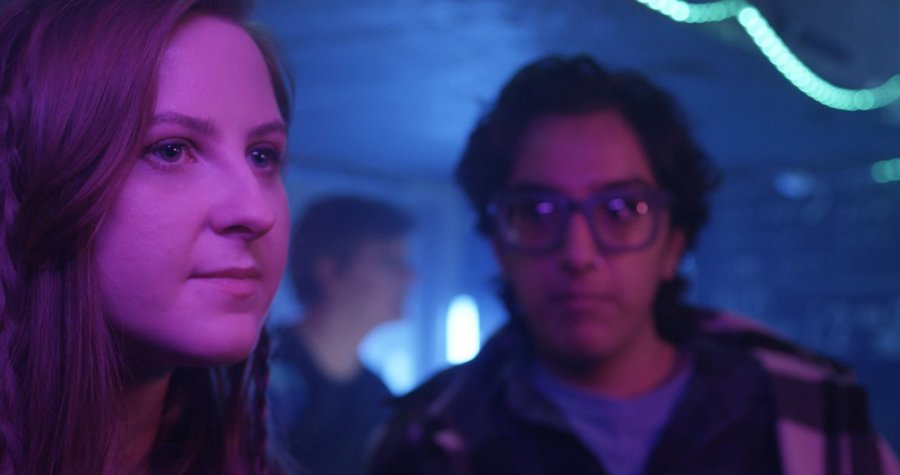 Helen Wright had wanted to get into filmmaking since she was a nipper, but her chance to pick up a camera didn't arise until she got involved with Glasgow queer arts collective Lock Up Your Daughters. "One of the founders of Lock Up Your Daughters was an aspiring cinematographer at the time and let me come on the set of some student films she was working on," says Wright. From there, she started making shorts as part of the collective. "We started getting lots of other queer people involved and teaching ourselves and each other filmmaking essentially. I was then lucky enough to get some rare funding from LGBT History Month Scotland to make my new film, Joey."
The film follows a young woman who spends her day in a soul-destroying call centre job and avoiding the sleazy male gaze of her coworker. A new lesbian dating app gives her a new lease of life, and it also seems to stir her latent psychic abilities. "There was an obvious influence of Carrie and for the visuals we looked at things like Sense8 and Sebastian Schipper's film Victoria," explains Wright. "I tried to bring in my real experiences of being queer and navigating personal relationships as well."
The films Wright has made with the Lock Up Your Daughters collective are pleasantly lo-fi and rough around the edges. Joey is a more polished affair, however. "I need to give a shout to my director of photography Caroline Bridges and editor Viltė Vaitkutė, who are responsible for the film looking slick and pretty and brought their own creativity and influences to that."
Wright says she likes to toy with Hollywood genre tropes in her films too, playing with them and injecting them with queerness. "I am a big fan of filmmakers who I would say also do this such as Cheryl Dunye, Jamie Babbit, Pedro Almodóvar and François Ozon... also some filmmakers who I think do this but aren't so explicitly queer and where it's a bit more controversial, like Hitchcock and Paul Verhoeven.
"I appreciate as well DIY and community queer filmmaking, which is often the place where real lesbian and queer women's lives are best portrayed, so I have also tried to include some of this realism within genre storytelling."
Screens in Ladies of the Night, 15 Mar, CCA, 9.30pm
Peter Marsden – Not Required Back
In Marsden's debut fiction film Not Required Back, atmosphere and emotions trump story. "I love films about big human emotions with abstraction and metaphor in the visual world," says Marsden. "The goal is really to describe a human experience in a way that you couldn't do outside of film."
Not Required Back is a dreamy portrait of a oil industry contractor who's been unceremoniously laid off. The striking opening image is of an oil rig tilted at an impossible looking angle, and the rest of the film keeps us similarly off balance.
The subject matter is informed by Marsden's upbringing. "I grew up in the north-east of Scotland, so my world was permeated by the oil industry," he says. "A lot of people were losing their jobs up there and I wanted to make something that reflected the situation. I liked the idea of a relationship as metaphor for the industry and its environment."
Marsden came to cinema in a roundabout way after studying fine art at Edinburgh College of Art [via a stint as The Skinny's production manager]. "After graduation I was teaching photography and with the ability to shoot video with my camera I started making music videos, which is still a big part of what I do." It took a while before he moved on to filmmaking beyond these commercial endeavors. "I always wanted to make film but it never seemed like a viable option," he says. "It's only after years of working in music video that I gave myself permission to make something I had written myself."
Screens in Scottish Competition 1: Take My Hand, 15 Mar, CCA, 6.45pm
Yulia Kovanova – Plastic Man
Like Marsden, Yulia Kovanova's background is in fine art and her preference is towards the abstract. Yet Plastic Man, her first piece made for cinema, sees her take a step towards a slightly more narrative approach. "My style tends to be quite meditative, even slightly hallucinatory, with a dreamlike quality, focusing on smaller details, which might otherwise be overlooked in normal circumstances, and often leaning towards 'darker' places," she tells us.
Kovanova grew up in Siberia, Russia, and many of her influences spring from an observation of the natural world. This is abundantly clear from Plastic Man, an experimental documentary following a father who takes on an alter-ego called 'Plastic Man' and heads into the Scottish wilderness to disrupt nature. "The film explores our sensory relationship with the environment, within the context of global environmental changes," she explains. "I was looking at concepts of embodiment and emplacement, investigating how we relate to our surrounding environment."
Plastic Man is made in collaboration with Scottish-based artist and landscape architect Ross McLean, who plays the part of Plastic Man within the film. "Plastic Man removes himself from the natural environment with a layer of synthetic materials, to explore the sensorial disconnect from the surrounding environment," Kovanova explains, "which mirrors how we are all going through a similar disconnect, to various degrees, in an increasingly human-made world."
Screens in Scottish Competition 3: Foreign to the World, 17 Mar, CCA, 5.15pm
Duncan Cowles – Taking Stock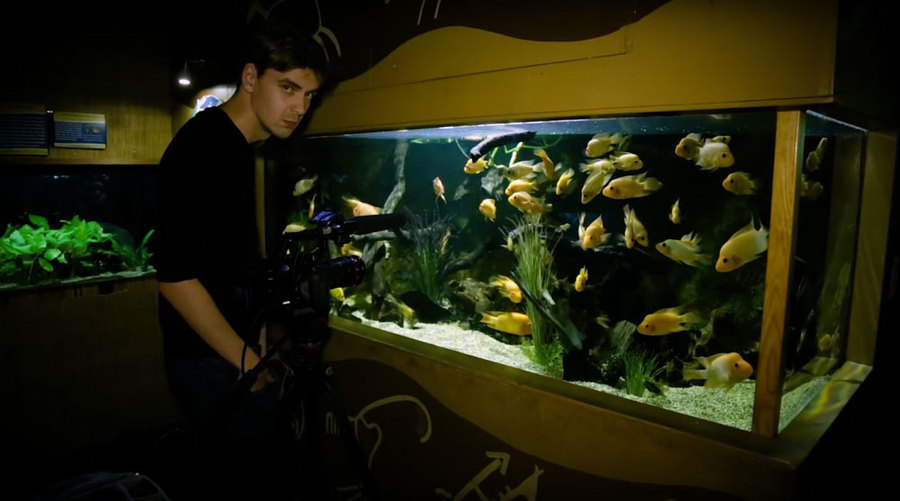 "I suppose I wanted to take a step back and have a laugh at the absurdity of it all," says Duncan Cowles of his hilarious short documentary Taking Stock, which is made up of a montage of cheerful stock footage, over which Cowles narrates his woes at life as a freelance filmmaker. "I was also keen to find a way to make use of all this stock footage I wasn't selling, otherwise it would just be sitting there doing nothing and I'd have felt like all that time spent in the aquarium was even more pointless."
Cowles studied filmmaking at college but has been doodling around with film since his teens. "Even before leaving high school I was making silly little short films with my older brother and my mates to make ourselves laugh." After high school he did a HND in TV Production at Telford College (now known as Edinburgh College). With all the technical skills involved in filmmaking under his belt, he then went on to Edinburgh College of Art where he could develop his own style as a director and interest in documentary.
"It was at Telford College specifically I became more interested in documentary rather than purely fiction filmmaking," he explains, "which had been part of the reason behind going to ECA because of its links with the Scottish Documentary Institute, which I later went on to work for after graduating until going full-blown freelance at the end of 2015."
Cowles' approach tend to be both playful and personal. "Ideally I like my films to entertain," says Cowles, "but also of course be about something that makes people think at the same time." He cites Alan Berliner's documentaries such as Nobody's Business as big influences on him at art college; Nick Broomfield, Louis Theroux, Werner Herzog and a film called Dark Days by Marc Singer all also spring to his mind as inspiration. The Edinburgh-based filmmaker is also fond of deadpan Swedish genius Roy Andersson: "The way he exaggerates really mundane bleak situations into comically beautiful and tragic on-screen scenes has always blown me away."
He tells us that he likes to feel uncomfortable while filming: "I like forcing myself out of my comfort zone by filming awkward or mundane situations, because when filming I feel like I can hide away from them while they're happening in front of me." Cowles' tendency is toward a self-aware documentary style rather than fly-on-the wall, observational pieces. "I've always struggled to ignore the fact that I'm standing in front of someone's face with a big camera and often launching probing questions at them," he says, "which is definitely going to alter the situation I'm filming in, and so it's more honest, I feel, for me to include all that stuff in some of the work I do.
"It's not always appropriate," he adds, "but I like to do it anyway."
Screens in Scottish Competition 3: Foreign to the World, 17 Mar, CCA, 5.15pm
---
Glasgow Short Film Festival takes place 14-18 Mar. For tickets and full programme details, head to glasgowfilm.org/glasgow-short-film-festival