Glasgow Short Film Festival 2020 goes online
Glasgow Short Film Festival present edition 'twelve-and-a-half' of the groundbreaking and always-exciting festival
Like many of our colleagues and friends in Scotland's creative community, The Skinny have been hit hard by the coronavirus pandemic. We're asking for your support to help bring back the magazine after lockdown. Donate to our crowdfunder here – any support you can offer is hugely appreciated!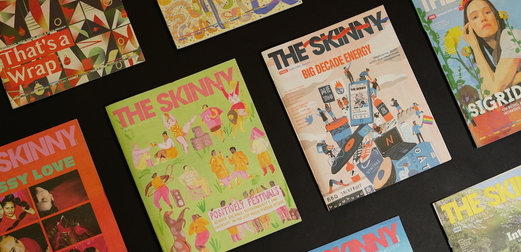 ---
After pulling together the threads of the fantastic DIVE IN festival earlier this month, Glasgow Short Film Festival are at it again. Their planned 2020 edition has been rejigged and repurposed for online, running from 17-23 August. 
GSFF opens with the UK premiere of In the Company of Insects by deadpan documentarian and longtime favourite of The Skinny, Duncan Cowles. A livestream and Q&A with Cowles kicks off the festival on Mon 17 Aug at 7pm, with ...Insects available to stream on-demand for the remainder of the festival.
Black Spatial Imaginaries "explores the fluidity (often not by choice) of Black communities through the concept of Black Geographies." The screening is followed by a live performance from DJ, rapper and producer Nova Scotia The Truth. Urban Palimpsests looks at our relationship with our urban environment, with films asking how we can reimagine the city and reclaim it from the forces of capital and commodification. 
Glasgow Short Film Festival's two competitions – the Bill Douglas Award for International Short Film, and the Scottish Competition for homegrown and Scotland-based filmmakers – make the jump to the online format. Most of the films in the running are paired with director Q&As, and viewers – that's you! – will have the chance to vote for your favourites in each programme to help dish out the audience awards.
In pre-pandemic times, our film editor Jamie put together a retrospective of the last ten years of Scottish short film to run at the festival, and thanks to the magic of The Internet it'll be available to stream throughout GSFF. Best of the Decade is a mixture of documentary, drama and animation from some of the best filmmaking talent Scotland has to offer, and we're thrilled to help celebrate the amazing work that's taken place over the past ten years. 
Other highlights include the incredibly-titled Scared Shortless, a programme of horror shorts featuring work by a host of filmmakers including The Skinny Short Film Award winner Bryan M Ferguson; a celebration of visionary Japanese director Nobuhiko Ôbayashi, with shorts screening with English subtitled for the first time ever in a curation by Matchbox Cineclub; and a showcase of Thai filmmaker Sorayos Prapapan, whose social critiques have won him numerous awards both at home and internationally.
The full Glasgow Short Film Festival 2020 programme can be viewed at glasgowshort.org; registration opens on 10 Aug, with tickets for the full programme available on a sliding pay-what-you-can scale (details here).