Glasgow Film Festival highlights Black Scottish filmmakers
Glasgow Film Festival presents Welcome To: a programme shining a light on Black Scottish filmmaking
Film festivals fulfil many functions. They provide a platform for emerging and established artists to present their new work to audiences. They allow critics to take the temperature on what's happening in cinema around the world. They bring the film industry together to discuss the state of their profession and spark ideas off of one another. But perhaps the most important role of the film festival is as a portal to reappraise film legacies or cast a fresh eye over cinema history.
Glasgow Film Festival will be doing exactly that this month with Welcome To, a strand which will shine a light on the work, both new and old, by Black Scottish filmmakers. Programmed by Tomiwa Folorunso and Natasha Ruwona, we're told the programme will "focus on and attempt to collate the contributions made by Black Scottish filmmakers and bring their work to the forefront."
"Coming into this role, we wanted to celebrate the richness of Black Scottish communities and challenge the belief that they are not/have not been present," said Ruwona and Folorunso, "all the films selected have Black and Scottish connections."
As well as giving a platform to these rarely-screened films, Folorunso and Ruwona have asked several Black creatives to make work in reaction to the themes brought up in Welcome To and/or the films themselves. "It was incredibly important to us to create opportunities and build on the legacy of Black Scottish work," they say.
Perhaps most importantly, Folorunso and Ruwona hope the programme encourages the wider industry to address and reflect on the lack of Black Scottish films being made and open up wider questions about representation and opportunities for BIPOC filmmakers in our film industry. "We see this entire programme, Welcome To, as one part of a bigger invitation to disrupt, that was started before us, and will continue beyond this moment."
The programme is made up of six films, including documentaries, shorts and feature-length fiction work, and split into two main focuses: A Focus on Black Women Filmmakers; and Lineages of the Landscape, which will explore films connected to Scottish history and the Black experience in Scotland.
A Focus on Black Women Filmmakers
The newest title in the Focus on Black Women Filmmakers strand is Adura Onashile's 2020 short Expensive Shit. The film follows a Nigerian toilet attendant working in a Glasgow nightclub, who manipulates the behaviour of unsuspecting women for the titillation of men who are watching behind the toilet's mirrors. The project started life as a play at Edinburgh's Fringe. Speaking to Screen Scotland, Onashile explains the film has transformed quite a bit in its translation from stage to screen. "Maybe it was a little bit like turning a novel into a short story," she suggests. "It has to become less an adaptation and more giving in to the new form and seeing what parts of the story still feel relevant or necessary."
Two pioneering titles from the mid-90s are also in the strand. There's Ngozi Onwurah's 1995 feature Welcome II the Terrordome, a bold and visually striking dystopian sci-fi epic that begins in the Deep South in the 19th Century, then flashes forward to a dystopian Britain of the near future, where Black oppression is still just as rife. Staggeringly, it was the first film directed by a Black British woman to receive a UK cinema release. The film's clear-eyed study of contemporary race relations and police brutality was met with mostly hostile reviews from the British press, but the film's themes were relevant then and they're sadly still urgent today.
Onwurah wasn't surprised that the mostly-white critical establishment turned on the film back in 1995. "I call this my 'angry film'," she told the Guardian last summer. "Debates around race are meant to be measured and always have an entry point for white people; I'm not saying that's wrong. I'm just saying I made it because I wasn't in the mood for tempered debate."
Also screening is Maureen Blackwood's 1992 documentary A Family Called Abrew, which tells the story of the unique showbiz family of the title. Using a rich blend of archive material, the film profiles the Abrew brood and also introduces us to a vibrant Black British community and culture that formed in 19th century Scotland.
Lineages of the Landscape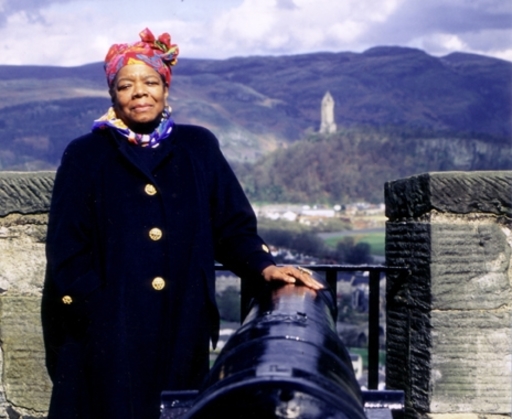 The first films to catch the eye in GFF's Lineages of the Landscape strand are two more works from the mid-90s. Elly M. Taylor's 1996 doc Angelou on Burns follows African-American poet, writer and life-long Robert Burns fan Dr Maya Angelou on a pilgrimage to The Bard's old haunts. Made to commemorate the bicentenary of Burns' death, the film parallel's Angelou's life – growing up dirt-poor in the segregated town of Stamps, Arkansas – with Burns', and explores how his poetry helped her through brutal traumas in her early years. There's a similar transatlantic flavour to 1993 short The X In Scotland, directed by Lucy Enfield, which demonstrates the importance of Malcolm X to African and Asian Scots.
The more recent Tree Fellers, from 2006, rounds off the programme. Directed by Sana Bilgrami, it tells the story of the 900 Belizean lumberjacks who came to Britain during the Second World War to help fight fascism by felling trees in Scotland, and tells how many chose to make Scotland their home, forming new lives here after the war.
New commissions connected to Welcome To
As mentioned above, Folorunso and Ruwona have collaborated with Black contemporary artists and creatives to respond to the programme. Funmi Lijadu, an artist and writer invested in under-discussed issues in society, will produce a piece of digital art in response to the programme. Ngqabutho Mpofu AKA ButhoTheWarrior DJ will curate a two-hour mix inspired by the selected films.
Fringe of Colour founder Jess Brough will write a response to Angelou on Burns, and Black Scot Pod – a podcast launched in response to the lack of Black Scottish voices in mainstream media – will create an episode discussing the Glasgow Film Festival programme and exploring the conversation around Black people working in film and media.  
As well as these two vital film programmes, there will also be a panel discussion asking "Where are all the Black filmmakers?" as part of GFF's Industry programme, the full lineup for which is announced next week. The programme of events also includes an industry pass offer for people from ethnic minority backgrounds who haven't previously attended the festival.
"Natasha and Tomiwa have created a programme of films that asks important questions of the Scottish film industry and elevates the voices and stories of Black filmmakers and creatives," said Allison Gardner, Glasgow Film CEO and Co-Director of GFF. "Glasgow Film Festival is proud to be able to share these films and give a platform to voices underrepresented in the film industry as we ask what we can do to help change the landscape."
---
GFF runs 24 Feb-7 Mar; for more information on Welcome To, head to glasgowfilm.org/festival