Parasite comes to Glasgow Film Festival in black & white
Glasgow film fans will be the first to see the new black and white version of Best Picture-winner Parasite, Bong Joon-ho's wildly inventive class satire, the colour version of which is currently going great guns in UK cinemas
Fresh from conquering Hollywood and making history by being the first-ever foreign-language film to win the Best Picture Oscar, Bong Joon-ho's Parasite is getting re-released in black and white. And Glasgow film fans are going to be among first to see the monochrome version of this wildly inventive class satire, with the UK premiere taking place at Glasgow Film Festival on 5 March.
This new version of the film is fresh from having its world premiere at International Film Festival Rotterdam. While presenting the film in Rotterdam, Bong had a wry explanation for why he wanted to create this black and white version. "I think it may be vanity on my part, but when I think of the classics, they're all in black and white," he said at Rotterdam International Film Festival. "So I had this idea that if I turned my films into black and white then they'd become classics."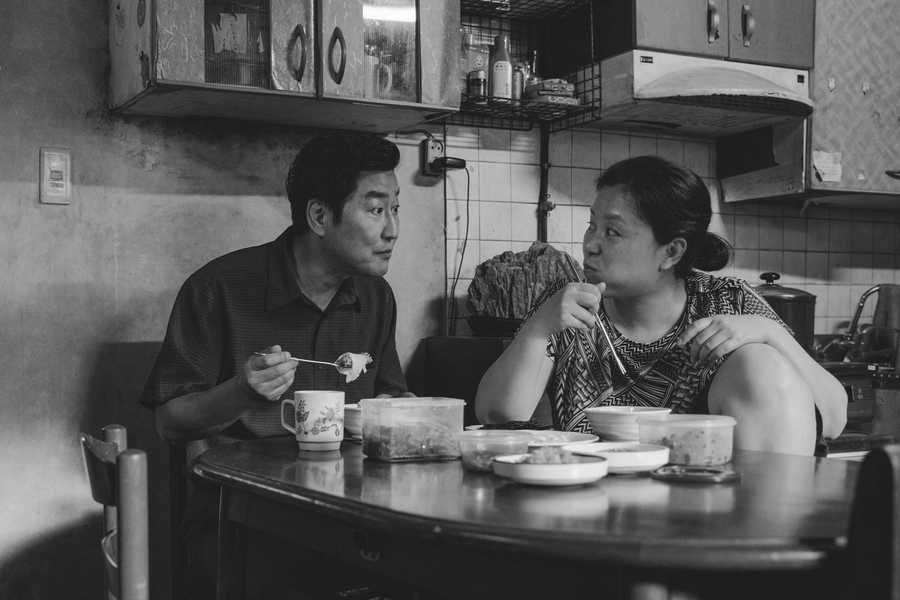 Still from the black and white edition of Parasite
This black and white version isn't just an afterthought either. Bong, working alongside his director of photography and colourist, reportedly started work on the new grading shot by shot even before the original colour edition of Parasite had its world premiere in Cannes.
Allison Gardner, Glasgow Film Festival co-director, is looking forward to presenting the film at her festival. "Having picked up both the Palme D'or and the Best Picture Oscar, Parasite is undoubtedly one of the biggest films in recent years," she said. "Glasgow Film Festival is thrilled to be bringing Bong Joon-ho's black and white version of his record-breaking film to UK audiences for the first time, adding a whole new dimension to this astonishing arthouse blockbuster."
Parasite (black and white edition) screens at Glasgow Film Festival on Thursday 5 March.
Tickets go on sale at 12pm on Wednesday 12 February at https://glasgowfilm.org/glasgow-film-festival/shows/parasite-black-and-white-version-15