Balancing Act: we speak to EIFF's new artistic director Mark Adams
EIFF has a new artistic director in Mark Adams. We pick his brains on what to expect from the festival under his tenure
Another year, another Edinburgh Film Festival, and another artistic director steps into the breach. Enter Mark Adams, taking the AD baton from Chris Fujiwara, who stepped down from the post after three years, during which EIFF bolstered some of its critical reputation but failed to fully replicate the kind of significant impact the venerable festival once had on UK film culture.
Like his predecessor, Mark Adams is a film journalist – he was chief critic for Screen International before he took up the artistic director role three months ago. Although Adams wouldn't be drawn on discussing his predecessor, there is a sense that his approach will be markably different. Fujiwara brought a very specific, cinephile flavour to his time at the festival, which sometimes rubbed audiences up the wrong way. Take, for example, the three films he chose to open the festival with during his tenure: Killer Joe, Breathe In and Hyena. None could be described as crowdpleasers; they are singular films, chosen for their artistic daring and formal audacity. Adams' tastes seem more catholic and his approach to programming more diplomatic.
"I'm not some splendid, dictatorial artistic director coming from on high and saying, 'You must do this!'" he tells us. "I'm working really closely with everybody there, and they have very great views on what we should be doing. So what I'm doing is working with a team, who are amazing, to present something that we feel is really balanced and fun. It's a mixture of accessible films, provocative films, challenging films, films that no one's ever seen before."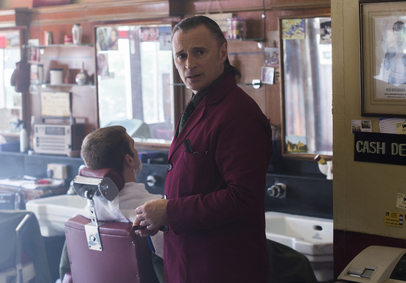 Robert Carlyle's The Legend of Barney Thomson opens EIFF 2015
When we speak to Adams by phone, he's just returned from Cannes, and the EIFF programme is still a week away from being announced. He stresses the chief challenge of curating the festival is that "you have to be all things to all people."
"We're essentially for the audience… you have to show films that people want to come and see," he says. "And, equally, you have to show brand new films so the media will come up and write about it. And when they write about it, the industry will see that it's worth them working with the festival because their films are getting good profile. And when they get good profile, you get good films, you get the audiences, and then you get the media. So you go round in a cycle."
One particular stick the Scottish media like to beat EIFF with is its Scottishness. Or, more accurately, the press often ask the question, 'Why aren't there more major Scottish films in the programme?' Early announcements should have put paid to that particular criticism. The festival will be bookended by two world premieres by local talent. It'll open on 17 June with the directorial debut from Robert Carlyle (The Legend of Barney Thomson), and close 11 days later with the sophomore feature from Shell director Scott Graham (Iona). Was this a tactical move?
"It wasn't particularly," says Adams. "The driving force is always about whether the films were good enough and they're appropriate. I think we were just very lucky that Barney Thomson just came along. I know that other festivals have been looking at it, and I know that Robert has been trying to edit and finish it, so we happened to be at the right time when it's available. It's happenstance rather than grand design."
---
"EIFF has to be all things to all people" – Mark Adams
---
Throughout our chat, Adams is keen to remind us of the serendipitous nature of festival programming; he mentions it three times. "In many ways you are only as good as what films are out there and what's available to you," he explains. "Because that's the challenge: you might wish you had a certain type of film coming out at the right time that suits our scheduling, but you can't always rely on that." He insists the secret to consistent success is to "have really good relationships with the UK distributors, with the international sales agents, with the national film bodies [BFI, Creative Scotland, etc], and with the city. You have to have all these things in place for this big, complicated machine to work."
Adams also emphasises the importance of keeping the festival, well, festive. "What we try and do beyond [the Gala films] is punctuate the period with a series of great events, special screenings, or unusual ways of presenting things, or with parties and music events." He gives the example of the newly introduced Doc of the Day series, which will see a spotlight turned on a different non-fiction film each day of the festival. "We have to offer little bits of excitement every day, because at a festival you don't just stop; it has to continue being exciting to people; it has to keep on breathing."
So what of this year's festival? Will there be enough there to keep it going, or will the old gal be wheezing and out of puff by her third day? A week after speaking to Adams the line-up is revealed, and our first thought on seeing the programme is that there has been a concerted effort to make the festival more approachable. A redesign has made its brochure, with its intimidating 150 plus films and events, much easier to navigate. "It's a very visual medium and you have to use the images to your full advantage," said Adams when we spoke to him.
Adams also seems to have brought some of the balance he spoke of above. There's a finely judged mix of films from some of cinema's most exciting young filmmakers (Andrew Haigh brings 45 Years, Asif Kapadia brings Cannes hit Amy), and these sit shoulder-to-shoulder with titles with attention grabbing stars attached (who wouldn't want to see Arnie in brooding zombie movie Maggie?). There's also evidence of EIFF's continued commitment to supporting indie filmmakers, with festival favourites like Kyle Patrick Alvarez (Easier with Practice was a standout at the 2009 festival) and Alex Holdridge (In Search of a Midnight Kiss, the big discovery at EIFF 2007) back with new films (respectively The Stanford Prison Experiment and Meet Me in Montenegro).
The In Person strand, traditionally the highlight of past EIFFs, has also been given a shot in the arm this year by the inclusion of Ewan McGregor. No offence to recent guests like Noel Clarke and Don Johnson, but the Trainspotting star is the first bona fide A-lister the festival has attracted for one of its on-stage talks in quite some time. His presence in the city alone will add a buzz that's been sorely missed over the last few years. Will the programme prove as chewy and rich as it has been over Fujiwara's more low-key tenure? And will it offer as many genuine discoveries? Only time will tell. But from first impressions the festival looks to be breathing steadily – no emergency CPR required. Let the festivities commence.