Charlie Kaufman and Duke Johnson on Anomalisa
Charlie Kaufman is the king of the oddball movie premise, but he plays it relatively straight with new film Anomalisa. The surprise comes from the fact it's a stop-motion animation. We discover why he chose this form for a bittersweet existential comedy
Since Being John Malkovich, his screenwriting debut from 1999 in which a failed puppeteer discovers a portal into the soul of the eponymous actor, Charlie Kaufman has been one of the most inventive and unpredictable minds in American filmmaking. His blindingly individual and distinctly offbeat screenplays have charmed both audiences and critics, with their delicate dissection of the human condition matched only by the sheer audacity of their cerebral premises. Kaufman returns to filmmaking seven years on from Synecdoche, New York with the Oscar-nominated Anomalisa, which he co-directed with Duke Johnson.
At first glance, this low-key romantic drama appears unusually reserved from a writer whose previous work has been as reliably unpredictable as Eternal Sunshine of the Spotless Mind and Adaptation. However, Kaufman devotees will have already clocked that Anomalisa is not the typical romantic drama that usually attracts the attention of the Academy. For starters, that aforementioned Oscar nomination is for best animated feature. You'll be pleased to hear that Kaufman hasn't been drafted in for a last-minute rewrite of the latest chapter in the Ice Age franchise. Instead, Anomalisa is an entirely stop-motion adaptation of a Kaufman play, which was performed only twice, at a New York theatre in 2015.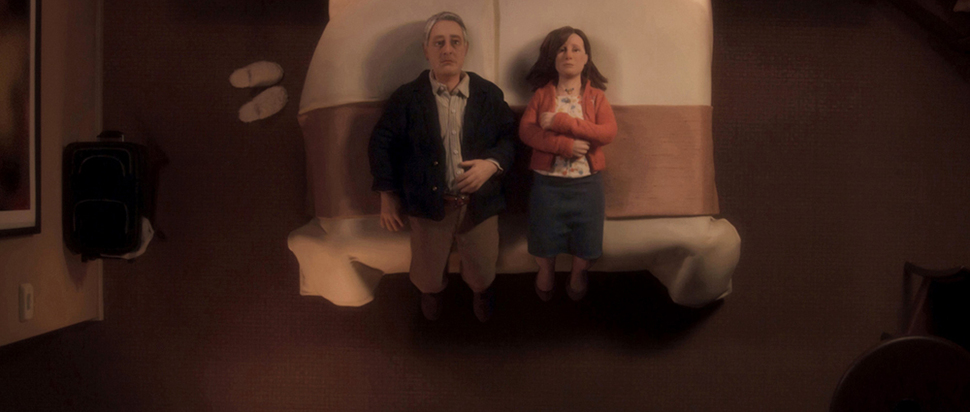 It's an involving study of existential angst and paths not followed. The focus is Michael Stone (David Thewlis), a depressed but successful author specialising in customer service. In the film we find Michael on the road, away from his wife and family, spending an evening in a city hotel ahead of a public appearance, and desperately in need of a fulfilling human connection. Upon meeting an unassuming and lonely fan named Lisa (Jennifer Jason Leigh), he falls into an instant state of infatuation.
Anomalisa's stage origins
"I had no interest in doing anything after it was a play," Kaufman is keen to stress over the phone from Paris, where he's close to winding up a day of press. "It was written for radio, as a non-visual performance. And when we did two performances of it, back in 2005, when it was over, it was over. And I even liked the fact that it was ephemeral. If you didn't see it, you didn't see it, because we couldn't produce any more and there was no record of it." He had a change of heart around 2012, however. "I was kind of really desperate to get something made; I'd been struggling to get a movie made since 2008, and this was a possible opportunity. There was no harm in trying. And then we got the money and it became a real thing and I was excited about the prospect of figuring out how to turn this into a movie."
The money Kaufman refers to arrived largely from a public Kickstarter campaign, founded by co-director Johnson, and his producer Dino Stamatopoulos, who had become friends with Kaufman and acquired the script to the little-seen play. Kaufman is unwilling to comment on whether the stop-motion aesthetic might have appealed to his fans ("I really don't want to think about that, it's a bad road to go down," he adds), but suggests the involvement of Dan Harmon, creator of cult television hit Community, also had something to do with the overwhelming support.
Synecdoche, New York, Kaufman's first film as director, earned the usual plaudits from critics but – despite its grand-scale ambition and a career-best performance from the late Philip Seymour Hoffman – failed to connect with audiences and recoup much of its budget. Having openly discussed his struggle to get another film made in the wake of its commercial failure, Kickstarter funding represented relative freedom for Kaufman and Johnson, who were eventually approached by Paramount Studios.
"I thought it was a great experience," Kaufman reflects. "And if we do it again, we'd love to have the same kind of freedom, and we'd love to have a bit more money – that would make things comfortable in a way that might not have been the last time."
On using stop motion animation
Still, making an animation in which a day of work translates to just one second of movement was never going to be entirely comfortable. While his co-director had earned his stripes on Adult Swim's dark claymation comedy Moral Orel, animation represented a new frontier for Kaufman, a natural experimentalist. Just how hands-on did he get?
"I think the creative decisions I made are primarily filmmaking decisions," Kaufman suggests. "There are obviously technical things that I didn't know, and I still don't know. But the options that are there in terms of what we wanted it to feel like, and what the characters are going through, Duke and I collaborated on all of those together and I think it was a very harmonious and fruitful collaboration, at least from my vantage point."
With the exception of Thewlis and Leigh's affecting performances as Michael and Lisa, all of the other characters in Anomalisa's painstakingly detailed world are voiced by Tom Noonan, who offers only minor variations between male and female or adult and child. The key to the film's visual power is in its minuscule renderings of the subtleties of human emotion, as well as the cripplingly mundane course of everyday society's expectations and interactions. A contrary and initially surreal style to witness in stop-motion, this vision reaches its affecting peak during an extended sex scene that's so intimate and uncomfortable it fortunately demolishes all risk of comparison to Team America: World Police's absurd puppet fornication.
Continues below:
---
---
Johnson refers to conversations he and producer Dino Stamatopoulos had prior to Anomalisa, expressing a desire "to use stop motion to explore more adult stories and more sophisticated emotional ideas and characters." And while the occasional European or Japanese animation might eventually find success in the US film market, either re-dubbed or backed with significant awards buzz marketing, 'adult' animation is more often than not relegated to television in the West. Might more sophisticated animation eventually find a future in mainstream cinema?
"I'm not an expert on the production of animation," responds Johnson. "I can say that I agree, that animation is stigmatised in America, at least as something that's for children. And I believe that it's a medium for storytelling like any other."
Anomalisa v Inside Out
In the race for the aforementioned best animated feature statuette, Anomalisa makes an unusual but satisfying bedfellow to fellow nominee Inside Out, another widely acclaimed and equally moving study of emotional life, albeit from a radically different and unashamedly commercial perspective. Johnson understands the comparison, but seeks to stress the gulf between Disney's cash cow, Pixar, and his and Kaufman's vast undertaking.
"Pixar is a corporation that makes films that appeal to general audiences, which specifically means all ages," explains Johnson. "And that immediately separates their film from our film, which is decidedly only for adults. And Inside Out had made billions of dollars and has been seen by millions of people, and ours has been seen by a small audience and was made for a hundred dollars in a garage in Burbank. To date, it has made one million dollars. And I think if there's going to be change in that regard and the possibility for art films to be animations for adults, then that will probably be based on whether our film makes money."
Written just over a decade ago, one aspect of Anomalisa might have seemed less resonant had it been written more recently. Near the beginning of the film, Michael nervously attempts to get in contact with a face from his past by means audience members won't have used in years: scrambling through a phonebook. Was it important for Kaufman, a regular on the theme of isolation, to ground his protagonists in a world without social media?
"I think there's an element of that," Kaufman muses, but suggests the reason might be simpler: technology dates art. "If I watch an episode of Seinfeld now, and he gets his phone out, and it's forty feet tall and got an antenna, it's really distracting."
---
Anomalisa closes the Glasgow Film Festival on 28 Feb and is released UK-wide 11 Mar by Curzon
The CineSkinny is brought to you by MUBI, the online cinema bringing you hand-picked film gems every day.