Berlinale: The Good, the Bad and the Infuriatingly Opaque
We report the highs and lows from this year's Berlin International Film Festival, featuring films from Wes Anderson, Rachid Bouchareb, Lou Ye and others
The 64th Berlinale kicked off in style with opening film Grand Budapest Hotel, Wes Anderson's twee follow-up to Moonrise Kingdom. It was the warmest welcome any festival patron could wish for. It would, however, prove to be the delectable entrée to an otherwise underwhelming banquet.
The last few races for the Berlinale's coveted Golden Bear award have been fiercely contested. Recent years have seen films such as Asghar Farhadi's A Separation and Miguel Gomes's Tabu premiere to strong critical acclaim, and it wasn't so long ago that Magnolia and Spirited Away were bestowed the festival's highest honour. While the quality of the Berlinale competition can often be sporadic, there's normally a few surprises or two – but this year, sadly, marked a decline in quality. It wasn't so much that this year's competition films were appalling, just infuriatingly average.
Rachid Bouchareb's story of an ex-con trying to start a new life, Two Men in Town (starring Forest Whitaker, Brenda Blethyn and Harvey Keitel) was one of the worst; a banal and thematically anemic offering, it added very little to the debate over the merits of the convalescent American judicial system. There was also a plethora of willfully opaque offerings, such as two Argentinian entries – The Third Side of the River and History of Fear – that both relied on taciturn scripts to deliver cautionary tales about a patriarchal world where ruling classes use fear to turn communities against one another. Both films' ambiguous approach struggled to truly articulate how the collective consciousness of Argentina has been manipulated into such a state of paralysed complicity.
This year's competition also featured an unusually high number of Chinese films. Out of the three films competing for the Golden Bear, Lou Ye's Blind Massage was initially the most promising. A story about a Chinese massage parlor where the employees are all blind, the film sadly lacked Ye's erstwhile controversial slant. While issues such as corruption, gender equality, and obsession were present, the film's questioning of contemporary social malaise felts exceedingly benign, while the film's heightened melodrama dissipated the emotional resonance of its tale of doomed romance.
The poorest of the trio of Chinese films to feature in competition proved to be the festival's biggest turkey. Ning Hao's No Man's Land, a noodle western of strident Tarantino-style violence and car chases, felt incredibly out of place in a festival that favours films with a strong sense of socio-political perceptiveness. Seemingly desperate to attract the attention of the US film market, Hao's homage to the films of Sergio Leone was a sepia-tinged, soulless thriller that lacked any distinctive qualities or sense of cultural identity.
Despite receiving a relatively lukewarm response from critics, the Golden Bear was eventually won by Diao Yinan's Black Coal, Thin Ice, a tonally erratic neo-noir that imbued gaudy visuals and ethereal dreamscapes within the paradigm of a derivative police procedural. Thankfully, Chinese cinema was better represented outside of the competition strand with Zhao Dayong's Shadow Days. A stark and horrifying tale about China's terrible human rights record, its one child policy and the forgotten voices of a nation, Zhao's heavy use of surrealism allowed the film to succinctly illustrate a society that has been anesthetized from achieving any semblance of identity.
This isn't to say the festival's competition strand wasn't without its merits, and there were certainly some interesting films on offer. Dietrich Brüggemann's Stations of the Cross, with its postmodern aesthetics and rigid formalism depicted religious fanaticism in a fresh and invigorating manner, while Yannis Economides' Greek noir Stratos was a gritty hitman drama riddled with deadpan humour that eschewed the absurdist approach of the Greek 'weird wave' (see Dogtooth, Attenberg and Alps).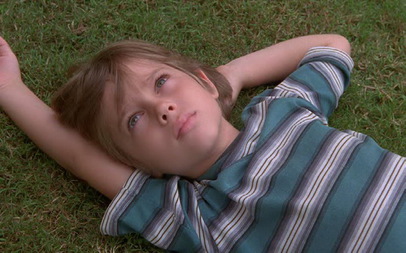 Ellar Coltrane in Berlinale standout Boyhood
The clear competition standout, however, was Richard Linklater's 12-years-in-the-making Boyhood. A cinematic photo album about adolescence, Linklater's coming-of-age drama is truly an astounding feat of high concept filmmaking. Shot at regular junctures throughout lead actor Ellar Coltrane's youth, Linklater allows the audience to literally watch the film's protagonist develop from a seven-year-old boy to an 18-year-old college student. Built around the same prosaic approach as Linklater's Midnight trilogy, Boyhood is destined to become one of 2014's most critically revered films.
The Berlinale has always prided itself as a festival of discovery and it's normally deep within the annals of the festival's Forum and Panorama strands that the most inventive and fascinating films can be found. There were not one, but two films from American director Josephine Decker, whose Butter on the Latch and Thou Wast Mild and Lovely were both commendable for their brazenly surreal approach – combining lo-fi drama with twisted thrills, the latter even featuring what must be cinema's first ever P.O.V shot from a cow.
Sundance hit Kumiko the Treasure Hunter was perhaps the festival's most tender and heartwarming film. A transatlantic portrait of how we choose to consume the truth, this quaint retelling of a Japanese girl obsessed with finding the money buried by Steve Buscemi's character in the Coen Brother's Fargo manages to beautifully imbue the cinematic language of both Eastern and Western cinema to tremendous effect.
Fresh from the Venice success of his last film Stray Dogs, Taiwanese director Tsai Ming-liang brought the latest addition to his 'walking' series to Berlin. Starring Lee Kang-Sheng and Denis Lavant, Xi You (Journey to the West) was a hypnotic abstract adaptation of Wu Cheng'en's 16th century novel Monkey. A meditative observation of Kang-Sheng's character slow-walking through the streets of Marseille, Tsai's film acts as a provocative critique on the rapidly quickening tempo of life and a rebellious appraisal on the dwindling attention spans of cinema audiences – with the irony of hordes of press leaving the screening not going unnoticed.
Blind, the debut feature from leading Norwegian screenwriter-turned-director Eskil Vogt, could be one of this year's foreign language sleeper hits. The tale of a young blind woman who imagines elaborate narratives inside her head to help cope with her ocular disorder, Blind feels like a more earnest and intellectual version of Stranger Than Fiction, with Vogt's meta-approach full of literary self-reflective touches and droll humour, operating between the dichotomies of fiction and reality – depicting just how easily the two can be confused.
This year's hottest ticket had to be Bong Joon-ho's Snowpiercer. Starring a wealth of international cinema celebrities including Tilda Swinton, Chris Evans and Song Kang-ho, this futuristic allegory lays the hierarchy of society horizontally, depicting a dystopian world where the last remnants of humanity survive on a train that perpetually circles the Earth. The front of the train rule over the rest, with the rich dictating to the complicit, who in turn oppress the poor. Snowpiercer, with its politically charged narrative spine, is evidence that big action films don't have to conform to an inane and hideously ostentatious blockbuster template to satisfy audiences. Proving there's space in this over-saturated market for smart and stylish cinema, Snowpiercer is a film that not only questions the foundations of mainstream cinema but the composition of society.
Sadly the festival's biggest incident occurred away from the silver screen. After his faux pas at the Cannes film festival two years ago, all eyes were fixed on the press conference of Lars von Trier's uncut volume 1 of Nymph()maniac. The presence of Von Trier in his 'persona non grata' T-shirt was outdone by the continued public meltdown of Shia LaBeouf. Quoting Eric Cantona before adorning the red carpet wearing a paper bag on his head, LaBeouf managed to steal the spotlight from an otherwise underwhelming Berlinale – let's just hope next year it's the films that leave people talking.