Alchemy Film and Moving Image Festival: 2019 Report
We look back at the highlights from the ninth edition of Alchemy Film & Moving Image Festival, where melancholic woodland creatures wandered the high street and hallucinatory work was playing on screen
Alchemy Film and Moving Image Festival is nothing if not self-aware. Taking place annually in Hawick, the festival is alive to the fact that its celebration of experimental cinema stands out like a sore thumb in this small, rather conservative Scottish Borders town. Now in its ninth edition, there's a sense that locals have begun to acclimatise to Alchemy's annual influx of filmmaking weirdos and avant-garde cinema nerds, so much so that this year's festival took place under the banner "Embrace the Strange". As an all-encompassing motto for the probing, innovative and often other-worldly work that screens at Alchemy, they could hardly do better.

These weirdos were even easier to spot than normal this year thanks to installation Out of the Wild, a beguiling piece made by theatre collective Dudendance in collaboration with young people across the Scottish Borders. Centred on a film shot at The Haining country estate in which various creatures with human bodies and animal heads (a horse, fox, rat etc) act out a surreal woodland drama, the installation also featured a live performance element, which saw these creatures spill out of its venue at Borders Textile Towerhouse museum and into Hawick High Street, turning the whole town into an uncanny installation space.
Alchemy's nine other installations remained contained to their ad hoc galleries at various vacant commercial spaces across town but were no less imaginative. Two of the most effective were found in neighbouring basements on Buccleuch Street. In What Does She See When She Shuts Her Eyes, the final work of the late Chicago-based artist Sabina Ott, made in collaboration with her long-time friend Dana Berman Duff, the basement of 5 Buccleuch Street became a serene series of ice caves created by volcanic activity (called 'lava tubes'). The two-channel installation consists of two-screen videos at either end of the basement, creating the illusion that we're at the centre of one of these natural subterranean conduits. Haiku by Stephanie Barber spirals from one end of the cave and appears to cross to the opposite channel and fade into the dark. The soundscape follows the words, sweeping from one side of the "cave" to the other, encouraging us to follow their path. Created to mark the passing of Ott, it's an oasis of calm and healing formed from great loss.
Among the many magical animals in or near @HeartofHawick during @alchemyfilmarts was a fox maiden washing linens. pic.twitter.com/VpNKL2BEM8

— Emma Penaz Eisner (@penazeisnerfilm) May 8, 2019
Two doors down, the basement space hosting Miriam Sampaio's haunting I am the Daughter of Dead-fathers couldn't feel more different. This three-channel work features Super 8 images illegally captured by Sampaio after she broke into a creepy old building in Lisbon that once acted as a detention centre run by Portugal's state police. The building has a personal connection for Sampaio: it's where her Jewish-Portuguese father was likely held and tortured in the 60s, and the artist imbues her film with all the toxic emotions such a place would elicit.
The 8mm film's emulsion has been degraded and flooded with light during the developing stage and then blown up to 16mm. The result is that Sampaio's observational images of the building's architectural details (stairs, windows, doors, cornicing), often at strange, disconcerting angles, seem haunted by the traumatic history of what went on in the structure, which is soon to be erased as the building is being converted into luxury flats. Projecting directly on to the low-ceilinged basement's uneven concrete block walls adds to the film's distortion, while Adam Asnan's queasy sound design imbues the whole space with a chilling vibe. We couldn't wait to get out of there, which was surely Sampaio's ambition.

I am the Daughter of Dead-fathers
Other installations we could have spent all day there. Two that were particularly appealing were situated in an old camping gear shop on the high street. The focus of Dark Holler from Never Met a Stranger (duo Jeremy Drummond and David Poolman) is a tree covered valley in Kentucky's Appalachia hills, as observed from Pine Mountain, one of the few peaks in the area not rich in coal deposits and so still standing, unlike its neighbouring hills in the mining ravaged area. Taking the form of a single, 30 minute static shot, the dynamism of the piece comes from the gently shifting landscape as a thick bank of mist rolls in and gently dissipates. The hypnotic durational piece is accompanied by a soundscape of field recordings punctuated by an eclectic soundtrack of traditional Appalachian music (including a rollicking version of the mountain man track from which the installation takes its title) that seem synched to the ever-changing view.
The static Dark Holler shares its venue with the constantly moving Inheritors, a kind of installation road movie from duo Webb-Ellis, which centres on the imaginative inner life of a young girl who appears to live on a bus that's traversing the UK. Across three channels we observe her unusual lifestyle and meet the community of truck drivers who congregate around motorway service stations on her peripatetic journey, where they stretch out and check tires. On the grass verge at one of these truck stops, two men appear to practice some form of martial art (or could it be a dance?). The bus radio, meanwhile, plays a programme about early man, which inspires the young girl to start drawing neanderthals along the vehicle's windows, suggesting a glass cave painting. It's a dreamy, vivacious poem to community and, thrillingly, freedom of movement.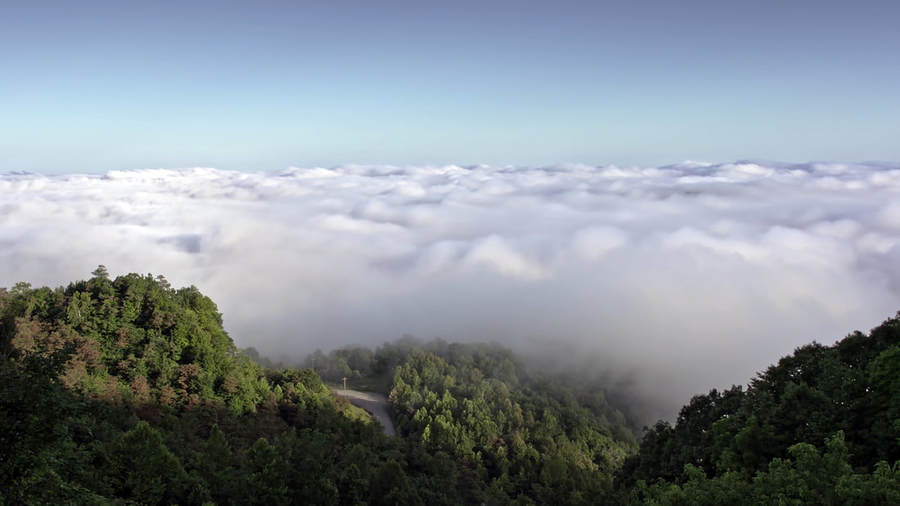 Dark Holler
Several of the feature-length works we saw in the cinema space were similarly nourishing, with community at their heart. In the deadpan social comedy Square, from Polish filmmaker Karolina Bregula, a sentient sculpture, hidden within the overgrown shrubbery of a Taiwan town's square, becomes a beacon for local residences. Initially the sculpture, placed there long ago and forgotten, sings sweetly to the residents, drawing them towards it. Later, this mysterious siren starts asking them tough questions. Soon they're running screaming from it in terror, like they're in a Godzilla movie. It's a wry, mysterious film where the central metaphor never becomes explicit, which makes its allegorical qualities all the more universal.
An effigy is also at the heart of Phil Collins' multi-layered Ceremony. The film follows the Turner-nominated artists as he uncovers a Soviet-era statue of Friedrich Engels –  the co-author with Karl Marx on the Communist Manifesto – in Ukraine, where it's been torn down during the country's decommunisation process. Collins' plan is to take this Engels to Manchester, the city where many of his socialist ideas were formed, where it'll be reinstalled. As well as following the statue's path across Europe to its new home, Collins' warm, hopeful film also documents the ceremony held to welcome this statue of Engels into the city. Shuffled in between these two strands are dramatised vignettes exploring the lives of several working-class people in Manchester today, for whom a champion like Engels is much needed. We're sure this great radical thinker would approve of Collins' humanistic, egalitarian approach.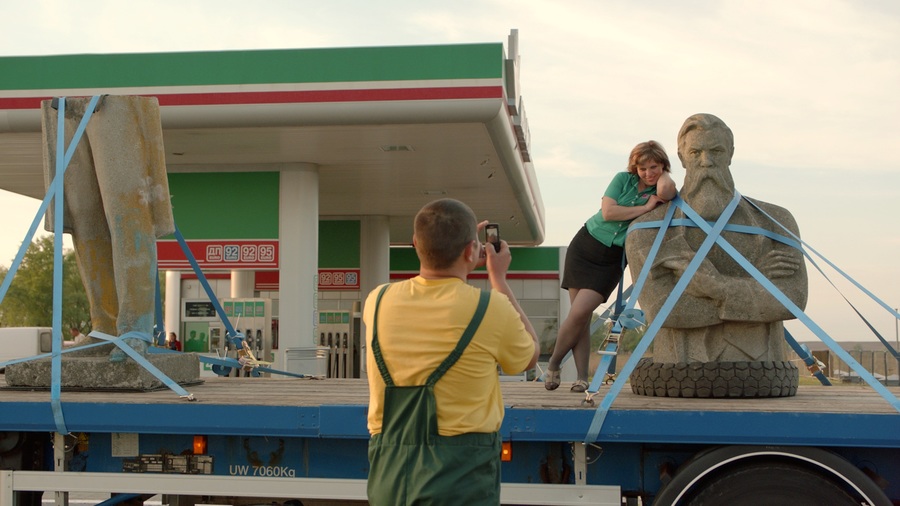 Ceremony
Even more nightmarish than Austerity Britain are the primordial images spewed forth in Stephen Broomer's Tondal's Vision, an extraordinary reworking of L'Inferno, Francesco Bertolini's 1911 adaptation of Dante's Inferno. When we say reworking, we don't mean the plot of Bertolini's film, but its materials. Using analogue and digital techniques, Broomer has taken 2000 feet of L'Inferno and subjected the celluloid to severe punishment via his chemistry set, distressing the film to such a degree Bertolini would bearly recognise it. The somewhat static tableaux style of the 1911 film becomes much more fluid and dynamic in Broomer's interpretation. At some moments the original film's hellish imagery will seep through (a huge demonic being here, a man holding aloft his own severed head there) while at others the film is a purly impressionistic. For an hour Broomer bombards us with swirling shapes, acid colours and incandescent light, creating a hallucinatory fantasia of hell that's heaven for lovers of experimental cinema.
Broomer's analogue manipulation would surely get the seal of approval from Barbara Meter, Esther Urlus and Deborah S Phillips, the trio of 16mm specialists celebrated at this year's Alchemy. The latter two attended the festival and provided compelling but contrasting introductions to their practice. Esther Urlus, a deadpan Dutch artist, introduced us to her homemade emulsion and developing techniques used on films like Konrad & Kurfurst, a dreamlike work that's much more than visual abstraction. Behind its tactile splendour, Konrad & Kurfurst's is a wry deconstruction of the myth of the eponymous sportsman and horse, who became Germany's heroes of the 1936 Olympics.
Taking as its starting point the triumphant documentary footage of Konrad and his horse shot by Leni Riefenstahl, Urlus turns this propaganda into a blue wash of melancholy. Her masterpiece Deep Red, meanwhile, takes another dreamy image of bare tree branches passing at speed. It's the kind of scene Urlus used to observe while daydreaming on long car journeys as a child, and she layers and superimposes similar simple images of tree branches into a series of loops, creating a stunning study of colour, texture and light.

Colour is also the chief concern of Berlin-based filmmaker Deborah S Phillips, who provided a flamboyant, interactive introduction to her work, which incorporates animation, collage and text onto 16mm film. The mini-retrospective of her playful, vibrant films was organised into the three colours of light: Red, Green and Blue. As well as her films associated with these colours, Phillips also took us on a journey with the words themselves, musing on their associations, history and meanings in different languages.
Her most in-depth performance was saved for the colour blue, in which she discussed its aristocratic (blue blood), surprising (out of the blue) and mysterious (wild blue yonder) connotations. She also discovered some local uses of the word: one Glaswegian filmmaker introduced her to the term "blue nose". Phillips' experimental presentation could be a tad jarring and the audience were rather stiff to begin with, reluctant to shout out while the films were playing. We suspect Phillips' show could have been more dynamic if it had taken place in a more casual arena than the cinema space at Heart of Hawick, where she would be able to get in among her audience.

Tondal's Vision

Phillips' presentation, in fact, would have been perfectly suited to one of Alchemy's late night Expanded Cinema events, which provided many highlights this year. James Davoll gave a live performance of Bound, his visual and sonic exploration of the Irish border, in which he's documented every road, lane and bridge crossing between Ireland and Northern Ireland. Fountain from Madison Brookshire, meanwhile, had the Alchemy audience enthralled without using any film at all. The piece is simply light running through his 16mm projector, which Brookshire runs at a speed producing a slight flicker, encouraging our minds to create its own hallucinatory images on the almost imperceptibly strobing white rectangle in front of us.
If Brookshire's light illusion was too obtuse for some, it was followed by a more playful frame rate manipulation in the form of Stephen Moir's immensely pleasurable Phonotrope show. For those uninitiated, Phonotrope is a technique of creating animation using a live camera set to 25 frames per second, which turns a disc rotating on a record player into a cheerfully simple animation – most of the Phonotrope animations played were made earlier in the day by people in the room at Moir's Phonotrope workshop. The delightful soundtrack for the evening consisted of records Moir had found while crate digging in Hawick charity shops that morning, ranging from the sublime (Duke Ellington) to the ridiculous (Status Quo).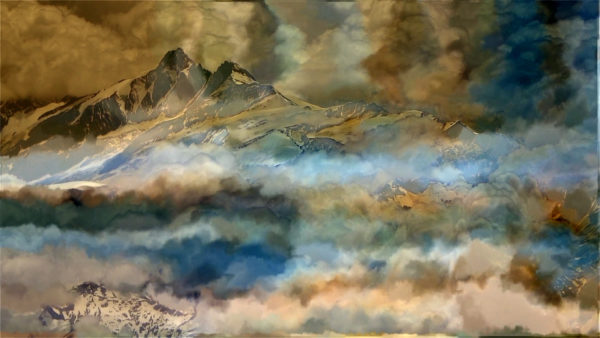 The Eighth Alps
Another Expanded Cinema highlight was The Eighth Alps from digital magician Jacques Perconte, an Alchemy regular. This year's festival was heavy on analogue artists, but what this Frenchman can do with a laptop and some glitching pixels is equally impressive. His canvas is, as the title suggests, images of Europe's great mountain range, which Perconte bends to his will live during this one-off performance. Those familiar peaks begin to morph and transform, the pixels appearing to melt and blend together creating eye-searing, incandescent colours from the greens and grey of the alpine vistas. Sometimes a bird will fly across the screen, dragging with it a burst of colour, while at others Perconte will simply incorporate a distorted line into the image by dragging his mouse across the screen. Just as the film starts to resemble an impressionist landscape, say a Monet or a Cezanne painting, Perconte will flip to another view of the Alps and start the process all over again.

Landscape, both onscreen and IRL, was also on the menu on Alchemy's final day on the now traditional end-of-festival Film Walk, which sees experimental film-nuts take a donder through the Borders countryside with the promise of a cup of tea and a unique film screening at the end of it. This year's perambulation doubled as a celebration of Scotland's greatest experimental filmmaker, Margaret Tait, whose film poems continue to be little seen, even in her home nation. Leading the three dozen or so audience members was actor and poet Gerda Stevenson, who starred in Tait's first and only feature film, Blue Black Permanent, and Alchemy had commissioned her to pen a mint fresh poem in response to the film we were about to watch: 1955's Orquil Burn, Tait's 35-minute film in which she follows a small river she used to play in as a child in Orkney, from its source to the sea. The film is a low-key wonder, and Tait would surely have approved our walk back to town via a mini-waterfall and burn that wouldn't have looked out of place in her film.
The ninth installment of Alchemy was the first without its founding director, Richard Ashrowan, at the helm. This daring and thought-provoking edition with new artistic director Michael Pattison – whose fervour for the moving-image and sharp critical thinking was all over this year's programme – suggests it's in good hands. It's a minor miracle that such an ambitious moving image scene is thriving in Hawick. Long may it reign.
---
Alchemy Film and Moving Image Festival took place 2-6 May in Hawick, Scotland
Correction: Originally this roundup incorrectly stated that Deborah S Phillips is American. She is German.