Yorkshire Festival 2016: What to see
The world's largest disco ball joins a programme of acrobatic theatre shows, River Nile-inspired music, a garden within a garden, a fire garden, street parties and more for Yorkshire Festival.
Promising an ambitious 18 days of music, dance, theatre, visual art, outdoor performances and more from across the globe, there's a lot to fit in at Yorkshire Festival, which runs from 16 June to 3 July.
With Harrogate International Festivals, Hebden Bridge Arts Festival, Grassington Festival, Holmfirth Festival, Shipley Street Arts Festival and Coastival all nestled under the same wing as festival partners, it's been tough to whittle everything down to our absolute must-sees – but we've done it. 
Here's our guide to the don't-miss events at Yorkshire Festival 2016.
Big Disco
Anyone who was at 2014's Bestival will be au fait with the notion of a giant suspended mirror ball – the world's largest, in fact, and the same height as a three-storey house, or two T-Rex dinosaurs. The very same one makes its way northwards this summer, not only giving Yorkshire a cut of the D-I-S-C-O action, but also, hopefully, setting a new world record with Big Disco, as thousands dance simultaneously to a specially chosen track both under the disco ball itself at Duke Studios in Leeds and at parties across Yorkshire.
1 July, Duke Studios, Leeds
The Nile Project

Yorkshire Festival presents the European premiere of The Nile Project, a concert experience inspired by Yo-Yo Ma's Silk Road Project. Bringing together progressive musicians from the 11 countries across the Nile River Basin, the evening will channel East Africa's unsung beauty to create the new sound of a shared Nile identity – from the polyrhythmic styles of Lake Victoria to the pointed melodies of the Ethiopian highlands.
18 June, The Alhambra, Bradford
The Raunch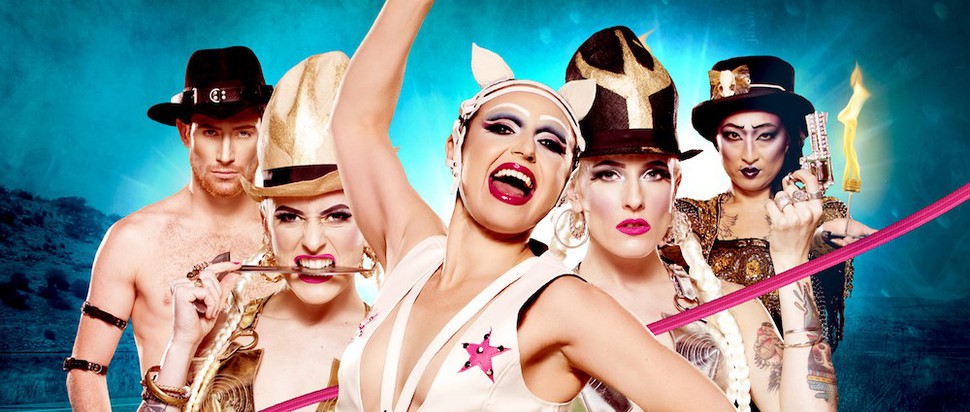 Direct from London's South Bank, The Raunch strides into town this summer to crack the whip with an evening of high-flying fun, set to a disco-hoedown soundtrack. Created by digital circus company Zero Central, the show stars renowned cabaret performer Empress Stah, who's joined by other names of the international cabaret and circus circuit, including Alternative Miss World Fancy Chance, hip-hop rapping and dancing twins My Bad Sister, sword-swallowing femme fatale Missa Blue and many more.
29 June – 2 July, Batley Frontier
Garden Within a Garden

Two parks in Bradford will play host to new Indian 'gardens', painted directly onto the paving by Pakistani artist Imran Qureshi. The work will take inspiration from the history of the million-strong British Indian army that fought in WWI, mixing lightness and darkness, horror and hope.
Mughal Water Gardens and City Park, Bradford, runs throughout the festival
(continues below)
---
 Sign up to the Zap! Top ten events in your inbox every week
---
A Machine They're Secretly Building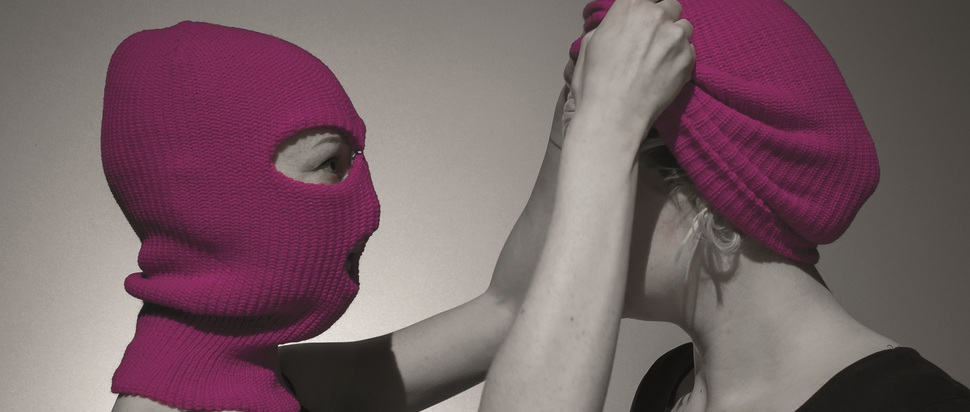 Proto-type Theater present the curiously titled A Machine They're Secretly Building, venting their frustration at the relentless machine of surveillance through original text, classified intelligence documents, film content by digital artist Adam York Gregory and music and sound design by Paul J. Rogers.
18-20 June, The Civic, Barnsley / Hub, Leeds / Lawrence Batley Theatre, Huddersfield
[Photo: Proto-type and Adam York Gregory]
Fire Garden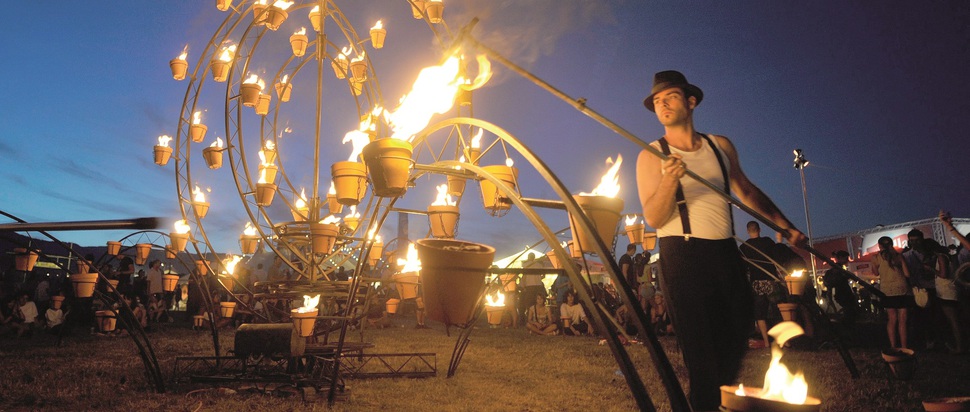 Harrogate may have a strong history in the ol' water trade, but this summer the spa town moves on to another of the elements with a magical, sensory Fire Garden created by French company Carabosse. They will transform the beautiful Harrogate Valley Gardens into a world of blazing landscapes, musicians, metal-workers and storytellers.
23-25 June, Harrogate Valley Gardens
Opera for the Unknown Woman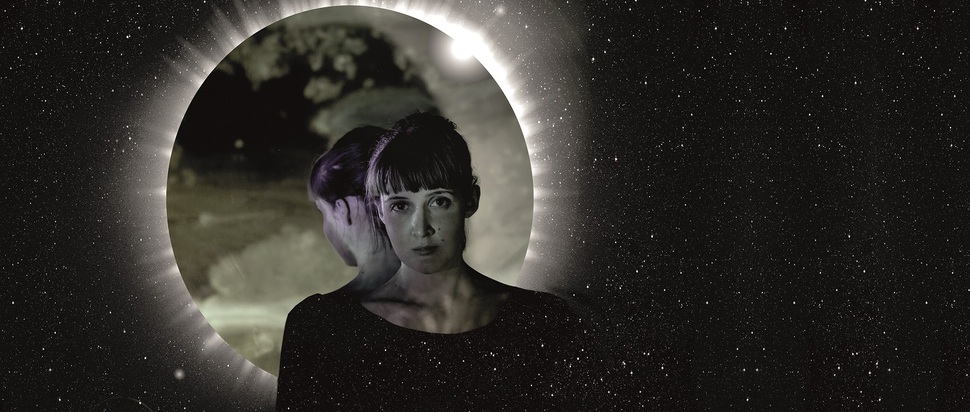 Billed as a 'bold re-imagining of the operatic form', Opera for the Unknown Woman is written, directed and co-composed by award-winning sound artist Melanie Wilson, who's teamed up with Polish composer Katarina Glowicka to weave theatre, contemporary classical music, electronics and film into a sci-fi multimedia opera.
22-24 June, Lawrence Batley Theatre, Huddersfield
Street Arts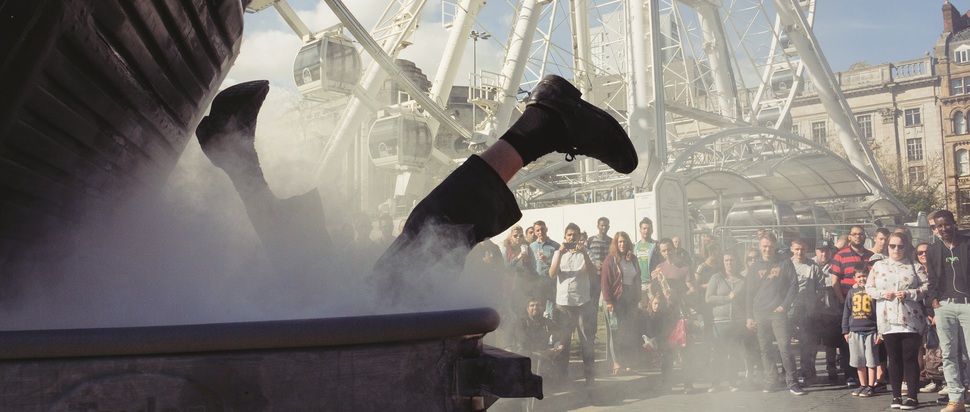 Throughout the festival there's also a dedicated programme of free and engaging outdoor performances – street arts, if you will – which includes a carnival-style street party in Holmfirth, a dance-based tribute to Ginger Rogers and Fred Astaire from Stopgap Dance Company, live music from Big Licks Brass Band, a rolling acrobatic theatre show, and a strange man who'll wander through the crowds, whose leg appears to be smoking… 
Place des Anges

The festival closes with a fittingly spectacular finale in Hull's Queens Gardens, as French theatre company Gratte Ciel take over the evening skies with a heavenly aerial performance, Place Des Anges. Angels will appear above the crowd, gliding across the space above them before showering the audience with a flurry of feather fireworks – check out the video below to see what to expect.
2 July, Queens Gardens, Hull
---
- Read more news from across the North's cultural scene
- Find out how you could win some lovely prizes
---