Tracking Shot: Charlotte Prodger on their Venice Biennale work
Charlotte Prodger's new work is a development of their enquiries into experimental artistic film movements, while at the same time prioritising queer subjectivity within a constellation of aesthetic, political, social and personal narratives
Charlotte Prodger has been interviewed in The Skinny before, seven years ago for their Intermedia Show at the CCA. In the meantime, Prodger won the Margaret Tait Film Award, and in December became the most recent winner of the Turner Prize. On Thursday of this week, Prodger opens their show as part of the Venice Biennale, representing Scotland. In sum, Prodger's work has received due recognition on an international level for its deft film experimentation, and timely enquiries into the interaction of personal, social and natural histories, grating different blocks of radical art and film practice against the grain of queer subjectivity.
Prodger's latest work for Venice is ambitious, and skilfully manages to cover a tremendous amount of ground as it reconsiders boundaries between personal and social histories, while calling on natural sciences and politically charged environmental concerns. All the same, this isn't a "Biennale Blockbuster Special" of Prodger's practice. Slow tracking shots of geological strata are combined with footage of the road seen from a car driving through an open landscape, as well as hypnotic abstract visuals of the materials that Prodger uses to edit and write their films. Prodger voices a narrative of growing up in the North of Scotland, and a brief time in youth religious groups. This shifts to the lists of what sounds like the observed behaviour of lionesses that grew manes and have started "acting like males" – to quote the New Scientist article you'll find if you Google the name of Prodger's new film. 
The shifting narratives and imageries glance off one another in nuanced ways. One of the most satisfying comes in Prodger using the same naming categorisation from the natural scientific field notes to anonymise the names in the personal memories Prodger shares. In one part, Prodger reads: "Date: 16th November 2015. Start time: 17:49.  Location: -19.53368357 23.64108922 938.0 5.0. Behaviour: Approach. Behaviour time: 18:17. Who: SaF05. Habitat: Acacia scrub. Recipient ID: Woody. Outcome social: Rubs. Comments: SaF05 presenting. Count: 3. End time: 19:50. Date: 21st November 2015. Start time: 05:55." In the next part, a past partner is referred to as so: "GaF93 was training to be a radiographer. We met at Club X."
Prodger describes making the new work and how to productively navigate the sense of anticipation that comes from showing at the highest international level. "It's a huge honour, and I'm very excited to be doing it, but I think when you're making the work, you have to try to switch off the idea of what the expectations might be for the Venice Biennale. Otherwise, it's just too abstract. I just tried to do keep in that line of enquiry of those three works." Here, Prodger refers to a series of works from 2015-17: Stoneymollan Trail, Bridgit and LHB.
---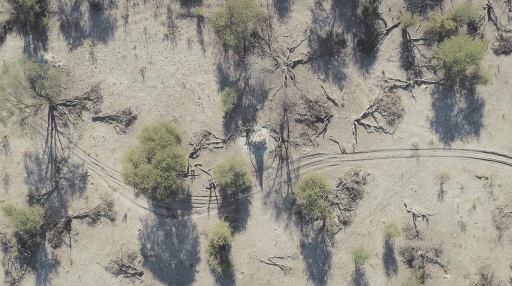 Charlotte Prodger, SaF05, installation view Venice Biennale 2019, courtesy of the Artist; Koppe Astner, Glasgow and Hollybush Gardens, London. 
---
One of the noticeable similarities across the series of videos that together make up Prodger's recent body of work is the sequence of long shots that Prodger structures each of the films around. Often what happens in the 20-40 minute videos can catalogued in terms of less than half a dozen different shots. In this parsimonious filmic economy, how does Prodger choose what ends up in the videos?
"Sometimes there's images that I know I'm going to use when I start out with the work and they stay, then what comes next revolves around those… Often, it's all contingent; what image goes before it, and what comes after." The voiceover also plays a big part. "I'm cautious of things being read literally. Often I'm trying to set up a tension between what's being said or described in the voiceover." What's seen is not meant to illustrate, in a straightforward way, what is heard.
"A lot of it is to do with colour, light, different frequencies or vibrations and how they interact with each other. Sometimes you put an image with a sound and it's just right, it just clicks in some way. It's a grid really, editing. It's this constant moving around of elements within that grid."
One example is the sequence called Revelations. In this part of the film, there's a bagpipe soundtrack, and Prodger talking about their experiences of going to youth fellowships – religious groups. The visual throughout is of rocks on the Greek island of Paxos, shot by Prodger on iPhone. "I had shot that a couple of years ago, those rocks. The whole of the coastline of Paxos is [formed of] incredible layers of strata." On holiday at the time, Prodger describes filming for four of five minutes at a time, moving across the different surfaces.
"I didn't know why at all, but I went back the next day and did more of them. I just had that footage for a couple of years. When it came to making this [film for Venice], I was going through a lot of my phone footage and somehow that started to feel right in relation to that particular piece of writing [about the youth fellowships]… I was moving from one surface to the next. It's one continuous shot and there aren't any cuts in it. I could see that these different pictorial surfaces could be framing devices for paragraphs in the voiceover."
Crucially, there was a relationship between the gaze of the video on these surfaces and the "looking" that is described in the voiceover, "looking at the missile [which features in the narrative of the video, as Prodger sat in a church meeting and was shown videos of weapons of mass destruction], looking at the boy flicking his ash, and obviously the footage is looking at these different blank surfaces, which have a [great deal] of history compressed into the rock."
These visuals offer a contrast to the small movements and moments of physical contact that recur in the voice over. "I was thinking of these small intimate gestures that are seen in a global sense as inconsequential. If you're standing in a doorway and you have a hand in [someone else's] pocket [Prodger is referring to a memory of a charged queer encounter that is described in the video]...
"You know how it is," says Prodger, acknowledging me as a friend of Dorothy (to use a semi-archaic phrase Prodger taught me a few years ago), "growing up as a queer person, visibility is a very complicated and often terrifying thing. You feel like you're being observed. Even though no one can see you, it feels like a loaded moment. I was interested in all these small gestures and intimate moments, then the zooming out from that into vast landscapes of vast power structures. There's definitely a physicality to the material. Editing is a very physical thing. You're cutting, moving and layering."
---
Charlotte Prodger, SaF05, installation view Venice Biennale 2019, courtesy of the Artist; Koppe Astner, Glasgow and Hollybush Gardens, London. 
---
As part of this process, Prodger describes being interested in the "messy" parts of this physical process; for example the resulting "offcuts". Prodger describes the feeling of being "inside" and "outside" the shot. "For example, if I say 'goat bell' at the beginning of the shot, the sound of the goat bell is the inside of the shot." There's also a long sequence that shows the reflection of Prodger's laptop screen, marked with smudges and the fingerprints that have been left there while Prodger used it to edit the film, and the desk lamp under which they wrote the voiceover and edited the film. "All the way through the piece, I was interested in these indexes."
With this discussion, we loop back around to the conversation that started in 2012 with Andrew Cattanach's interview with Prodger, about the experimental Structural Film movement which sought to provide challenges to the illusion of conventional filmmaking, and Prodger's conflicted relationship with that legacy. Prodger distances their output from some of the dogmatic rejection by Structural Film thinkers that identified as being "anti-language, anti-image, anti-subjectivity."
Nevertheless, Prodger's work follows some of the interests of Structural Film in the materials, cameras, screens, and the kinds of speech moments that are usually edited out when following the usual rules of good film production. There is a caveat, however. "Although I'm formally very interested in the physicality of the moving image format, for me it feels very important to rub that up against queer subjectivity. I also think of the moments I've written about [in the voice over]. There are all these optical devices throughout the writing: glass, perspex, mirror."
"I was thinking about this when making I Was Confused about the Dancefloor", says Prodger, referring back to the work from about a decade ago that Cattanach asked about in 2012 – " a 16mm film installation that tells the story of a friend's first hand experience of the gay nightclub Berghain in Berlin." Prodger takes proud ownership of this work from their MFA degree show and draws it into the fold of SaF05: "The work looks different... the same concerns remain."
---
Charlotte Prodger, SaF05, Arsenale Docks, S. Pietro di Castello, 40, 30122, 11 May to 24 November 2019
Prodger's new film will tour across Scotland later in 2019 – details of screenings can be found here