Trans Musicales 2014, Rennes 4-7 December
Trans Musicales is renowned for its originality and variety. 2014's edition doesn't disappoint
The clock is approaching midnight on Friday. Cosmo Sheldrake, a 24 year-old Londoner, is playing a blinder of a set to a few thousand people in an aircraft hangar outside Rennes in the northwest of France. It's not a name familiar to most people's ears and, admittedly, not one we had encountered before we saw it on the roster for Trans Musicales. On reflection though, it's arguable that this skinny multi-instrumentalist is the very personification of the festival itself.
Sheldrake professes to play 30 instruments and is an adept Mongolian throat singer. His lyrics are obscure and fun, his tunes poppy and full of hooks. One wonders whether he could ever have performed to more than a few hundred people before and yet, here he is, with thousands of tipsy French revellers as putty in his hand.
This is the beauty of Trans Musicales and what makes it such a wonderfully enjoyable occasion. Festival founder Jean-Louis Brossard has said it's about "discovering artists who nobody knows." To take it a step further, it's about pushing the envelope on the perceived norms of a large festival. The location, the line-up and the artists all combine to make you feel that you've been somewhere and seen something utterly unique.
The music may not always be to your liking: there are very few "safe" acts or big hitters on the billing. But it will challenge you and, if you buy into the philosophy, you're almost guaranteed to come away appreciating what they're trying to do. Would Cosmo Sheldrake have found himself in such a prominent slot at many other music festivals? It's unlikely. But he took his chance with aplomb and turned in one of the performances of the weekend.
The names                                 
And while the festival is best considered as a whole, there were some very obvious highlights – two of which came in the opening exchanges, in the form of Courtney Barnett and Kate Tempest. Both acts appear to be on the cusp of something big and from their respective performances, it's not hard to see why.
There is something wonderfully matter of fact about how just about everything Courtney Barnett does. Her lyrics are off the cuff and deadpan. "Thank you for cooking for me, I had a really nice evening, just you and me," she sings on Anonymous Club, her voice cracking as she hits the high notes. The live show throws up an element of juxtaposition: the stoic nature of the lyrics is matched by some top class musicianship. This "slacker" can play and she and her band are clearly having fun. It's a masterful performance from something of an anti-performer, with highlights coming in the form of new track Pedestal and the superb History Eraser.
This is the biggest crowd Kate Tempest has ever played to, the South Londoner says as she takes the stage. Playwright, author, poet, rapper and singer: her performance combines fragments of each, resulting in a display of pure theatre that will live long in the memory. The world is not short of socially conscious hip hop artists, but few have done it as well as Tempest. Her cadence is magnificent, eschewing rhymes for flow, equally comfortable at 100 miles per hour or at a canter. 2014 has belonged to her and as she gazes, flabbergasted, upon the thousands gathered to laud her, you get the impression that she is just about as surprised as anyone else.
From a tempest to a hurricane: Detroit-born rapper Lizzo ripped through the festival on Saturday night, nearly blowing the doors of the vast hangar branded 'Hall 8'. The crowd was often polite over the course of the weekend, gentle applause greeting many of the acts. Lizzo sent them ape-shit. Her stage presence is almost as entrancing as the music: she pogoes along the front of the stage, invites one delighted Frenchman on stage to twerk with her and inciting the crowd throughout to "make some motherfuckin' noise". Reworking the infectious Paris for the Rennes crowd went down a treat – the highlight of what was a truly electric performance.
The locals
Mainly publicly funded, one of the cornerstones of Trans Musicales is the promotion of French music. Understandably, then, you could see and hear it everywhere. It was slightly fortuitous that one of the best local acts we saw came while supping our very first slightly bitter, watery blonde beer.
Gandi Lake is a five-piece from Caen in Normandy. The lead singer's vocals initially recall Billy Corgan, if his nasal passage was slightly widened, but the overarching likeness is with Everything Must Go era Manic Street Preachers. Their political grandstanding may always have captured the headlines, but there was an unescapable poppiness to the Manics' late-90s output – and it's these hooky indie numbers that Gandi Lake seem to do so well.
Those slightly better versed in French music had earmarked Grand Blanc as a potential highlight. Obliged at the tip, we went along to their Friday night show to find, alas, a significant deal more style than substance. A feature of the whole festival, the production was phenomenal: a striking light show and top quality sound. The band themselves – clad in black and singing in beautiful, guttural French – couldn't quite provide the hooks to match. Their sound was somewhere between the electro dirge of Depeche Mode and Scando-pop of Roxette – sinister and menacing in nature, and while pleasant enough, it was ever so slightly dull in practice.
As the nights turned into morning, the pace of the music intensified. The French have long been exporters of house and techno music and the rosters of the wee hours were saturated with the stuff. Efforts to see electro outfit Rone were frustrated when they closed the doors of Hall 9, such was the demand. But the Avener we did see and he was, again, accompanied by a spectacular light show. A fairly standard, but enjoyable hour of electro-clash ensued, one that played heavily on France's pedigree in the genre. Daft Punk (Technologique) got a workout, as did their offspring Stardust (Music Sounds Better With You). All in, it was a relatively simple playback set, but one which was greeted emphatically by the French crowd.
Alongside Transmusicales runs Bar en Trans – an independent festival spread out among the bars of Rennes' old town. In Le Backstage, a poky wooden tavern off La rue de la soif (Thirsty Street), we caught an interesting set from C.A.R., the solo vehicle of Chloé Raunet, formerly of the band Battant.
Raunet, accompanied by the marvellously monikered electro-whizz Thor, is an intriguing performer. The first couple of tracks are quite tame electro-pop, but it's when the pair explore more avant-garde tangents that things get interesting, with the best tracks bearing some likeness to the Knife. A bouncy cover of French singer Christophe's La Petite 'Fille Du Troisième' goes down well and Idolize, which has reportedly been doing the rounds on the French blogosphere, is greeted warmly, before being interrupted by technical problems. The pair recover to round things off on the aptly named Glitch. There's promise in this project, for sure.
The conclusion
The Bretons pride themselves on their hospitality and warmth. This is palpable throughout a trip to Rennes and to its dual festivals. The location – the Park Expo – is spectacular. Shuttle buses courier excited (and mostly pissed) revellers to and fro throughout the weekend, to bars well-stocked with decently priced beers. Given the size of the halls – all converted aircraft hangars – it's unusual that you find one completely rammed. Mostly it's comfortable and spacious. If you get a chance, a dander in the Saint Anne area is recommended. Its wooden, medieval style buildings lean towards you like an old-time film set.
This one Scrooge can think of few better ways to escape the early Christmas rush than a weekend immersing yourself in new and interesting sounds in the west of France. Transmusicales comes highly recommended.
Three other highlights
WIFE: Dark, exciting and banging, the Irish former metal artist produced one of 2014's most underrated records.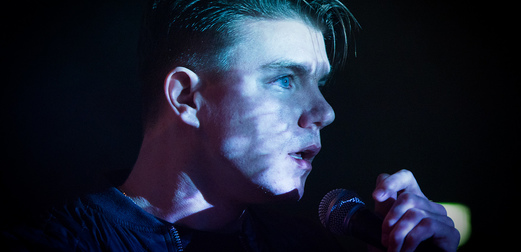 Chipsy Islam: Egyptian electronic music à la Syrian counterpart Omar Souleyman.
Too Many Zooz: Big, bold New York brass music, over a thumping beat.