Les Trans Musicales de Rennes 2019: The Report
As the legendary French festival enters its fifth decade, it's business as usual – a truly global, cutting-edge affair
It's 40 years since the first edition of Les Trans Musicales, and perhaps the most compelling evidence to suggest that its original spirit endures is that nobody seems to be making a fuss about it.
In the Breton university town of Rennes, organisers and locals alike are taking the dawn of the festival's fifth decade very much in their stride. At a press conference for the 20 or so international journalists who have flown in not just from across Europe, but from as far afield as India and Mexico, Les Trans' co-founder Béatrice Macé reaffirms a commitment to the same simple goals that she and partner Jean-Louis Brossard had set out with back in 1979; to boost the profile of live music in the region, and to look unerringly forwards, with a laser-guided focus on new artists.
That clarity of vision is doubtless the cornerstone of the festival's longevity. About as close as you'll get to any kind of backwards glance is the sea of floor-to-ceiling black-and-white photography that envelops the beer and wine dispensaries in Hall 7. They offer up a wordless crash course in Les Trans' storied history. Björk appears twice, both with The Sugarcubes and on her own. Likewise Dave Grohl, once behind the kit with Nirvana and again front-and-centre with Foo Fighters. From M.I.A. to DJ Shadow, Janelle Monáe to Beastie Boys, there's one consistent characteristic across every famous face, even those of a helmetless Daft Punk – youth. They all came here with something to prove. Heritage acts have never needed apply.
This year's remit for the bookers, then, is the same as it always has been, which is to say that there really isn't one. The line-up reaches across borders, both stylistic and geographical, to lend a platform to innovation and fearlessness. On the opening night, a perfect storm of one of France's biggest-ever general strikes and some of the thickest fog in recent memory conspires to complicate the journey to Rennes for some, with this writer arriving after midnight following delays in Paris and a diversion to Nantes.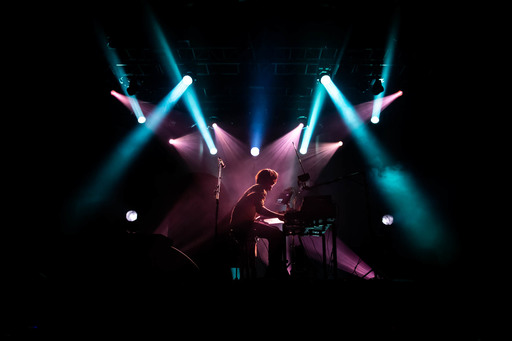 Image: Mezerg live at Trans Musicales de Rennes 2019 by Nicolas Joubard
Happily, Les Trans is a thoroughly nocturnal sunset-to-sunrise affair, meaning that there's still time to squeeze in a set from Mezerg, a Frenchman who gleefully breaks the precision-based mould of the theremin and instead repurposes it as a wand with which to weave banging techno, as well as a thrillingly ambitious meeting of minds between Haitian rhythm scientists Chouk Bwa and Brussels electro duo The Ångstromers; think A Winged Victory for the Sullen offering up an imposing, bass-heavy pedestal for joyous, unrestrained roots music.
Provided you can handle counting your sleep hours on one hand, Les Trans' late-night scheduling leaves your days open to explore a city that strikes the happiest of balances for the weekend traveller; there's plenty to see in Rennes, but not so much that it's thronged with tourists or that you'll feel you don't have time to people-watch with a glass of Côtes du Rhône or a brew from the region's burgeoning craft scene. It's a city of endearing contradictions, in everything from its architecture – the quaint, cobbled charm of the medieval old town is tucked away behind the imposing 19th century splendour of the Palais du Commerce – to its cultural identity. A thriving university town, it's a picture of modern France on the one hand and still steeped in Breton culture on the other, particularly on the culinary front: the couscous is legendary.
Les Trans itself takes place at the sprawling Parc Expo, a former airport eight miles south-west of the city centre, with the action split across several converted hangars, meaning that intimacy is sacrificed for the opportunity for new acts to play in front of thousands-strong crowds, in many cases for the first time. That the festival takes place outside of town is a great leveller, forcing punters and delegates alike to mix on the notorious shuttle buses. Stade Rennais play their home games three miles away, but you wonder whether even their ultras arrive at Roazhon Park's Celtic Kop as rowdily as Les Trans' revellers making the boisterous 20-minute trip to Parc Expo. Accordingly, it's important not to be caught short by the 8pm licensing cut-off at most stores, and ensure you have a bus beer on hand in order not to flout local tradition. Conversely, the return journeys are decidedly more subdued affairs, not least because the buses, by that ungodly hour, come to resemble mobile triage units.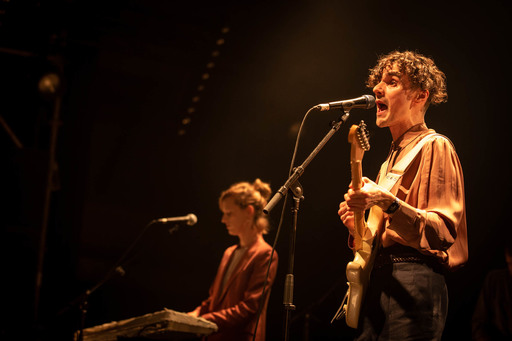 Image: Stats live at Les Trans Musicales de Rennes 2019 by Nicolas Joubard
Lying in wait on the Friday evening is a typically eclectic programme, one that runs the gamut from the Talking Heads-indebted genre-fluidity of London band Stats to a riotous late set from French-Senegalese electro-fusion trio Guiss Guiss Bou Bess. If there's a common theme, it's fierce opposition to pigeonholing; one of the weekend's true standouts is the first-ever performance by a Taiwanese act at Les Trans, in the ever-shifting shape of Go Go Machine Orchestra, a five-piece who take Steve Reich's minimalist aesthetic and run with it in all manner of directions. Twinkly guitars and pulsating synths provide the throughlines.
Fresh from a UK run opening for Mac DeMarco, meanwhile, are Los Bitchos, a London-based five-piece drawn from all over who spend all 60 minutes on stage teetering on the edge of chaos. There is so much going on – undulating rhythms, clattering percussion, frantically danceable guitar lines – and it all makes far more sense than it should by rights. Their credentials as a party outfit are ironclad, but the energy with which they bounce so many different ideas off of each other suggests a deeper brilliance – their debut full-length, which Alex Kapranos is in line to produce, should provide hard answers.
The festival's reach extends beyond Parc Expo, and it's worth pointing out that a failure to look further afield would have meant missing out on the quiet power of Israeli-Iranian singer Liraz Charhi, who speaks of her complicated heritage through her music and whose early evening show at Ubu in the city centre carries clear feminist undertones in its exploration of the present day plight of Iranian women. Away from the base, too – albeit just across the road at L'Aire Libre – is a special residency from Belgian-Congolese up-and-comer Lous and the Yakuza, whose stirring blend of R'n'B, pop and trap rhythms saw her rack up millions of YouTube views last year and who, on this evidence, has real crossover potential.
That Les Trans have chosen to hand the coveted residency slot to an artist like Lous – clearly burning with potential, but still finding her feet – says a lot about the festival. It truly feels like a case of les musiciens sans frontières; for one weekend every December, there are no apparent boundaries of time, style or place to be overcome in Rennes. All that's necessary is an urge to do something different. Here's to the next 40 years.
---
Les Trans Musicales 2019 took place in Rennes, France, from 4-8 Dec