Snowbombing 2017: Festival Review
We head to Snowbombing in the Austrian Alps for a week of top-notch electronic music in some spectacular – and unexpected – surroundings
By the final day of many big-name music festivals (especially in the UK 'summer') the site has often descended into a muddy scene of depravity and disarray. Snowbombing takes you higher – 8,497ft higher, to be exact. Initially conceived to inject some cool into the apres-ski scene, Snowbombing gathers world-class DJs and bands for a week-long party in the idyllic surrounds of Mayrhofen in the Austrian Tyrol.
Think of it as Ibiza with snow: a small, picturesque town dotted with clubbing venues that takes on a life of its own when darkness falls. You can hit the slopes by day, and dance long into the night, creating a whirlwind cycle of eat, ski, rave, repeat. Don't expect to get much sleep at Snowbombing – this dynamic festival has far too much to see, hear, and enjoy.
Location, Location, Location
Snowbombing boasts one of the most spectacular surrounds you're likely to encounter at a music festival, hemmed in by alpine forest and snow-covered peaks. The festival also makes the most of Mayrhofen's 'cultural' institutions – which is how we find ourselves in the midst of a rave in a butcher's shop on an early Monday evening.
Hans The Butcher is something of a local celebrity in Mayrhofen, and his small deli is bursting with beer-chugging, ski-gear clad party people dancing to Artwork's feel-good selections. Gorillaz's Dare has fists pumping towards the legs of ham hanging from the ceiling, and Arthur Smith serves up a selection of disco classics (Chic's Everybody Dance; Earth, Wind And Fire's Let's Groove) interspersed with his trademark sense of humour. Duck Sauce's Barbra Streisand appears with its infamous vocal overdubbed with 'Hans The Butcher', proving that one of the best ways to get a party started is to leave pretence at the door.
On the Tuesday evening, the inimitable Elrow crew host a five-hour long Bronx Street Party. Colossal stacks of speakers send soundwaves through the soles of your feet, as Richy Ahmed powers through a short set of high-octane house numbers, winding up with Traumer's festival stunner Cyclo before handing over the reins to the cleary enthused headliner Eats Everything.
Dan Pearce is surely one of the most vivacious performers on the scene today, and his skill and spontaneity in the booth is a perfect match for Elrow's carnivalesque aesthetic. The real show-stopper though is the party itself. With the DJ booth transformed into a NYC subway car, stilt-walkers in Bronx-themed outfits traverse the outlandish sea of revellers (which includes a troupe of lads dressed as Snow White and The Seven Dwarfs and a pair of dancers sporting inflatable T-Rex costumes) and confetti cannons shoot streamers and white paper high into the sky, creating one hell of a mind-bending, audio-visual spectacle.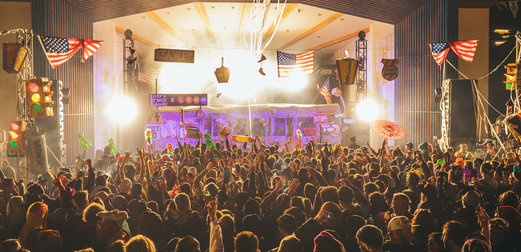 Elrow's Block Party at Snowbombing 2017. Pic: Danny North / Fanatic
The Big Names
Snowbombing is predominantly an electronic festival, and despite the anomalous inclusion of bands such as Blossoms and Courteeners on The Forest Stage, the lineup is geared towards high-class house and techno. Case in point – the pairing of live maestro KiNK with the peerless Dixon over at the Bruck'n Stadl stage on Tuesday night. KiNK is preceded by a well-paced ambient set from the Finnish-born producer Sasse, which over the course of an hour and a half builds in tempo and makes a fitting hand-over to the Bulgarian's high-energy stage antics.
It's 12.30am and a surprisingly small-ish crowd for an act of KiNK's skill and reputation, but every person present is moving exuberantly to his flamboyant selections, which incorporate a range of instruments and some hands-on help from the audience. Unfortunately, too much enthusiasm proves fatal when the set grinds to an abrupt halt at 1.30am, after a flying drink lands on the decks and Velchev is forced stop and abandon his now non-functioning laptop. Ever the consummate showman, he presses on and the set continues without further incident, but it's an unlucky hitch that later prompts this good-natured Facebook post imploring his fans to bring him beer in a bottle rather than throw them at the stage.
Dixon then takes over and for the next three hours, the German delivers a masterclass in the kind of tight mixing and expert pacing that has rightly cemented him as Resident Advisor's Top DJ for the past four years running. Laid back in the booth to the point of appearing ever-so-slightly dispassionate, there's not a single track out of place in the atmospheric set. The only oddity is the still-small crowd, which for a venue with a capacity of 1,000 remains around only half-full. One could count having such an initmate audience with Dixon as a blessing, yet there's a feeling that the low turnout marginally dampens the usually electric mood he's renowned for.
The Highlights
Gerd Janson suffers from a similar fate in terms of crowd numbers, but the Running Back label boss takes the conditions in his stride and turns them into a mid-week highlight with his invigorating Wednesday night show at Bruck'n Stadl. Kicking off at 1am and moving through a short but dopamine-releasing selection of house numbers laden with buoyant synth lines and looping rhythms, Janson shows off the musical nous that made his 2016 fabric mix such a joy.
Chameleonic UK talent Midland follows Janson and ups the ante even further with a more agressive tech-house tone; Trevor Kropf's ballsy, bottom-heavy Change being an early focal point. Again, it's a mere hour-and-a-half slot (the Snowbombing standard, which feels frustratingly brief for so much of the talent on show) but with crowd-pleasing turns like Daphni's Ye Ye, it's one of the most sweaty, vitalising sets of the week.
Another king of making feet move is the Studio Barnhus co-founder Axel Boman, who has a heaving mass of people – one of the most energetic audiences Bruck'n Stadl has seen all week – jumping in delight on Thursday night. An excellent warm up is provided by DJ Koze (who released Boman's kooky house anthem Purple Drank on his own Pampa Records imprint back in 2010), including the cheeky set-closing inclusion of his own disco edit of Låpsley's Operator. Swedish talent Boman picks up on Koze's eclectic party vibe and runs with it, dropping the likes of the club mix of Follow Me by Aly-Us and DJ Sneak's Sneakwaves before wrapping up the brief but epic danceathon with Adam Port's newbie Ganesha Song.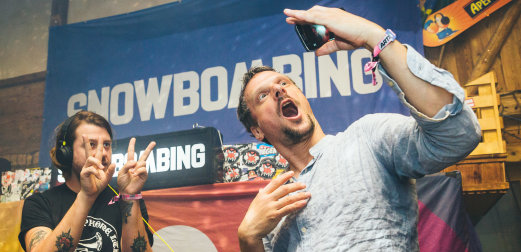 Axel Bowman and DJ Koze at Snowbombing. Pic: Gobinder Jhitta / Fanatic
The Ones To Watch
A pre-midnight slot is always a gamble in terms of audience turnout. Rafael Da Cruz precedes Gerd Janson on the Wednesday night, and despite a sparse audience he has the bar staff dancing and fist-pumping their approval from across the room. The Cologne-based Da Cruz crafts a thoughtful and commanding journey through 90 minutes of sinister-edged deep house, with Christian Hornbostel's bustling Out Of The Matrix shaking us out of the mid-week energy fade. The jungle grooves of Rio from Luxembourg's Cleveland are a welcome inclusion, and Da Cruz's set closer Ride Like The Wind (the Joey Negro Extended Disco Mix) is an unexpected disco gem that perfectly bridges the gap into Janson's set.
Another one to keep your eyes peeled for is Louis Anderson-Rich, who takes an early slot on the final day at Bruck'n Stadl as part of the Mixmag Allstars. He infuses the room with exactly what is needed on the last day of a long week of partying: some no-nonsense, feel good house bangers with depth. Think Earth People's infectious, horn-laden Dance and Chicago Hustlers' Better Dayz, which leads seamlessly into Patrick Topping's midnight set.
Bold, brassy and ever so slightly trashy, it's not to everyone's taste, but Topping commands one of the biggest Bruck'n Stadl crowds of the week – the room temperature is soaring and bar queues are five-deep. We opt out as the Dense & Pika remix of Tiga's Louder Than A Bomb sends the crowd into a frenzy, and the walk back through the small town in the twilight hours proves prime time for reflection.
Now nearing its 20th year in the game, Snowbombing has cemented itself as 'the Glastonbury of snow festivals'. But even with the heavyweights, there's room for improvement. At the more light-hearted end of the scale, could the festival offer more food options for vegetarians and vegans? For sure. Much more pressingly, should there be a greater number of women on the line up? Absolutely. Perhaps most important of all is whether the festival will continue to try to cater to a more mainstream audience, at the expense of attracting small crowds for internationally renowned house and techno acts that deserve much bigger audiences. There's only one way to find out – see you in 2018 Snowbombing, it's been a pleasure.