Rock en Seine 2017: The Report
We recap the best bits of this year's Rock en Seine festival near Paris
Rock en Seine has long established itself as one of France's premier rock festivals. In the fifteen years it's been running, RES has attracted an enviable range of musicians to play in the Parisian outskirts. On the baking hot weekend of 25-27 August, The Skinny travels to the verdant Domaine National de Saint-Cloud for a festival full of ghostly sculptures, secluded stages, and, of course, some stonking performances. Here are some of the best acts we saw each day.
Friday at Rock en Seine
Frank Carter and the Rattlesnakes kick things off on the Friday afternoon on the Grande Scène with their caustic hard rock-inflected punk. Carter is an ambitious performer, with the face-tattooed ex-Gallows singer – the very first act of the weekend – seeking the 'biggest circle pit at Rock en Seine'. Although people are still finding their way through the park to the main stage, the crowd are certainly up for trying, and come close to making it all the way around the sound tent. It's a raucous start, as Carter dedicates the scathing anti-terrorist song Paradise to the victims of concert attacks at the Bataclan and the MEN Arena, before letting his torn voice rip over pummelling guitars. It's a timely reminder before the fun starts for us to think of those no longer here to enjoy it.
While Teme Tan's tantalising dubbed-out beats light up the secluded Scène du Bosquet, and the Nantes pop group INÜIT try out their promising EP Always Kévin on the Scène de l'Industrie, we are drawn to the raggedy Mancunian post-punkers Cabbage's set on the festival's second stage, the Scène de Cascade. Cabbage continue in the same thematic vein as Carter with the bouncy, buoyant Terrorist Synthesiser, led by the shirtless Lee Broadbent's la-la-la vocals. While the recent rumours surrounding the group lead us to wonder whether the UK needs more ramshackle lad rock right now, it's clear that Cabbage at least have something to say, Broadbent swinging his mic during the entertaining Uber Capitalist Death Trade before the band leave to a cry of 'Fuck Brexit'.
Acting on a tip-off, we check out Belgian hip-hop pairing Caballero and JeanJass on the festival's smallest stage, the Scène Firestone, found on the steps of a promotional van. Combining the squat Barcelona-born Caballero and the lanky JeanJass, the pair come across like a less political French-language Run the Jewels, boasting the same humorous irreverence, one-two interplay and dark drippiness in their sound. Their gunshot effects and cuckoo wordplay of their debut record Double Hélice 2 seems to have given them a dedicated fan-base already, as the Ooh Ahh Cantona melody of La base gets the crowd jumping side to side and throwing their red brimmed promotional hats in the air. As their biggest hit and closer Sur Mon Nom says, the pair are not finished yet.
---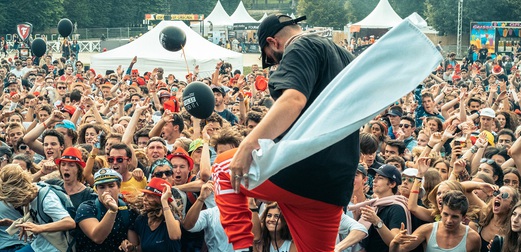 Caballero at Rock en Seine. Photo: Victor Picon
---
Following a lively first few acts, we relax a bit to Beach Fossils' jangly dream-pop at the secluded Scene du Bosquet stage. They prove to be the perfect fit as the sun finally comes out on a cloudy afternoon with the delightful pillowy synth build of This Year and What A Pleasure's racing arpeggios. Reminiscent of Real Estate and The Radio Dept, the trio's third album Somersault, released this June, saw them honing their own sound, demonstrated by the brass and wind-flecked Saint Ivy. All in all, it's a cinematic rush of a set that can only see Beach Fossils getting bigger as they end with debut highlight Daydream and bubbles drift through the air.
We sit on the grass watching FKJ's smooth electro funk, and hover near the Cascade to hear our timeless heroes The Jesus and Mary Chain tour their latest record Damage and Joy, Just Like Honey's delicate harmonies going down easy as the sun sets. We then join the biggest crowd of the day for Friday's headliners Franz Ferdinand, frontman Alex Kapranos sporting a new Bond villain-esque shock of bleached blonde hair. The Glaswegian art-rockers remain a clever, seductive and tight outfit with a potent back catalogue, from the lively funk harmonies of No You Girls and the silky slow guitar of Matinée to Do You Want To's thump, and they take the opportunity here to test out songs from their upcoming new album, the pick of the bunch being the spectral Always Ascending.
While FF's formula has never hugely varied throughout their history, they have pure camp and enthusiasm on their side, busting out debut record favourites Jacqueline and the slinky Michael. At no point is Franz's expertise at winning a crowd better demonstrated than in their last few songs, as they stomp through the ever-irresistible Take Me Out before Kapranos orders everyone to sit on the ground during a raucous rendition of This Fire. It's such exhausting fun that we give The Shins a miss and save our energy for the following day.
Saturday at Rock en Seine
"Ready to have an African party?" Eno Williams asks as the London eight-piece Ibibio Sound Machine start proceedings from the main stage on a blisteringly hot Saturday afternoon. Combining West African funk with futuristic electronica, they make good of their first time at Rock en Seine with their speed and gusto, encapsulated by their Ghanaian guitarist Alfred Bannerman who shreds when he's not jiving and holding up peace signs. Dressed traditionally with tasselled epaulettes, lead singer Williams leads the band into Give Me A Reason, a song inspired by the Chibok schoolgirls' kidnapping in 2014. With all their bubbling synths, horn blasts and magic xylophone runs, by the time that Williams shrugs off her epaulettes to dance through closer The Power of Three, it's clear that the best way to combat anger is through infectious joy.
DBFC, the pairing of Parisian dance master Dombrance and Mancunian David Shaw, is an interesting spectacle at the Scène de Cascade, as they offer up their brand of 'psychtronica' while Shaw keeps cool in a Hawaiian surfer shirt. A passer-by makes a Spaceman 3 comparison and it's an apt one: nodding along the songs from their accomplished debut album Jenks, like the smooth harmonies of the title track or the dreamy electronic burble of Autonomic, minutes can drift by like seconds.
---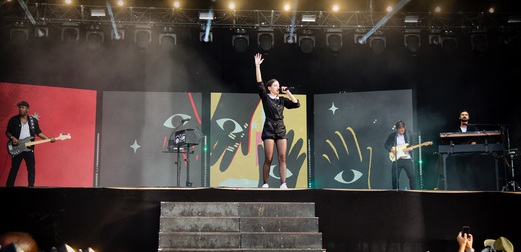 Jain at Rock en Seine. Photo: Christophe Crenel
---
We find our way back to the main stage just in time for the Motown soul of Jain's Dynabeat. Attracting an enormous crowd on the back of her smash debut, 2015's Zaneka, Toulouse-based singer-songwriter Jeanne Galice looks reminiscent of Sarah Blasko in her black and white dress – could she crack the UK like Christine in the Queens, or will she be a strictly continental phenomenon? We guess the latter: while Jain's globetrotting sound is admirable she is held back by her Franglais lyrics and lack of distinct style. That doesn't stop it being fantastic pop though, as the whooping chorus of African funk-flecked closer Makeba gets people jumping even right at the very back in the crowd before Galice climbs into an inflatable bubble and gleefully runs over all of them.
Nearby at the Scene de l'Industrie, Vince Staples blows the speakers with his abrasive brand of hip-hop. Performing in the shadow of a trio of ghostly sculptures, one looking like the Statue of Liberty, Staples' description of America as somewhere 'you can live your dreams long as you don't look like me' (on Gorillaz collaboration Ascension) certainly hits home in the wake of the recent Charlottesville clashes. Alone on the stage standing still at the mic, Staples' set isn't the most engaging visually but its sounds are, from the discordant piano on GTA collab Little Bit of This to the racing excitement of With You's Ghost. There is surprisingly little from Staples' recent Big Fish Theory LP here – he should be more confident in his solo material.
Briefly bypassing the soul legend Lee Childs, who definitely still has it even as a 60-something, we go to the main event of the day in PJ Harvey. We expected Harvey to have a flair for the dramatic and she does not disappoint, entering the stage to the funereal military march of Chain of Keys from her latest record The Hope Six Demolition Project, accompanied by an all-male backing band dressed in black. Resolutely mute between songs, Harvey and her band gradually move backwards through her catalogue, gesticulating wildly during Let England Shake's mournful songs and standing alone under a spotlight for the sparse Deep Darkness, playing almost as a Cassandra for our time.
Harvey can't hold the apocalyptic act forever though: after a rollicking 50 Ft Queenie and a slinky Down in the Water, the crowd applaud so much that Harvey speaks to introduce her band, closing with the swampy To Bring You My Love and the curdling mantra of River Anacostia. The last song of the night is The River, with its haunting piano and pain 'to be washed away slow'. It's the most haunting performance of the weekend, and Harvey leaves us with little hope that the world will change quickly.
Sunday at Rock En Seine
Contrary to their name, Rendez-Vous' music is not warm and engaging. Instead, the Parisian post-punk quartet's ice cold synths and gang chant vocals sound more like the aloof future imagined in Kraftwerk's Computer Love. There's plenty of reference points here at the Scene de l'Industrie this sweltering afternoon, with traces of The Cure's watery guitars in one song, the Smiths' jangle on the next, and then Depeche Mode in an escalating synth-run and four-to-the-floor beat. There is a sense of play in the relentless bleakness though. They should get to work on sound-tracking that dystopian video game.
On the main stage, Mac DeMarco proves to be a smooth entry point to the evening as the sun finally moves behind the clouds. Looking a bit like Steve Irwin in a faded shirt and fedora, the Canadian singer-songwriter's informality is well known, as he rocks with a British guy in a Nintendo 64 shirt before putting him on his shoulders and smoking a cigarette while singing One More Love Song. Now that's multi-tasking. After Chamber of Reflection's woozy synths, DeMarco goes shirtless for his traditional closer Still Together, lifting his pants to his navel and blowing a kiss to the cameras before crowdsurfing with so little stress he might as well be on a pool lilo. 
Later, we plump for the youthful pop rock bounce of The Lemon Twigs at the Scene de l'Industrie. Fresh from acting on Broadway, brothers Brian and Michael D'Addario have a 60s/70s feel to their wholehearted and weirdly twisting baroque pop, part Beatles and part ABBA. They have much in common with the latter with their glam energy, high-kicking their way across the stage with a relentlessly sunny outlook. Their late set moves from a cover of Jonathan Richman's You Can't Talk to the Dude, through the lounge piano song of How Lucky Am I? to further delightful covers of John Prine's Fish and Whistle and Roky Erickson/Wednesday 13's I Walked With A Zombie. If their own songs continue to be as good as these covers they will have a long, distinguished career indeed.
Back at the Scene de Bosquet, Slowdive are back together again with their immersive shoegaze, looking to rebuild an audience in their first album in 22 years since their 1990s heyday. And what an album it is: the recent single Star Roving is astounding, with the band's two founding members Neil Halstead and Rachel Goswell cominbing with dreamy harmonies. As the half-moon shines down over the darkness, their set-up is fantastically prescient too, with When The Sun Hits' tremolo guitar summoning a dazzling light show before the nocturnal Sugar for the Pill. Slowdive close with Souvlaki's classic anthem Alison and a haunting cover of Syd Barrett's Golden Hair, a gentle drift of a song that builds into a crashing post-rock masterpiece. Back at their best like this, you can easily imagine Slowdive establishing a brand new following all over again.
---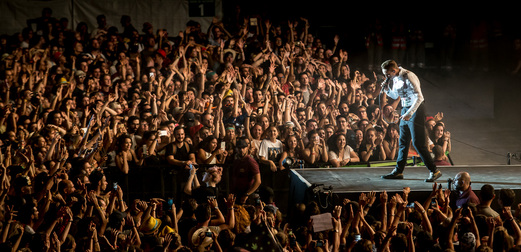 The xx at Rock en Seine. Photo: Olivier Hoffschir
---
The festival comes to a close with the most anticipated act of the weekend, The xx. Opening with beefed up versions of Intro, Crystallised and Islands, the set makes dazzlingly clear just how much the trio have grown as a live force since their minimalist 2009 debut. Romy Madley Croft and Oliver Sim's interplay is stronger than ever on their latest record I See You, and the pair's excitement and delight at this show is palpable as they strut across the stage, relishing their confidence on new bangers like Say Something Loving, Dangerous and I Dare You. Of course, there are growing pains, with the band still being a little too anxious to talk, as Croft admits to fright before a solo rendition of Performance and Sims makes a botched attempt to climb into the crowd, giving the early set an awkward pace.
When Croft and Sims settle down though, it's beautiful, with Jamie Smith showing his importance to the xx's future by transforming Fiction into a dance anthem. Smith's influence leads to the most astonishing moment of the weekend: a seamless three-song spectacular starting with Shelter. As an astounding light show forms grids in the air, the song transitions to Jamie xx's Loud Places, with Croft and Sims letting Smith build it into a full-on rave before the pair return to the stage to lead a climactic rendition of On Hold. It's an incredible sequence that brings rapturous applause from the audience and leaves Croft and Sims genuinely taken aback, as if amazed at what they have achieved. Even if closer Angels feels like a comedown after that, we leave feeling like we have witnessed a pivotal moment: the start of The xx being absolutely massive. On what better sense to end Rock en Seine 2017 than with the excitement of what is to come?