Primavera Sound 2016: The Review
For British music festival veterans wearily accustomed to watching live music from under the hood of a dripping anorak, Barcelona's Primavera Sound – a festival effectively located on a Mediterranean beach – is something of a sunny novelty
It's not just the weather where the Spaniards have the upper hand. Primavera 2016's line-up is easily as strong as any other comparable event in the world, boasting a stonkingly consistent curation of alternative pop and rock, not to mention a strong showing of dance and electronica, reflecting the event's humble club night origins.
So strong is the selection, in fact, that inevitable clashes are everywhere. All festival-goers know of the painful sacrifices to be made when circling their programmes with a biro, but some of the Sophie's choices at Primavera felt particularly fiendish: Sigur Rós or Julia Holter? Brian Wilson or Richard Hawley? Battles or Neon Indian? Radiohead or Dinosaur Jr. or Tortoise or Shellac... This last mega-clash, in particular, felt like a deliberate bit of scheduling, perhaps to tempt people away from a massive headline crowd.

Radiohead, photo: Eric Pamies
If that was the plan, it didn't work. Oxford's finest were by some margin the busiest act of the weekend, the main stage area swollen by dayticketers eager to catch Radiohead's only appearance in Spain this year, and their first in five years. Pity the delicate ears of the Radiohead fans who arrived hours early to reserve their spot, only to be met with the punk brutality of Savages, leaving many in the mosh pit with the glassy-eyed look of a traumatised soldier returning from war.
Still, their patience was richly rewarded. There has perhaps never been a better time to see Thom Yorke and his merry band of rock experiminstrels, riding high from their strongest album in a decade, and no longer willing to ignore their vast back catalogue, with songs from all nine of their LPs – yes, even Pablo Honey – across a two hour set. Priority is given to the new record, A Moon Shaped Pool, then they flit confidently and expertly between fierce electronic floor-fillers (Idioteque); emotional belters (the quiet dignity of Nude only slightly punctured by a mobile beer vendor shouting, "Cerveza!"); even festival anthems (Creep, rarely performed live these days).
After 30 years together, they remain an enigmatic stage presence. Yorke barely acknowledges the crowd ("I'm impressed you're all still here," he says with mock surprise after the first hour) and frequently loses himself in trance-like dance spasms. But for all the cheap barbs about 'music for bedwetters', it's easy to forget that this is a band well-accustomed to knocking out a riotously powerful couple of hours of rock. Frankly, they're everything you'd want from a headliner.
Radiohead have been away for roughly as long as LCD Soundsystem, the Thursday night headliners, but only the latter are calling it a reunion. The impact of James Murphy's 2011 'farewell tour' might now feel a wee bit cheapened – their supposedly final compilation record had the somewhat unfortunate title of The Long Goodbye – but any cynicism evaporates the minute Murphy and his army of musicians flood the stage, launching into the staccato percussions of Us v Them with ferocious vigour.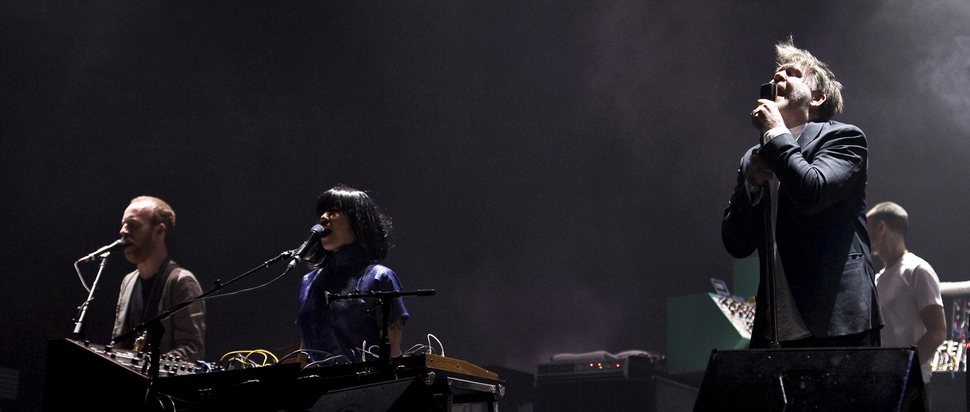 LCD Soundsystem, photo: Eric Pamies
They're the consummate performers. Playing to a monster crowd, Murphy's stage banter is grateful and effusive, acknowledging that "we played here 13 years ago – it was a bit smaller then." But he mostly shuts up and plays the hits, to coin a phrase. There's no new material, as had been rumoured – just the staples that have made LCD such a ruthlessly efficient live act. After nearly two hours of relentless energy, the three-song encore has a sense of wonderful inevitability to it: first, the soulful, gospel-like curtain-closer New York, I Love You, But You're Bringing Me Down; then the unbearably-long build-up and thundering bass apex of Dance Yrself Clean; and finally, All My Friends, generating instant camaraderie among a crowd of thousands. They play a blinder, and provide a perfect distillation of what Primavera is aiming for: that sweet spot where rock, pop, and dance intersects.
For a lot of these headliners, it's all about creating a sense of artful scale and scope. Go big, but do it thoughtfully. Explosions In The Sky, for example, offer up some gloriously theatrical post-rock on Thursday evening; their brand of instrumental rock – brash, theatrical, lashings of dry ice all around – is almost like an acceptable form of heavy metal, at least in presentation. In melodic terms, it's cinematic and movement-based, all shimmering crescendos, minutes-long intros converting into epic climaxes. The four guitars wield function like props in a stage show, each member athletically throwing themselves into each strum like they're trying to resuscitate the instrument. It veers on repetitive – if everything's epic, surely nothing is? – but their quixotic, cinematic scope easily justifies their headline slot.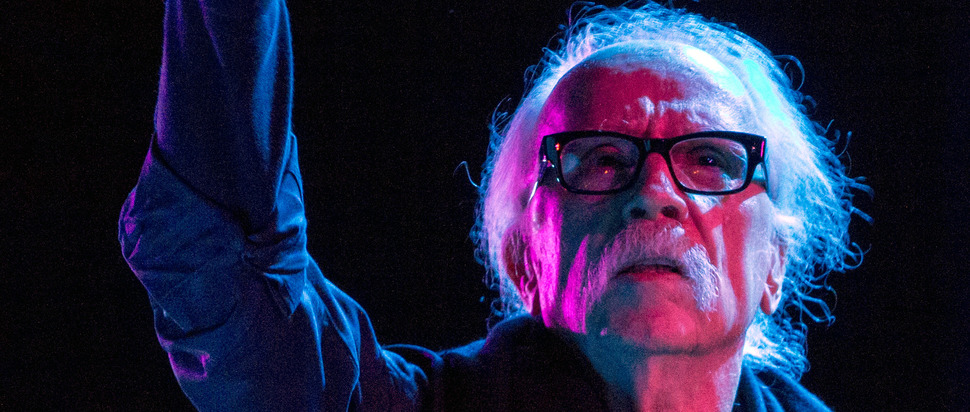 John Carpenter
If you wanted cinematic at Primavera, mind, you could do no better than John Carpenter, by far the most surprising treat on the entire programme. The veteran film director wrote or co-wrote the musical scores to every film he made, and only now has decided to tour them. Aged 68, this is only his fourth live performance ever, but you wouldn't know it. "What's up? I'm John Carpenter," he announces with a lackadaisical charm, chewing gum, flanked by a band of leather jackets and bandanas. The set opens with the theme from Escape From New York, with a sea of enthusiastic fists pumping the air in response, and it continues in much the same vein. Carpenter has an abundant back catalogue of oh-yeah-I-remember-this-one themes, from Halloween to The Fog (the latter accompanied by smoke machines, natch). With that and his recently released albums Lost Themes (I & II), the result is a joyful window into a forgotten era of 1980s synth-driven power rock: simple, unironic, and utterly exhilarating.
There aren't many septuagenarian debutantes on the programme, but Primavera certainly gives a platform to a smattering of similarly fresh talent. Julien Baker conjures up a bewitching acoustic set of heartfelt folk songs, sending half of the hungover crowd into an afternoon siesta. Holly Herndon, currently a doctoral student in composition at Stanford, serves up an enjoyably bonkers set of experimental techno, accompanied by a VJ using all the tools that the clipart library from Windows 95 has to offer. Kiasmos go for a more conventional line in four-to-the-floor bangers with a melodic twist.

Daughter, photo: Eric Pamies
Two albums in, London-based Daughter (incidentally, yet another big Anglophile name on a line-up which mostly relegates the locals to the lesser stages) are hardly newcomers any more, but they certainly act like it. Cutting a slight figure on a large stage, 26-year-old Elena Tonra appears quite startled to see such a crowd. In between songs, she's bashful and self-deprecating ("There's so many of you! It's quite scary – and beautiful"); during songs, she's raw and emotional, a blood-let of a set. This sort of thing can be a tricky proposition at a festival, performing songs that don't immediately lend themselves to boozey jollities: their gloomy mood hardly matches the Spanish sunshine, and lyrics like 'I'm always lonely' might come across a tad disingenuous when played to a crowd of 20,000. But Daughter have the nous and intelligence to pull off the tightrope act.
One act that emphatically matches the sunshine: Brian Wilson. The former Beach Boy is currently embarking on a worldwide retirement tour, marking the 50th anniversary of landmark album Pet Sounds by playing the whole thing through. Looking as frail and doddery as he did on his 2012 tour – that's where a heroic amount of drugs will get you – Wilson has to be helped on stage, and often struggles as a performer (those famous falsettos have to be deferred to Matt Jardine, son of original Beach Boy Al Jardine).

Brian Wilson, photo: Eric Pamies
But the crowd are respectfully encouraging during his occasional bum notes ("
te amo, Brian!
") because, heck, Brian was always more of the background songwriter than a singer, but also – what songs! To hear this peerless album played out live is something approaching bliss. Wouldn't It Be Nice is probably as perfect a pop song as you'll ever get; God Only Knows tingles spines. It's almost a shame that after performing
Pet Sounds
in full, the band subsequently run through a quick Greatest Hits package, leaving it feeling like a tale of two sets. I Guess I Just Wasn't Made For These Times holds a certain poignancy half a century on; Monster Mash, less so. Still, the more conventional surfer pop only highlights what an astonishing achievement
Pet Sounds
was.
Sigur Rós seem to be known as well for their advert soundtracks as anything else these days, but this is a band cut from a similar experimental rock cloth as Explosions In The Sky, and there are, admirably, no careful concessions to accessibility (It's surely a conscious decision that The One From That Attenborough Documentary is not on the set list tonight). The Icelandic wizards are barely visible from behind an elaborate set that looks like some sort of Middle-earth scaffolding, accompanied by intensely psychedelic visuals. The 'songs', meanwhile, are slow, grand, and full of bluster, and their trademark Tolkienesque nonsense warbling holds us in a hypnotic spell. The performance is often so understated that it doesn't entirely drown out the general chatter of the crowd, but an occasional respectful 'shush' from diligent fans quickly puts paid to that.
What's perhaps unique about Sigur Rós' set among this line-up is that nobody in the crowd feels compelled to dance. A few appreciative head bobs, sure – but nothing too lively. In a move of impudent scheduling similar to Savages-followed-by-Radiohead, the organisers decide to move from the atmospheric operatics of Sigur Rós into the thumping dance anthems of Moderat. It's not as great a tonal dissonance as you might expect: the longstanding Apparat/Modeselektor collaboration balance scintillating, vocal-driven, electronic acrobatics with straightforward alt-club behemoths, generating a party mood but with no less atmosphere or mystery than the previous act.
Their sound is so rich, so gorgeously constructed, and – crucially – so utterly danceable, that it ends the weekend on an emphatic high note. Barcelona is a party city, and proud of it, so the festival goes out of its way to acknowledge its status as such (Which other festival would book Har Mar Superstar to play two separate sets?). As the final night of festivities draws to a close at 6am, and the hot Spanish sun slowly rises over the tired but persistent crowd, Blighty's dripping anoraks seem gratifyingly distant.