As we've been telling you for years now, the annual Primavera Sound festival in Barcelona brings a lineup featuring indie rock vets (real indie rock, mind, not the fucking Kaiser chiefs), resurgent underground champs and rising mavericks to the Catalonian capital.
A stalwart of the calendar, at 2014's installment fans of hardcore's offshoots are appeased by the addition of Deafheaven and Touché Amoré, plus post-rock enthusiasts are satisfied by the return of Mogwai and Godspeed You! Black Emperor to the event. Television also reunite to play their landmark Marquee Moon in full. And this is all barely scratching the surface of an embarassment of riches.
On opening night, The Brian Jonestown Massacre play a warm up set over at the Apolo venue; their 60s-inspired psychedelia is the perfect introduction to a festival spanning multiple eras and musical genres. When Jokers Attack is the set's most impressive cut, but the jangly Nevertheless also works wonders. Their stage presence is gloriously shambolic – members constantly switch positions and instruments, resulting in an unpredictable and surprisingly coherent performance.
One man sax band Colin Stetson kicks off proceedings in the darkened Auditori Rockdelux; hyperactive notes and fluttery drones ring out endlessly, and it's thunderous, eerie and alluring. The Quebec-based saxophonist switches between one small instrument and a large, bass-sax. Both make sounds that defy reason or logic.
Julian Cope is evidently feeling nostalgic – the English singer-songwriter airs more than a few old tracks from his days in The Teardrop Explodes, including the profanity-laden Cunts Can Fuck Off and the late '78 piece Sleeping Gas. His brand of neo-folk is both playful and oddly relevant, and his voice is as eccentric as ever, despite his discomfort during one particular whistle solo: "I hate whistle solos; they make me feel like fuckin' Axl Rose or something."
A Winged Victory Sullen craft minimalist soundscapes aided by piano keys, violins and cello; the resulting drones wash over the crowd like waves of celestial ambience. Their orchestration gradually get more complex – even menacing – as the set goes on, but the music is never uninviting.
Future Islands frontman Samuel T. Herring's recent show-stopping performance on The Late Show with David Letterman has done the rounds enough to secure the band's set as a must-see. They don't disappoint, either: the singer throws shapes that look like they're being pulled by some freakish hybrid between Morrissey and Henry Rollins. Seasons (Waiting on You) pulls the most enthusiasm from the crowd, but the affectionate Tin Man and the bass-led Spirit also get people moving.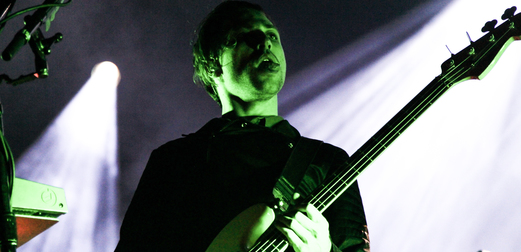 Queens of the Stone Age churn out their fastest, most aggressive material in the opening few songs of their set, blasting through No One Knows and Feel Good Hit of the Summer with aplomb. There's a few surprising additions which end up becoming the strongest songs of the night, like Little Sister and shredfest Sick, Sick, Sick. Jon Theodore's dizzying drumming during Song for the Dead is most impressive.
Shellac are the only power trio worth staying up this late for; their abrasive, jagged take on noise rock is just what the doctor ordered. Prayer to God's terrifying mantra hits home most, but the throbbing bass-assault of Wingwalker is similarly punishing, as is the spoken word-aided End of Radio.
Next, Touché Amoré put on an impassioned, energetic show over at the Vice Stage; it's a thrilling mix of both older and new cuts. The recent Just Exist is performed with vibrant, blazing passion, and Honest Sleep's furious barrage of speed riffs and drum blasts prompts a sizeable mosh pit to open up front-centre. Meanwhile, the comparatively mid-tempo Harbor provides ample time for reflection before the LA quintet kick into an amped-up version of heart-on-sleeve confessional Amends.
---
On Friday evening the heavens open up as Drive-By Truckers take to the Ray-Ban stage, but the poor weather doesn't stop them from warming up the festival's bravest attendees; Mike Cooley and Patterson Hood exchange vocals and southern-fried licks on several career classics, with the raucous Three Dimes Down coming out on top.
The Twilight Sad share a good breadth of their material, and have no problem working the audience with a mixture of synth-laden gloom (Alphabet, Nil) and reverb-soaked anthems (I Became a Prostitute, Cold Days From the Birdhouse). Frontman James Graham is appreciative of the audience's support so far away from home, repeatedly thanking them for making the band feel welcome. They've been playing these songs on the live circuit for some time now, and with just a solitary sniff of new material from their forthcoming fourth LP, it's otherwise a tight, efficient best-of set for newcomers and mainstay fans alike.
Slowdive have been waiting for their opportunity to take their classic back catalogue out of the practice room and back into people's lives, and their set at the Sony stage gives them more than an ample chance to revisit these old tunes. Opening with a cover of Brian Eno's Deep Blue Day, they launch into a gorgeous run-through of the song they lent their name to before re-exploring Souvlaki-era greats like Machine Gun and When the Sun Hits. It's a glorious, career-spanning set full of sweet hooks and comforting tones.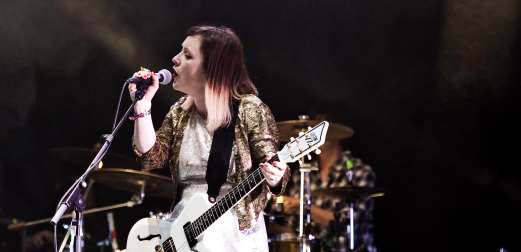 The War on Drugs commandeer the Pitchfork stage with confidence with an amped-up Adam Granduciel hollering his way through three albums worth of classic rock-influenced anthems. There's danceable shoegaze gems like Baby Missiles and the Eagles-indebted Red Eyes, but the Springsteen-referencing Come to the City is a sure-fire standout.
San Francisco metallers Deafheaven make sure to put on an intense show, opening with Dream House, a colourful blend of blackened shoegaze, furious hardcore and blistering post-rock. They strip things back for the brief interlude Irresistible before piling on the aggression with the stirring, emotionally resonant Sunbather. Daniel Tracy's drumming is truly punishing, whereas Kerry McCoy and Shiv Mehra's guitar melodies fuse together wonderfully. Frontman George Clarke is as arresting a presence as ever; he throws himself around the stage throwing violent rasps at his mic in the midst of a manic trance.
Jesu provides the perfect counterbalance; Justin Broadrick's post-Godflesh project is heavy in a slow, gruelling way – with the melancholy-drenched Silver stealing the show early on in the set – but Homesick and Comforter, both from this year's grey-hued Everyday I Get Closer to the Light from Which I Came, are similarly impressive in their ability to merge slowcore, shoegaze and post-rock in smart and attractive ways.
---
Saturday sees the appearance of Earl Sweatshirt, who evidently doesn't need his fellow OFWGKTA cronies to cause a stir – he does a fine job of that himself, priming the assembled with a riotous mix of material from his end of the Odd Future canon. Never Gon Stop oozes with confidence, and the coke-referencing Kill Em All is a satisfying slice of hip-hop minimalism. He may still be young, but he's certainly not lacking in the confidence needed to work a crowd.
Godspeed You! Black Emperor arrive as the night sky begins to turn black as they open with the increasingly panicked, eastern-tinged Mladic, from their latest 'Allelujah! Don't Bend! Ascend! It's a terrifying plunge into oblivion that's appeased only by the soft resonance offered by Sleep, a career staple. There may be little in the way of stage presence, but that hardly matters when they captivate this much musically.
The Dismemberment Plan make it their mission to get people dancing, playing a selection of uplifting numbers from their back catalogue, including recent cut Waiting and the bouncy, confident You are Invited. Frontman Travis Morrison is suitably upbeat, performing with a renewed sense of wonder absent from many other reformed indie greats.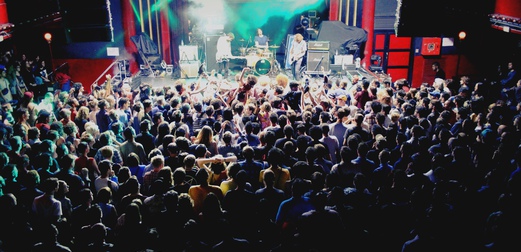 Cloud Nothings shred the night away with songs from their latest, the stellar Here and Nowhere Else; ringleader Dylan Baldi fires through Psychic Trauma, his voice shifting from hollow and apathetic to throat-shredding in its faster moments. It's the most punk set of the night, especially considering Wasted Days' inclusion the Attack on Memory cut proves to be a whirlpool of jagged guitars, crushing bass and crashing cymbals.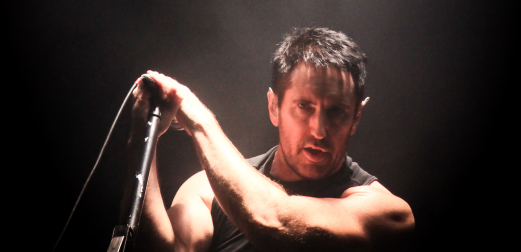 Nine Inch Nails open somewhat unpredictably (unless you caught them in Glasgow recently) with Year Zero cut Me, I'm Not and has Reznor and Co. stood behind their own respective loop stations before the setup changes and Ilan Rubin gets his chance to thrash out behind the kit during 1,000,000. The darkest depths of The Downward Spiral and The Fragile are revisited with a devastating selection of tracks like March of the Pigs and The Wretched. It's rare that a reunited group bring so much passion this late in the game, but it's a feat that the revitalised Nine Inch Nails have no problem surpassing. As a cathartic means of closing three glorious days, what a away to go out.