NOS Primavera Sound: The Review
We take in the younger sibling of Barcelona's Primavera Sound, and find Porto's line-up packed with moments of emotion, drama and high energy
For those wishing not follow the herd to Primavera Sound in Barcelona, its sister alternative – NOS Primavera Sound in Porto – makes for more than a more relaxed, familial alternative that in some ways betters its much larger sibling. Far smaller in terms of numbers (around 80,000 spread over three days) and scale (four stages in close proximity), the line-up features some of the pick of the bunch from the Barcelona edition in the form of Run The Jewels, Aphex Twin and Bon Iver.
However, it's the location that really stands out, situated as it is in the lush, tree-laden Parque da Cidade do Porto, on the eastern fringes of the city, a stone's throw from the beach. It's a location the organisers pleasantly remind you of as you walk through the gates, handing you a festival bag complete with picnic blanket.
Wednesday night's pre-party in the city centre offers those arriving early to Portugal's second city the chance to take in a wide variety of local and international acts across five venues, such as Shura, Juana Na Rap, The Suicide Of Western Culture and DJ sets from Rui Maia and The Black Madonna, whose intoxicating set we caught at marketplace venue Hard Club (distracted prior somewhat by our chance encounter with Aphex Twin in a local boozer).  
As the festival proper begins on Thursday, the duo of Rodrigo Leão & Scott Matthew kick off our proceedings on the Super Bock stage, under the intense heat of the Porto sun. Playing songs such as That's Life and In the End from 2016's Life is Long, the seductive blend of Leão's Portuguese Fado influences coupled with Matthew's own Australian alt-pop background makes for a successful start, with an added Whitney Houston cover (I Wanna Dance With Somebody) thrown in for good measure.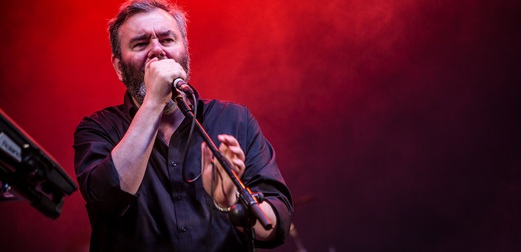 Arab Strap at NOS Primavera Sound. Photo: Hugo Lima 
Next up on the adjacent NOS stage is Miguel. The Los Angeles singer, dubbed "the new Prince" by some sections of the music press, works an animated crowd with his evangelical soul and funk sensuality, playing tracks such as Adorn and Hollywood Dreams from 2015's Wildheart. Arab Strap's subsequent set on the Super Bock stage brings us almost full circle round the musical equator, three acts in.
With Aidan Moffat on top form (his ten-or-so stage beers were a good advert for sponsors Super Bock), the protagonism of a broody, electronic sound felt perfectly layered against Jenny Reeve's violin and Malcolm Middleton's lush guitar tones. Rocket Take Your Turn, Here We Go and First Big Weekend – complete with ad-libbed lyrics – sound harnessed and fresh. On night one we find ourselves with a potential highlight for the festival as a whole, without any form of national bias needed.
As day fully turns to night, Run The Jewels bring their A-game, one Killer Mike and El-P themselves put down to a healthy dose of local food and wine. As Mike's political parlance (shout out to Sanders and Corbyn included) and El-P's humour serve to further spice an already visual and sonic feast, their ability to spit bars through Talk to Me, Stay Gold and Lie, Cheat, Steal prove to Porto why they're one of the best hip-hop acts on the planet.
Taking a sideways step, literally, we treated ourselves (briefly) to the abstract, textured and thoroughly unclassifiable soundscapes of multi-genre DJ/producer/rapper Flying Lotus, who was happy to escond himself into background status on tracks such as Night Grows Pale or Eyes Above, alongside a cover of the Twin Peaks theme.
The first night ends back on the NOS stage with a sonic sermon from messrs Gaspard Augé et Xavier de Rosnay, aka Justice – one of the few acts not to have played in Barcelona last week.  Offering a light show worthy of a Nasa launch, post-RTJ we're treated to further calisthenics in the form of pure electro perfection: Fire, Phantom Pt II. and We Are Your Friends are all très bien.
Friday's line-up, across a full 12 hours, requires boxer-esque lung capacity, with something to whet the appetite of all musical tastes and the action now spread over four stages. Our early arrival coincides with Aussie band Pond's wanton psychedelic turbulence on the NOS stage – more chaotic than Tame Impala (but still solid), with frontman Nick Allbrook's supreme talent, songs like 30000 Megatrons, Giant Tortoise and Paint Me Silver provide for the perfect opener to day two.
Whispers of witnessing potential catastrophe brings out a decent crowd for notoriously unpredictable alt rockers Royal Trux, and, true to form, they delivered a hellish, abrasive set high on garage rock fuzz. Given the indecipherable Jennifer Herrera's state at this early hour, one which although makes for some comic moments (playing a soundless flute for one), serves to drag her cohorts into the depths of rock and roll excess where she herself seems to wallow in.
As if being taught a lesson by organisers, next up Whitney bestow us with the charm of fresh-faced, clean living youth on the Super Bock stage, one which, perhaps corrupted somewhat by the previous show, fails spectacularly. The Chicago band's attempt at a Portuguese love-in via songs from debut album Light Upon the Lake torpedoed further as Julien Ehrlich commits the cardinal sin of telling locals how he preferred Lisbon to Porto and explains why.
Thankfully Angel Olsen appears on the NOS stage, alongside her sharp-suited backing band, who together play a set brimming with folky, grungey appeal and Olsen's solid, charming vocal delivery. Her early nerves are thoroughly kiboshed as the sizeable crowd lap up hits such as Shut Up Kiss Me, Not Gonna Kill You and a tremendous, juiced up version of Acrobat.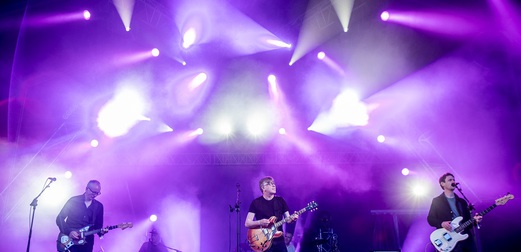 Teenage Fanclub at NOS Primavera Sound. Picture: Hugo Lima
Teenage Fanclub take to the adjacent Super Bock stage in front of a surprisingly small yet vocal crowd (they clash with Sleaford Mods) to make their debut appearance in Porto. With Norman Blake wearing a smile as wide as the Clyde throughout, he and his merry men churn out faithful versions of Thin Air, Ain't That Enough and Sparky's Dream before finishing with the incredible Everything Flows. Leaving some of the true fans around us in a state of near delirium, as us Scots almost reach for the hankies in pride at the Bellshill statesmens' efforts.
Having drunk well from the fountain of main stages, we decide to pull away from the swelling pre-Bon Iver crowds for the intimacy of the Pitchfork Stage, to watch Memphis solo artist Julien Baker against the stunning backdrop of the Pitchfork logo set against an LGBT flag. With just her Telecaster and remarkable voice for company, Baker delivers an intensely intimate, emotional set that leaves us all in equal parts musical paralysis and submersion. Featuring songs from 2015's Sprained Ankle as well as new songs from her as-yet-untitled new album, the physically diminutive artist pulls off a gargantuan performance that has us all saying "best of the festival" till our tongues turn white.
Skepta then offers some respite from our emotional fragility. As the London grime artist comes out all guns blazing on the Super Bock stage, the crowd, perhaps also letting loose post-Bon Iver, chant every word back at him with sweaty determination. For an hour, Porto's pristine park resembles an inner London street scene as Skepta, in bucket hat and Audrey Hepburn-esque shades, cajoles his congregation into frenzy with hits to the tune of Konnichiwa, No Security and his Skepta Interlude from Drake's recent More Life playlist.
Wand provide the perfect excuse to arrive early on Saturday at the . stage, set to be our home for the next two hours or so. With a fuzz-driven psych-rock intensity, tracks such as Melted Rope and Machine Man demonstrate frontman Cory Hanson's vocal ability and impressive lyricism, proving the Los Angeles band can stand up alongside counterparts Oh Sees and Ty Seagall. Wand are without doubt one of the top guitar-driven bands we witness across the whole weekend.
Staying put we take in Steve Albini's hardcore post-rockers Shellac, who rifle through a set consisting of Copper and My Black Ass to an eager, dedicated crowd, the wise among us with earplugs firmly in place as drummer Todd Trainer – easily one of, if not the best drummer in the business – thrashes away at a level akin to blunt force trauma.
Back over on the Pitchfork stage, Mitski proves why her Puberty 2 album topped lists across the globe in 2016 with a angst-driven, full-bodied – if a tad short – set that, thanks to her intense vocal delivery, feels like a confessional. The angst and drama soon turn to full on corrosive anger, as Death Grips work their way through a now-habitually punishing, frenetic live performance. Zach Hill's machine gun drumming and MC Ride's primal screams see the Californian trio through tracks like Get Got, BB Poison and Spikes, welcomely thrusting us out of the comfort of our tree-filled surroundings.
And while two-piece kings of distortion Japandroids work us into a further sweat on the Super Bock stage with their signature brand of power-punk, as they dip in and out of songs from all of their three albums to date, the night (and festival) finish in the hands of Austin's The Black Angels back on the . stage. Despite problems with their projections, the Angels still manage, through hits such as Currency and Medicine, to take us down a rich, psychedelic rabbit hole, in part thanks to Alex Maas' high-pitched, exploratory voice.
In terms of line-up, organisation and location, Primavera Porto fully merits its place as one the best festivals on the European agenda. It's a festival which offers great bang for your buck (with the most expensive tickets under £100), in a city that – yet to be consumed by tourism and gentrification – retains a charm and spirit that leaves a taste as sweet as its famous Port wine long after the music stops.