Lowlands Festival 2019: Report
With its incredible and sprawling line-up, how more people haven't yet discovered Lowlands is unclear. It's a beaming gem just waiting to be unearthed
Based in the outskirts of Amsterdam, in the green village of Biddinghuizen, Lowlands Festival is home to a magical atmosphere. Its crowd, mostly comprised of Dutch natives, is charmingly friendly and noticeably more level-headed than the average British rave. The beer, for example, is served in 'halves' and if you were to glance around, you'd notice about eight out of every ten people in the audience wearing earplugs. But don't be mistaken, the Dutch know how to party. If that wasn't made clear during the weekend, then the disorientating mix of departing campers and ravers still throwing shapes under hazy rays of Monday morning sunlight is telling enough.
Kicking off the weekend's glut of sprawling artists are lo-fi Norwegians girl in red (★★★) who christen a bubbling India stage with rough and ready garage rock. Closing track i wanna be your girlfriend is particularly effective at whipping up an effervescent crowd with a relentless yet catchy lyric: 'I don't wanna be your friend, I wanna kiss your lips'. The Growlers (★★★) are another murky garage rock outfit who catch the eye with grizzly guitars and a brooding stage presence.
In stark contrast to the latter two sets, Jungle (★★★) offer a highly polished show. Oozing shiny production and velvety harmonies, their set ultimately lacks the substance and dynamism to inspire. Each track flows well into the next, but there's a consistent, plodding tempo that fails to vary or surprise throughout. It's soulful and soothing stuff, but very formulaic.
The first killer blow of the weekend comes in the form of veteran garage-beat geezers The Streets (★★★★). Mike Skinner is a real force – calmly meandering around the stage but hammering home each gritty hedonistic lyric with assertion.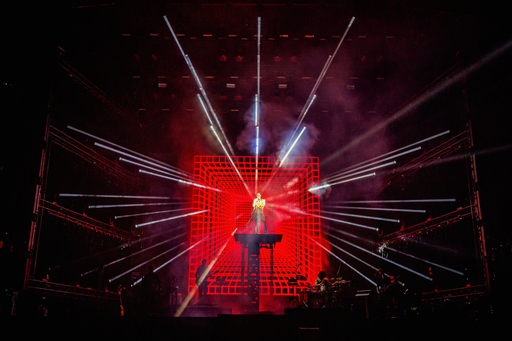 Image: De Staat at Lowlands Festival 2019 by Bart Heemskerk

The final set of the night is met with great intrigue. Who would be brought in to fill the gaping void left by The Prodigy? Faith is vested in local band De Staat (aka The State) (★★★), who become the first ever Dutch band to headline the festival. The locals quickly pay homage to Keith Flint with an eerie and extended version of Firestarter, whipping up a crowd keen to see one of their own seize their opportunity with both hands.
Whilst a relentless downpour on day two threatens to dampen spirits, Billie Eilish (★★★) does more than enough to maintain the high morale early in the afternoon. Booked way before the LA-raised songwriter was propelled by the burgeoning hype surrounding her, the anticipation for this one is tangible. It's easy to forget that she's still only 17, her mammoth stage confidence during witchy-pop hits such as bad guy and you should see me in a crown ensuring eyes remain firmly locked on her.
The rest of the day is tinged with nostalgia. The Vaccines (★★) enter the fray armed with such indie classics as Post Break-up Sex, If You Wanna and Nørgaard, but their more recent material resembles little more than a rehashed version of their early successes. Nearly a decade and three albums later the quintet is still reliant on the old classics to create any kind of connection with the audience.
Another indie stalwart seemingly stuck in a noughties time capsule are Franz Ferdinand (★★). Similarly, they have classics like Take Me Out to rely upon, but they ultimately disappoint thanks to a glut of forgettable tracks that drift by. Johnny Marr (★★★★), on the other hand, manages to belt out beloved Smiths hits alongside solo material that holds up well against legendary tracks How Soon Is Now? and There Is a Light That Never Goes Out.
As the weekend heads ever rapidly towards its widely-feared close, the quality of artistry soars. James Blake (★★★★) performs a gorgeously crafted set mid-Sunday afternoon, weaving through a soothing mirage of his back catalogue. The squelchy chill-tronica of Life Round Here progresses into his more R'n'B-bleached work, before arriving at a housey crescendo on Voyeur.
But the real talking point on Sunday is A$AP Rocky (★★★). Would he address his assault charge, made just days ago? Nope. Instead, his 100% sole focus is on the music. The New Yorker drops a banger-rammed and crowd-pleasing set. A real surprise is his subsequent appearance slap bang in the middle of a transcendent Tame Impala (★★★★★) performance, covering both Sundress and L$D. "What other festival in the world would you get to see A$AP Rocky twice in one day?" Kevin Parker asks the crowd. None, of course.
Parker and co conclude Lowlands 2019 with confetti cannons and psychedelic laser production blazing into a euphoric audience. From the synth-ridden mammoth Let it Happen, to the grungy indie-disco staple Elephant and singalong anthem Feels Like We Only Go Backwards, it's easy to forget just how many huge bangers the Aussies boast from only three albums.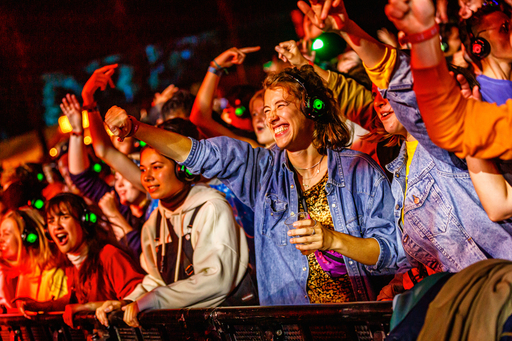 Image: Silent Disco at Lowlands Festival 2019 by Bart Heemskerk
Now over a quarter of a century old, Lowlands has grown into a near-perfect celebration of an array of scenes and genres. A cherry-picked selection of some of the best new and veteran artists will have left other bookers gawping at what was an incredible and sprawling line-up.
Queues for bars, food and the rest were consistently sparse, while novelties such as a life-sized Pacman game, a 30,000 people strong silent disco and an eyebrow-raising inclusion of "shag pads" (!) embellished the festival's non-music orientated options. Heck, there's even a bumper-sized theme park next door if the nauseating combination of Dutch-strength marijuana and booze isn't enough to make you puke. How more people outside of the Netherlands haven't discovered Lowlands is unclear. It's a beaming gem just waiting to be unearthed.
---
Lowlands Festival took place from 16-18 Aug