HAVEN 2017: The Review
We visit trendy Copenhagen's newest festival, a collaboration between Mikkeller beer and The National
Copenhagen's HAVEN festival is the brainchild of revered Danish craft brewery Mikkeller and Aaron Dessner of The National, who recently moved to the Danish capital due to his wife being from there. The result is a festival based on a world renowned line-up paired with local food and beer, all in the confounds of Copenhagen's beautiful harbour.
Day one's main stage is opened by Conor Oberst who plays a wide range of his back-catalogue, both as a solo artist and as Bright Eyes. Recent single Salutations is the first real rocker of the day, although, at 4pm, it's still a little early for the crowd to really get going. Thankfully, Oberst brings things down with a beautiful rendition of Lua to appease the Bright Eyes-inclined members of the audience.
Next up are local punks Iceage who are debuting a lot of new material ahead of their new, as-of-yet-unnamed fourth album. The band have come along way from the explosive punk music they started with, but they've never forgotten that energy, even with 2014's breakout success Plowing into the Field of Love and remain an intense experience live. Frontman Elias Bender Rønnenfelt remains an unpredictable frontman as he slowly morphs into Nick Cave, but clearly, the band are enjoying playing their new, mostly proto-punk sounding material to their hometown crowd for the first time, making this one of the festival highlights.
Changing tack slightly are Band of Horses, who are their usual, dependable, mid-afternoon festival slot selves. They are a pleasant sunny afternoon band (in a weekend without much sun) whose borderline cheesy indie-rock goes down a storm with the large gathered crowd. Next up on the smallest, wooden-framed VÆRKET (the piece) stage are local ladies Nelson Can. Much like Iceage, they are genuinely thrilled to be playing new material in front of their hometown crowd as they plan to follow up 2014's excellent Now is Your Time to Deliver. They manage to amass the biggest crowd of the weekend at the festival's smallest stage, and based on tracks like Miracle there is much hope for their next release. However, previous singles like the disco-punk banger Talk About It makes for a huge and well-deserved crowd reaction.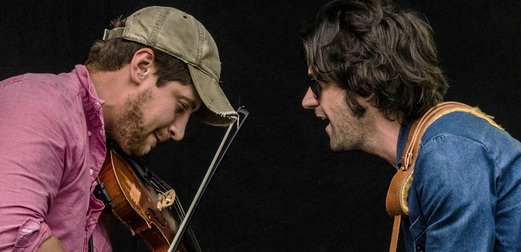 [Conor Oberst at HAVEN. Photo: Peter Kirkegaard]
Soon after, back on the main stage, some older gentlemen confidently stroll out, pick up their instruments, and immediately rip into the opening chords of I Wanna Be Your Dog. Naturally, Iggy Pop is not far behind, still full of all the energy and chops 40 years on from the song's conception. The Passenger, Gimme Danger and Lust for Life all swiftly follow. There aren't many artists out there who can front-load a set so strongly, but Pop struts about like it is nothing, to his credit. While his set perhaps drags a little in the second half, an encore of No Fun and Down on the Street is worth the wait. Beach House close day one, but struggle to keep up the momentum set by the legendary Pop; they are a band so comfortable in their dreamy sound it's no small wonder more people didn't sleep through this late-night set.
Day Two's wild weather is perhaps the real headliner, as it's particularly wet and stormy out on the harbourfront. Thankfully the mostly Danish audience don't seem too fussed, probably due to being used to this kind of "summer". Either way, when Leslie Feist comes out on the main stage, she quips: "Did you guys notice the sun just came out when we came onstage?" This is fairly typical of her against-all-odds summery festival set. New album Pleasure is a much happier affair than her previous, Metals, and it shows with aplomb from her terrific performance. Feist remains an incredible, inspiring talent, not taking herself super-seriously despite her intricately composed music. She tries to get a festival singalong going with new song Any Party, to semi-success, but it's her older classics My Moon, My Man and I Feel It All that really get the crowd moving.
Poor Perfume Genius gets the absolute worst of the stormy weather, to the point where most people in attendance are more occupied finding shelter during his set. Mike Hadreas still gives it his best despite the conditions and provides a charming set for those brave enough to face it. Back at the main stage, Bon Iver, one of the festival's marquee acts, sets up. The crowd's enjoyment of Vernon's set is basically dependent on whether you enjoyed his latest album 22, A Million, because he proceeds to play the entire thing from start to finish.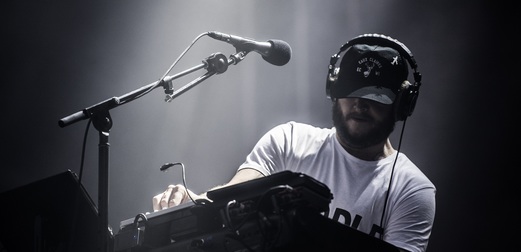 [Bon Iver at HAVEN. Photo: Morten Rygaard]
Though critically well-received, Vernon's third full-length record is easily his most difficult and abstract, and while it may appeal to some, it's a tough sell for a festival set of by-now pretty wet and cold Danes wanting to have a good time. While 22, A Million is an excellent headphone experience, live it doesn't quite translate, or certainly not as a whole piece, even though tracks like 8 (circle) give it some highlights. The crowd are notably quiet throughout – whether out of respect or boredom remains to be seen – but there is no doubting their response when Vernon finally does perform older cuts Holocene and Creature Fear.
So onto the main act then, headlining curators The National. While this is something of a victory lap for a successful festival, especially for Dessner who has popped up to play with a few of the acts over the weekend, the band are in amongst promoting a new album – next month's Sleep Well Beast – and so use the opportunity to feature new material. In fairness, when you put on an entire festival, you earn that right, but it does mean some in the audience don't quite get the festival climax they hoped.
Still, the band pay their dues with encore performances of Mr November and Terrible Love, as well as a stirring rendition of Danish pop/rock-star Kim Larsen's De Smukke Unge Mennesker (The Young Beautiful People) with Icelandic performance artist Ragnar Kjartansson, which sends the hometown crowd away both nostalgic and very happy. Overall, despite the weather and some artistic choices, HAVEN was a great success for its first year.
Its locally sourced food and drink had equal billing to the music on offer and it's not hard to see why. Mikkeller's beer and the assembled food outlets were great, at a compact but easily accessible festival, which consistently sounded excellent throughout the weekend. Hopefully, HAVEN will get the chance to continue and grow for years to come.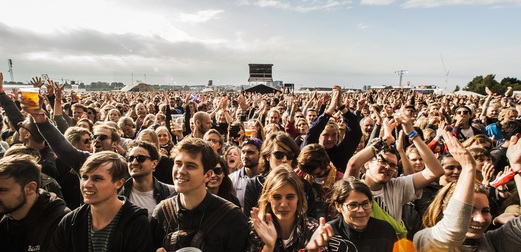 [HAVEN in Copenhagen. Photo: Peter Kirkegaard]