Slottsfjell Festival, Tunsberg Norway – 18-20 July
Vic Galloway reports back from the front-lines of Norway's esteemed annual gathering
Festivals were once the sole preserve of hippies, bikers, goths, punks and other freaky sub-cultures who frankly scared the living hell out of the pristine mainstream. Those who used to run away in their droves and wash their hands in disgust, now flock to rock festivals every weekend. There are so many of them in fact, that we have what's referred to as 'festival season.' This is no bad thing necessarily as there's now an extensive choice of events out there for both the discerning and less-discriminating music fan if you look carefully.
As a veteran of festivals large and small, I like to cast the net a little wider and venture into unknown territory when possible. Both Europe and the USA do these kinds of shindigs differently. For a start, they tend to have a more eclectic booking policy and are less hung-up on genre specifics. The UK is notoriously fickle and fashion-conscious, which is often reflected in homogenous line-ups. Looking at it positively, this trend always keeps us one-step ahead; but can in turn also favour flash-in-the-pan artists. In Europe however, if they like a particular band or a genre of music they'll stay loyal and interested. For a perfect balance, you probably need a marriage of the two.
---
"It's not uncommon to see teenagers, scenesters and pensioners standing side by side watching jazz, electronica or black metal. It's inspirational actually"
---
It's only fairly recently that I've begun to visit the Scandinavian and Nordic countries and quite honestly, I'm hugely impressed. Not only is the landscape spectacular and the people beautiful; but all ages seem genuinely interested in a cross-section of cutting-edge culture. Having attended Iceland Airwaves in Reykjavik, By:Larm in Oslo and Musiiki & Media in Tampere; it's not uncommon to see teenagers, scenesters and pensioners standing side by side watching jazz, electronica or black metal. It's inspirational actually.
For my third trip to Slottsfjell (having DJ'ed here twice before), an array of big and utterly unknown names in rock, indie, electronica and pop all sidled up next to each other on a bill that featured three main stages in the centre of the beautiful, holiday retreat of Tunsberg in the south of the country – a leafy, moneyed town surrounded by rolling fields, forests and fjords. It is undoubtedly stunning, but judging by the boats and yachts on display something tells me that only the super-rich can survive in such a place!
However there are a few key pointers that keep drawing me back to this festival. The music is always strong and diverse; the locals are friendly and welcoming; the weather has been warm and sunny in my experience; and everything logistically runs like clockwork. What's more, I'm not sure they have 'neds' in Norway... Result!
'Slottsfjell' literally means 'Castle Hill' and it does what it says on tin – there is a hill with a small castle on its peak. The main stage sits at the bottom with the second stage right next to it. Times are staggered, so when one act finishes, another begins. If you then decide to climb the hill, you'll find another outdoor stage and a handful of smaller tents with art and acoustic performances happening throughout the three-day event. There's plenty going on but the site is easy to negotiate, and an enthusiastic throng to enjoy it all. Here are a few of my highlights from the weekend...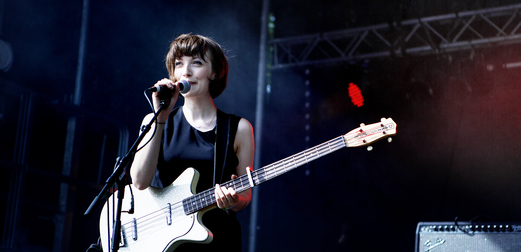 • Daughter
One of the first acts I caught on Thursday afternoon, Elena Tonra and her now expanded 4-piece band took to the stage in front of a capacity crowd on the Baglerscenen, perpendicular to the main Kongescenen stage. It was obvious that she wasn't expecting such a turn-out as she timidly and coyly smiled throughout the entire set, especially as whoops and hollers followed each and every song. Dressed entirely in black with a selection of songs culled from the debut 'If You Leave' album, the band was tight, dynamic and even explosive at times. Performances as emotionally charged as the record itself - a moody, melancholy masterpiece of sorts – which really was quite some feat, considering the cheerful, blond, teenage fans and the blistering sunshine pouring down upon them.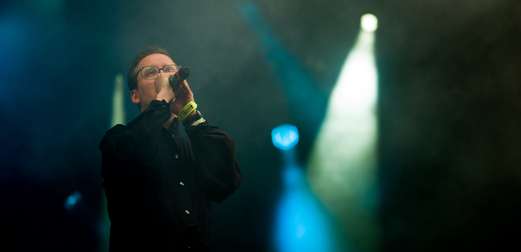 • Hot Chip
Renowned as a true party band on these shores and across the USA, I was interested to see how the Nordic hordes would appreciate Hot Chip. Taking to the main stage in early evening on Thursday and commanding a sizeable audience ready to shake their rumps, the geek-core, electronic popsters are now an impressive 7-piece live ensemble complete with drummer and auxiliary musicians in tow. Their 'greatest hits' set started with How Do You Do? from the recent In Our Heads album and progressed though staples such as Boy From School and Over and Over, plus new single, Dark & Stormy. With no surprises up their sleeves as such, it felt like business as usual. But with songs as consistently good as these; a funky and freeform band; and tongues firmly set in cheeks, they are always a pleasure to watch and dance to. With little or no UK shows this summer, it was a double-whammy to see them strut their stuff.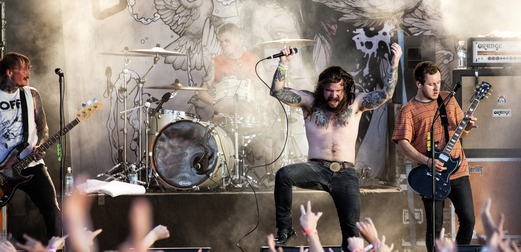 • Kvelertak
If you're looking for uncompromising, chest-beating rock music in this modern age (and who isn't, ladies and gentlemen?) then Norway isn't a bad place to start in 2013. Genres sneered at by most mainstream and underground outlets in the UK, such as punk, hardcore, doom and black metal, are embraced and actively encouraged here. Kvelertak (translated as 'Chokehold'), now signed to Global metal conglomerate Roadrunner Records are an award-winning, #1 album selling act for example. They combine the amped-up rock'n'roll bravado of Turbonegro with liberal helpings of hardcore punk and black metal. That may not sound like the recipe for a boogie around your handbag, but when a few thousand Norwegians are pumping their fists in the air while stripped, tattooed lead-screamer Erlend Hjelvik leads the charge on the Kastellscenen; it's hard not to get swept away with it all. Check out the excellent new album Meir (review here) for proof.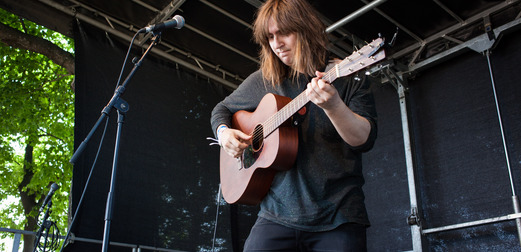 • Morten Myklebust
After Thursday night's overexcitement and indulgence, Friday couldn't have started better than with the smooth, warm, honeyed tones and acoustic finger-picking of Morten Myklebust. Tipped by a fellow British colleague reviewing the festival, I took his sage advice and after lunch reclined in a deck-chair to the sweet sounds of a relatively new Norwegian songsmith. Shades of Elliot Smith, Jeff Tweedy and perhaps even Nick Drake abound, but his delivery and lyrical slant were very much his own. He sang in perfect English as well, so his chances of crossing over to a larger audience are more than likely. Apparently Fran Healy from Travis is a fan, and now I can firmly say I am too. He gained his first BBC radio play on my show on Monday 22nd July, and I'm honoured to have been some kind of helping hand.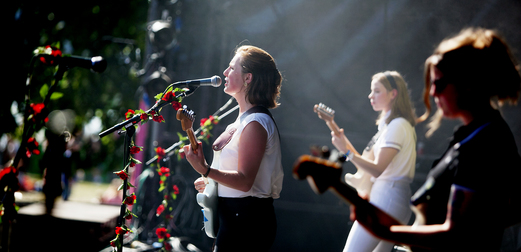 • Razika
Eclecticism is the order of the day for me at festivals as a general rule. I don't want to see 20 indie bands or electro DJs in a row. So what better way to start Friday's highlights than a teenage quartet of Norwegian girls playing ska and reggae? Yes, you heard me correctly. Dressed in regulation Fred Perry tennis shirts to suit their squeaky-clean-cut image, and newly signed to Warners in Norway; Razika perfectly complimented the early afternoon sun on the mainstage as I supped my lager and took the weight off my feet. As they tend to sing in Norwegian, I had very little idea what the lyrics were like; but I'm led to believe they're really quite profound. They reminded me of female 2-tone combo The Bodysnatchers and The Belle Stars – perhaps with a little less grit and bit more pop thrown into the mix.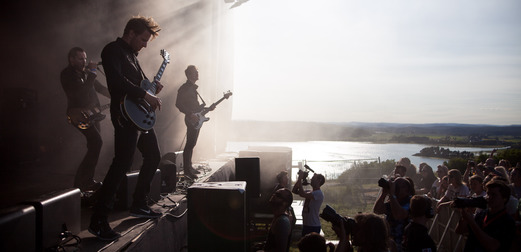 • Shining
Anyone like John Zorn? Ornette Coleman? Skronking saxophones and overdriven guitars? Does the concept of Jazz Metal thrill you? Well it does me... occasionally. And this was one of those occasions. Shining are a Norwegian quintet with a punishing, cacophonous agenda and, in lead shouter Jorgen Munkeby, a man who can play guitar like a demon and then wail on the tenor sax. They started life as straight jazz outfit and have slowly incorporated more metal and prog rock into the sound. Watching their uncompromising set on the Kastellscenen in the sun with a backdrop of glimmering fjords, accompanied by friends from Biffy Clyro, was a most surreal but enjoyable happening. Earplugs were most definitely in for the duration though!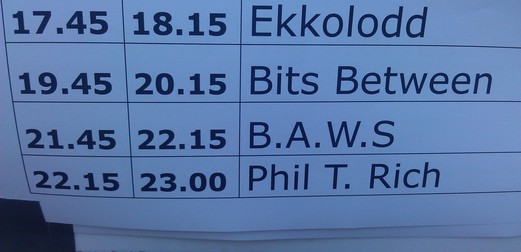 • Immortal
Norway is the home of Black Metal and to do any musical trip there justice, I always attempt to sample a soupcon of the heavy stuff. Not being a world authority on the genre, I was pleasantly surprised to hear that pioneers of the genre and a band that formed in 1990, Immortal was playing a rare show. I had to see this. And justly rewarded I was too! With black and white face paint, leather, studs, spikes and armour on show as well as a touch of fire-breathing towards the end of their Kastellscenen headline set on the  Friday, it struck me as one of the finest metal shows I'd ever seen. Not only was it unremittingly heavy and utterly ridiculous in every way; I was happy to see the trio not taking themselves entirely serious. Lead growler and guitarist Abbath Doom Occulata's grimacing, crab-walk from side to side of the stage was a particular joy to behold. It out-tapped Spinal Tap!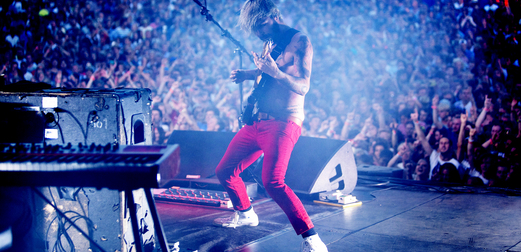 • Biffy Clyro
Homeland conquerors, #1 album act, Reading and Leeds festival toppers and the hardest working band I have ever known, Biffy Clyro were main Kongescenen stage headliners on Friday at Slottsfjell. Having promoted and played them on my BBC shows since they were unsigned over 13 years ago, it was a genuine pleasure to hang out with them during the day ahead of their set and share a tequila or 2 afterwards. I'm not biased in any way either, I might add... If they'd played a stinker, I'd tell you! However, with roughly an hour-long festival set with all the fat trimmed off, they let rip with a joyous medley of singles and tracks largely selected from their most recent 3 albums. Effortlessly knocking out tightly-wound rockers such as Modern Magic Formula and Stingin' Belle; math-core hymns like Living Is A Problem Because Everything Dies; as well as their customary acoustic singalongs, they had an enormous crowd in the palm of their hand from start to finish. In the sweaty aftermath backstage they seemed absolutely overjoyed at the reception by an audience of around 12,000 people and couldn't wipe the grins from their faces. I suppose the correct term to use here would be... 'Mon the Biffy!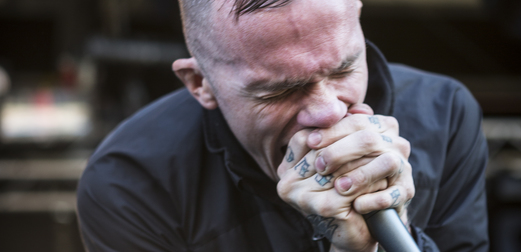 • Converge
What? More brutal hardcore? Yes... and what's more, some of the finest exponents in the world. Formed in 1990 and forefathers of what might get called 'metal-core', Converge thrashed and blast-beat their way through a career-spanning set with frontman and graphic artist Jacob Bannon throwing himself around the stage like a man half his age. Perhaps there is something to be learnt from a vegetarian, straight-edge lifestyle and over 20 years in a hard-nosed, ethical punk outfit. A stunning, complex and passionate performance, many new bands and young pretenders could learn a trick or 2 from the masters. Watching this searing, visceral music in the sunshine surrounded by healthy blond people was yet another vaguely bizarre experience too!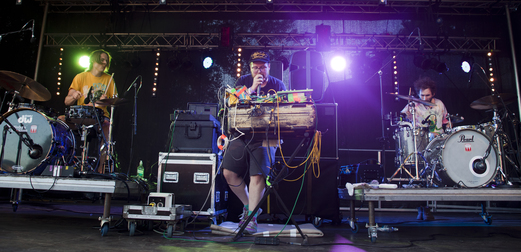 • Dan Deacon
One of the final acts of the festival, taking up a Baglerscenen headline slot up against Bad Religion who topped another stage, was actually my favourite live experience of the entire festival. Flanked by 2 drummers and armed with an unsightly pile of electronic, outboard equipment, samplers and voice-manipulation units was the Baltimore performance artist, composer and comedian Dan Deacon. OK he's not strictly a comedian, but if he ever wanted a career change, he'd ease into it as a natural. Initially the assembled audience was a little thin on the ground, but after some frankly awe-inspiring crowd participation instigated by Mr Deacon, including a giant circle and twin-teamed dance-off; the show quickly morphed into a total knees-up and by the end an utter triumph. Although eschewing the strings and cinematic scope of recent America album (review here); his joyous, unhinged, glitchy, non-pop anthems were the highlight of an excellent weekend.
With other acts such as Seasick Steve, Kendrick Lamar, Tom Odell and Crystal Fighters on the bill, there was no way you could criticise the Slottsfjell adherence to musical diversity. Norwegian big-hitters such as Kaizers Orchestra and Carpe Diem drew massive crowds; and there was even an act in the new bands tent on by the name of B.A.W.S... who might not garner the same praise on this side of the pond! All in all, I had an absolute blast and would firmly recommend a trip to anyone next summer – Slottsfjell, I salute you!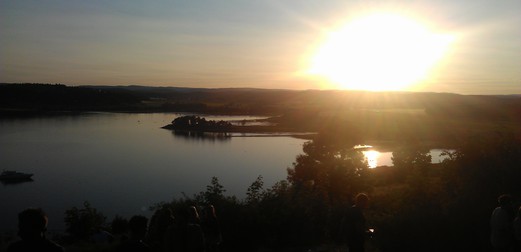 • Photography by Christian Roth Christensen, Erlend Glosli, Jonas Brathen, Claus Heiberg, Jonathan Vivaas and Vic Galloway.
Vic Galloway – BBC Broadcaster, Journalist and Author. Hear Vic's show on BBC Radio Scotland – Mondays 8.05pm - 10pm
http://www.slottsfjell.no