Notes from the Field: Festival Season in Europe and the USA
Warpaint, Daniel Avery and St. Vincent look forward to spending the summer in a field; we preview the best international events, and speak to the top booker at Primavera Sound about legacy bands, rising stars, and the future of the festival in Europe
Planning your summer festival intinerary is not such an easy task these days – with new festivals springing up each year, and the list of established festivals happening across Europe and the USA now approaching the hundreds, many specialise, catering to a specific subsection of musical fandom, or sell themselves on the strength of the experience, location, and added entertainment on offer. To help you pick the right festival for you, The Skinny spoke to St. Vincent, Warpaint and Daniel Avery – three diverse artists sitting astride some of the most esteemed and exciting bills this summer. We also had a chat with Abel González, top booker at Primavera Sound – he gives us a fascinating insight into which bands get booked, and why. 
"The energy of a festival is just totally different," says Annie Clark, better known as St. Vincent, on the eve of the release of her new, self-titled album. She will be playing at several of the big festivals in Europe and the US this year, including Denmark's venerable Roskilde event, and mammoth American industry showcase South By Southwest. Festival sets differ from more intimate gigs, because "there's the collective consciousness of 80,000 people roaming around in the sunshine, so you have to change things a little bit –you have to paint in bolder strokes," she says. "Nuances can be lost, but that's okay. I can create a set for a festival that can be blocky, with bold colour, and big."
Clark is looking forward to playing SXSW, not least because she grew up in Texas, a place she still feels she has an "intimate relationship" with: "If you showed me a picture of the sky, I could tell you what month it is. If you bottled the scent of a particular season, I could tell you 'Oh yeah... that's summer in Texas.' That kind of stuff is just home with a capital 'H.'"
Theresa Wayman of art-rockers Warpaint is an old hand at festivals now – but she remembers their early appearances fondly: "I was shocked when we arrived... there was a backstage area full of all of these bands that I had heard of... we were all going to be hanging out together. That surprised me, not just at the first festival, but on the whole circuit. Bands, if you're on the same kind of album cycle, kind of follow each other. Realising that you're billed on the same stage as somebody like Robert Plant, you're gonna see them backstage warming up, after you play – maybe they've watched you play... it's just pretty insane," she says.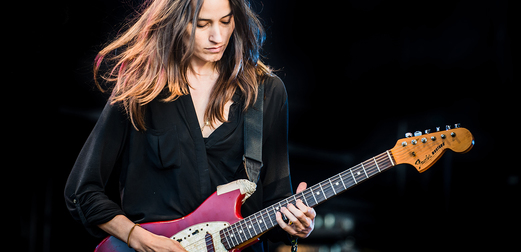 Asked if Warpaint have any theatrics or tricks up their sleeves for their appearances this Summer, Wayman stays true to the band's understated allure: "We don't wear costumes... maybe we should! But we just got this backdrop, which is our album cover – it's really great, I love it so much, it just changes the feel of the stage. The cover kind of looks like shadows, because of the overlay of the images, so when it is big and blown up it looks more subtle, surprisingly. It's pretty cool." She reveals that album track Disco//Very is an emerging live highlight, although "these songs still have some catching up to do with songs that we've been playing for years, like Elephant. That one still makes everyone go nuts. Undertow does, too. People seemingly love our new stuff... it just takes a minute to really get inside them and play them really well." By the time Warpaint hit the likes of Californian enormo-festival Coachella, and the Primavera festivals in Spain and Portugal, the new material will be sounding pretty polished.
---
"We party until 6am, no matter what" – Abel González, Primavera
---
As for the sunshine she will no doubt encounter in the US and Europe, Wayman's nonplussed: "We get sunshine as soon as we go home – we live in Los Angeles, where it never rains and the sun always shines, and I find it really annoying," she confesses. "Maybe I just wish I was living in London or something." She'll get the chance for some proper English weather when Warpaint play Glastonbury, Reading and Leeds later in the year, but she says she's not a fan of mud either: "I'm not that person really, that made a point of camping out and trod through the mud, or whatever the elements are. I did go to Coachella a few times, and I thought that was fun. You can't go wrong with a festival like that, really." 
Ripley Johnson of Wooden Shjips is looking forward to this festival season - his band are playing the very boutique Eindhoven Sound Lab event. "There are a bunch of bands I've never heard," he says of his his felloe bookings for the event, "so I am looking forward to discovering new sounds. That's usually the best part of good festivals. But I always love seeing Hookworms and Gnod. Also looking forward to Terakraft and Follakzoid." Asked what he remembers from his first festival appearance with Wooden Shjips, he recalls "hanging out with some guys from the Meat Puppets, the Jay Reatard band and Times New Viking," which culminated in "a late night mission to find good weed in England."
Johnson's first festival as a punter "was probably the ATP in Long Beach," he remembers. "I went down just to see the newly reunited Stooges, to see Ron Ashton. Electrelane were really good there. I'd never heard of them. They played on the Queen Mary, a retired cruise ship. I also stood in line at the port-o-potties behind Matt Groening, who curated the fest," he reveals, but confesses: "I didn't talk to him." Asked about plans for the Wooden Shjips stage show at their festival appearances, he says: "We'll have some special projections, designed by Sanae Yamada," and thinks for a moment before adding: "Dusty says he might get naked."
One of the most interesting talents in British electronic music of recent times, Phantasy-signed DJ and producer Daniel Avery, will be taking a compact show on the road – but that means he's free to hit more festivals than nearly any other artist, by our count. "I am really enjoying DJing, more than I ever have done in ten years of doing it, and I really feel like right now, it's quite fertile ground for DJs," he says. "Crowds are really receptive to things. I'm still a massive fan of being able to change the mood of a room really quickly, as you can do with DJing – that's the unique thing about it, for me." 
He's looking forward to playing back to back with Andrew Weatherall, who has offered support and ringing endorsements of his acid-tinged techno. They feature together at Villette Sonique in Paris, and the Bugged Out Weekender back in the UK. "It's always a pleasure to share the decks with one of my favourite DJs," says Avery. "He has a million stories, and each one is better than the last. It's always great to hang out with him."
The rise of festivals in Poland, Croatia and throughout Eastern Europe is one of the success stories of the circuit in recent years, and Avery is very much looking forward to his appearance at Unknown Croatia, where he and Phantasy label boss Erol Alkan will host an exclusive boat party. "Records sound different in the sunshine," says Avery. "Dance music, in particular, just really comes to life in the sun. As much as I love playing in dark basements in the middle of winter, in the sunshine it can really lend a whole different atmosphere."
Another of Avery's anticipated highlights is French experimental electronic music festival Nuits Sonores, his favourite of last year's summer shows. "I played on an outdoor stage right at the end of the night, and it had just started to rain, so I didn't have high hopes for it," he says, but "it turned into this crazed mass of people, all getting really into what I was doing. Sometimes you just feel this warmth between you and the crowd, and that was definitely one of them. There's something really special about that place." 
Wayman, meanwhile, is looking forward to bringing Warpaint back to Poland for the Open'er Festival: "We've played in Poland before, which was great," she says. "Stella, our drummer, is Polish – she's from Australia, but she's also Polish, and she has family there." She is also psyched for their appearance at the grand dame of the European Festival circuit, Denmark's Roskilde: "I'm excited to go there, I think the people are really down to earth," she says. "It's cosy."
Primavera and its sister-festival Optimus Primavera offer one of the best-value tickets this summer, with a gigantic and staggeringly diverse bill. In terms of scale, it rivals UK behemoth Glastonbury and huge US festivals like Coachella, and has become a firm favourite with both music fans and bands. So what has Primavera got that Coachella doesn't? For the festival's chief booker Abel González, it's the fact that "the festival is built on the Spanish way... we party until 6am no matter what." 
González says his team are all "die-hard music fans; a bunch of freaks" who will always try to book the kind of "experimental and unique music which will please our most discerning customer." For him, "booking experimental acts will also allow people to discover weird new music." Talking about emerging and successful niche and alternative artists, he says: "We know people will pay attention to them because of their inclusion in the line-up." This year's bill features the likes of Andy Stott, Demdike Stare and Vatican Shadow alongside big headliners like Nine Inch Nails and Queens of the Stone Age. "Our experimental booking is one of the things we're most proud of;" says González. "Festivals can be pretty similar in terms of headliners and can show their personality by the way they book the smaller slots."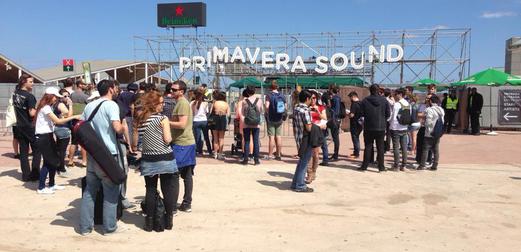 This year's Primavera lineups feature re-formed shoegaze titans Slowdive, as well as Television playing their album Marquee Moon, and of course bands such as the Pixies – González believes that the booking of so-called 'legacy' bands is a matter of quality, not opportunity, and doesn't worry that young bands will struggle to fill the shoes of returning giants in subsequent years. Asked who he believes will top the bills in years to come, González tips The National and Wolf Eyes. "We don't particularly aim to book reunions per se but obviously we love having bands that no longer exist, who want to exist again at Primavera. I bet we had some influence on the Slowdive reunion this year – we've been asking for ages and they finally said yes just so they wouldn't have to hear us ask them again next year! It's hard to say how much, but our persistence feels like it's played some part in Slowdive reforming." 
Warpaint's Wayman is full of praise for Primavera's back-stage atmosphere, too: "It's one of those situations where the bands are all staying in the same hotel, so everyone's there and it's like you're in this big band camp," she says. "You get to talk shop with everybody and hang out; have a drink and enjoy life. It's fun." Warpaint are near the top of the bill at the Primavera outings this year, a progression from their last round of festival appearances. In terms of the potential for hedonism backstage (and indeed onstage), Wayman takes a pragmatic approach: "What you have to do is just pick your moment. If you know you have a bunch of shows coming up, it's most likely wise not to stay up all night drinking," she says. "But if you have a couple of days off, why not indulge a little and hang out, see some people, and have a good time?"
Avery meanwhile is ever the consummate professional: "It's important to treat it as something of a job, because when you realise you have a lot of people in front of you, there's a responsiblity there," he says. "I never want to be known as that guy who just passes out on stage. Not that I've ever come close to that! I know some people who totally embrace it and really get stuck in, but I like the idea of having some kind of responsibility to a large group of people... I never want to mess it up." Ripley Johnson claims to he doesn't "really do hedonism," but admits that: "Yeah, that's all part of it. I like ups but you gotta watch the downs. I usually just go with the flow."
With our highlights of the international festival calendar picked out for you below, it should be easy to pick the right place, the right bands, and the right time for your own hedonistic shenanigans – let's take a look at 2014's cream of the crop.
Combining snowboarding and skiing with a gigantic bill that reads like a who's-who of stadium electronic acts, including headline sets from The Prodigy and Chemical Brothers, Snowbombing (7-12 Apr, Maryhofen, Austria) is expensive, but great value for money, and a completely alternative take on the traditional tents-and-warm-beer approach. Trade canvas for chalet, and be sure to catch a rare live set from Four Tet, as well as a set from the ubiquitous Mr Avery. Less chilly, but possibly only marginally so, will be the sole remaining festival from All Tomorrow's Parties – ATP Iceland (10-12 Jul, Keflavik, Iceland) has a daydream of a lineup, with appearances from Kurt Vile, Swans and Fuck Buttons, and the claustrophobic electronic visions of Tri-Angle producers The Haxan Cloak and Forest Swords.
Over in Poland, there are two fantastic festivals on offer – the first on the calendar being Open'er (2-5 Jul, Gdynia, Poland), on the go since 2002, and offering a pretty stellar bill, with the mighty Warpaint, Foals, Interpol, MGMT, Phoenix, and perhaps most excitingly, grunge titans Pearl Jam. Later in the year, the OFF Festival (1-3 Aug, Katowice, Poland) offers Jeff Mangum's Neutral Milk Hotel, Fuck Buttons, Perfume Genius, and our highlight, Border Community techno maverick James Holden.
MELT! Festival (18-20 Jul, Ferropolis, Germany) is definitely worth a visit, if only to experience Ferropolis, a giant industrial park outside Berlin populated by abandoned industrial machinery transformed into outlandish sculptures. It's a dramatic setting in which to catch Portishead, in one of just a few festival appearances this year, along with Haim, Jagwar Ma, Metronomy, and a wealth of electronic artists including Moderat, Fuck Buttons (they get everywhere!), Baauer and more.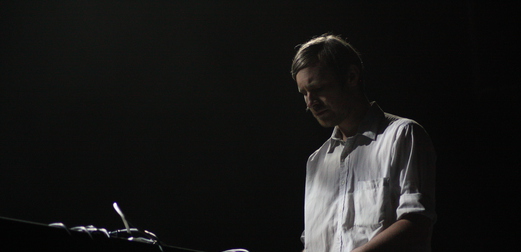 Sun-drenched Croatia has a booming festival season. Firstly, there's Soundwave (17-21 Jul, Zadar, Croatia), who welcome Stones Throw supremo Madlib, along with UK bass monsters The Bug, epic genre-blender Mr. Scruff, and electronic experimentalist Gold Panda. Later, there are two big festivals running almost back to back in September. The temptation to do the double is pretty strong, starting with Outlook (3-7 Sep, Pula, Croatia), taking place in the 150 year-old Fort Punta Christo, attracting some big names from the world of hip-hop, headed up by Busta Rhymes, DJ Premier and Lauryn Hill. There's also a healthy dose of both dub and bass music, with Jah Shaka, Barrington Levy, Goldie, Digital Mystikz and others confirmed. Literally the day after, Unknown (8-12 Sep, Rovinj, Croatia) begins, with more than a few Skinny favourites on the more indie-focused lineup, with Wild Beasts, Mount Kimbie and CHVRCHES the big draws. You'll also catch yer man Avery again, and Numbers main-man Jackmaster.
Two of the big daddies on the circuit are Primavera (28-31 May, Barcelona, Spain) and its counterpart Optimus Primavera (5-7 Jun, Porto, Portugal). At the Barcelona shindig, the smart money's on re-formed shoegazers Slowdive, not to mention a triumphant Arcade Fire, Queens of the Stone Age, Nine Inch Nails, Deafheaven, St. Vincent, Jamie XX and Earl Sweatshirt – and believe it or not, that's just scratching the surface. In Porto, they've got some of the biggest names in alt.rock, including Steve Albini's post-hardcore heroes Shellac, a god-like post-rock trinity in the form of Slint, Godspeed You! Black Emperor, and our very own Mogwai, not to mention the Pixies.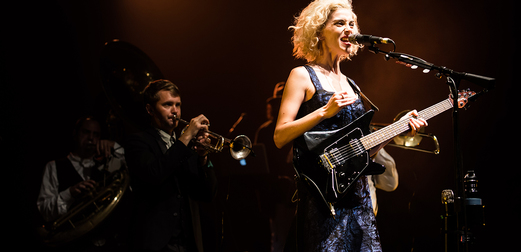 Also in Barcelona is the dance music-focused Sónar (12-14 Jun), which this year sees the live return of Massive Attack, not to mention a no doubt blistering live set from techno legend Richie Hawtin, and more leftfield electronic voyagers such as Planet Mu's Laurel Halo and Ninja Tune's Machinedrum. Plus, it plays host to an annual vinyl fair which is a must-see for anyone with an addiction to the black stuff. Not to be outdone, another of Spain's biggest cities, Bilbao, hosts the Bilbao BBK festival (10-12 July), and while they might not have quite the who's who offered by Sónar and Primavera, they still have an impressive bill, with appearances from The Black Keys, Franz Ferdinand, Phoenix, MGMT, Foster The People, Poliça and Future of the Left, among others. For lovers of leftfield electronic music who want to party in Europe, a slightly more intimate affair than Sónar is on offer at Nuits Sonores (28 May–1 Jun) in Lyon, France, with over 250 locations within the city transformed into bespoke gig venues, from galleries and swimming pools to rooftops and stretches of industrial wasteland. They welcome Daniel Avery, Andy Votel and Kode9, as well as some of Glasgow's finest including Optimo, Dam Mantle, Ubre Blanca, and Golden Teacher.
It's only fair to mention just a few of the big American music festivals, for those of you who have the readies to consider a transatlantic jaunt – if you can afford it, our summer festivals' Yankee cousins tend to offer impressive, international bills and are of course invariably situated in some impressive scenery. First on the calendar is SXSW (11-16 Mar). With a gigantic bill featuring 2,500 bands or more, this industry showcase can offer the gig to make or break a band, with up-and-coming artists playing throughout Austin, Texas alongside big-name headliners such as Damon Albarn, Gary Numan, and The Black Lips. This year's homegrown contingent heading out to play Creative Scotland's hoedown at the British Music Embassy on Friday, 14 Mar, includes Casual Sex, Honeyblood, Prides, Young Fathers, Withered Hand, Holy Esque and Meursault. The latter's Neil Pennycook remarks of their Texan debut's importance: "We are hoping that SXSW can help us develop our American fanbase and help further our relations within the industry, allowing the future release and promotion of our work to become a viable option."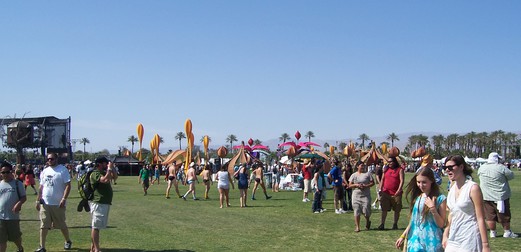 Perhaps the king of the US festivals is Coachella (11-13 & 18-20 April, Coachella Valley, California) – it's sold out, but those of you lucky enough to have grabbed some tickets will be able to witness the reunion of Atlanta rap legends Outkast, The Knife, Arcade Fire, Pharrell Williams, Nas, Beck, Chance The Rapper, and a host of other bands, so many in fact that, as with Primavera, you need a microscope to read the full lineup. You can also catch a couple of top-class UK bands making their US festival debuts there this year, as CHVRCHES and Factory Floor join the bill. 

One of Coachella's big competitors is the rock-focused Sasquatch! (23-25 May & 4-6 July, George, Washington), who have an impressive bill headed up by Queens of the Stone Age, Tyler the Creator, The National, and the welcome return of indie legends Violent Femmes, as well as Liars, Deafheaven, Washed Out and Mogwai in May, while the July weekend sees Soundgarden, New Order, The Horrors, and Kraftwerk's T-in-the-Park-slaying live 3D show heading up a bill that also includes Broken Bells, Frank Ocean, Deltron 3030, Kurt Vile, Jon Hopkins and Metz. American dance music fans can get a dose of the bleep-y stuff at Movement (25-27 May, Detroit, Michigan), with appearances from Baauer, Green Velvet, Just Blaze, Tiga, Bicep, Bonobo, and Daniel Avery. Of course.