Le Guess Who? announces guest-curated programme
The likes of Tortoise, BEAK>, Laurel Halo and Tim Hecker lead a colossal artist-picked bill for the tenth edition of the esteemed Dutch festival
Offering far more bang for Euro than your average corporate shitshow; Wilco, Savages, Julia Holter and Suuns follow in the footsteps of dronefathers SunnO))) to present their own unique strands at Utrecht's four-day Le Guess Who? festival this coming autumn.  
Le Guess Who? takes place in the picturesque Dutch city from 10-13 November – read our in-depth four-part review of the 2015 edition, featuring Ought, METZ, Sunn O))) and Deerhunter, to get a flavour of what it's all about.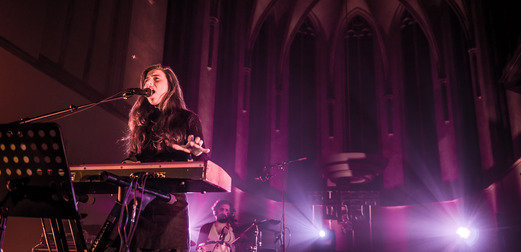 The full outline of all four curated programmes is below, alongside the previously revealed bill booked by the festival's founders. More artists are expected to be confirmed in the coming weeks. See here for the day split so far.
The Skinny is proud to once again partner with Europe's premier music festival.
Curated by Wilco: Wilco, Tortoise, Lee Ranaldo & El Rayo, Bassekou Kouyaté & Ngoni Ba, Fennesz, Steve Gunn, William Tyler, Wand, Drinks, Pita, 75 Dollar Bill, The Cairo Gang, Arnold Dreyblatt, Kyoka, Klara Lewis, Daniel Bachman, Shopping, Tom Carter.
Curated by Savages: Savages, Tim Hecker, Beak>, Bo Ningen, Container, Jessy Lanza, Good Sad Happy Bad, Hannah Peel, I Speak Machine, Duke Garwood, A Dead Forest Index, Johnny Hostile, Don Teel Curtis, Mario Batkovic.
Curated by Suuns: Suuns, Alessandro Cortini, Marching Church, DJ Nigga Fox, Samuel Kerridge, RP Boo, Jerusalem In My Heart, Brian Case, Marie Davidson, Patrick Higgins.
Curated by Julia Holter: Julia Holter, Laurel Halo, Laraaji, Tashi Wada & Yoshi Wada, Circuit des Yeux, Jackie Lynn, Maya Dunietz performs the music of Emahoy Tsegué-Maryam Guèbrou, Lucrecia Dalt, Aine O'Dwyer, Delphine Dora, Lau Nau, Josephine Foster, Jessica Moss.
General programme: Swans, Patty Waters, Dinosaur Jr., Digable Planets, Wooden Shjips, The Dwarfs of East Agouza, Scott Fagan, Ryley Walker, Cate Le Bon, The Comet is Coming, St. Francis Duo, Guy One & The Polyversal Souls, Lera Auerbach & Netherlands Chamber Orchestra, Jameszoo Quartet, Anna von Hausswolff, Phurpa, Richard Skelton, Heron Oblivion, Nadja, Heather Leigh, Stara Rzeka, Ryan Sambol, DOODcast Live Special