Berlinale 2021: Magic and Reality Collide
The best films at this year's Berlinale traded in fairy tale and fable, but the titles that seemed to get Film Twitter and the Berlinale jury most excited were in-your-face works offering a mirror on the ills of society
There's much to miss from Berlinale going digital this year. Kebabs from the Mall of Berlin; cheesy käsespätzle from the wee van near the Sony Centre; the weirdly addictive yellow relish on the sandwiches from the bakery at Potsdamer Platz Bahnhof. More than the food, though, I missed those crazy, daring Berliner cineastes who would queue around the block for the kind of weird art films or experimental documentaries that are lucky if they play to audiences of half a dozen at any other festival.
An audience would have been appreciated for witnessing the two distinct breeds of films that seemed to emerge at this year's Berlinale. One found comfort in the world of fable and magic, mystery and metaphor, and proved a delightful escape from the hellscape of 2021. The other didn't fuck about, and addressed some of the burning issues of today.
Alexandre Koberidze's imaginative What Do We See When We Look at the Sky? (★★★★★) belongs to the first category and the director knows it. He questions his choice to make this particular film at this particular time in his own ironic, quixotic voiceover. All that we can say is that we're glad he did, because it was the thrilling surprise of the festival, a poetic lark of a film overflowing with a love for urban life at its most quotidian.
It's a two-and-a-half-hour epic made with the playful experimentation and youthful vigour of a short. Set in Kutaisi in Georgia, a city so romantically sun-dappled it makes Paris look like Cumbernauld, it's a modern fairy tale about a young man and woman, Giorgi (Giorgi Ambroladze) and Lisa (Ani Karseladze). The pair fall in love at first sight, but the relationship will never blossom. A mysterious "evil eye" objects to the union and puts a curse on the couple (information Lisa discovers from a friendly tree sapling, traffic light and rain gutter – a scene delivered with poker-faced sincerity, like all the moments of magic in the film).
On the day of their first date, the curse causes the would-be-couple to wake up in different bodies, so when they make their arranged rendezvous at a riverside cafe they can't find each other. The curse also robs them of their key passions: Giorgi, a keen footballer, loses all his ball skills, while Lisa, a chemist, forgets everything she's ever learned about medicine.
The pair both find themselves taking crummy jobs at the same cafe they were due to meet, with no idea their colleague is their star-crossed crush. With the tension of how the hex will be overturned on the backburner, Koberidze turns his camera on the inhabitants of Kutaisi. The city fairly bursts with lyrical imbroglio centred around two themes: love and football.
Our attention falls on various groups of youngsters, from rambunctious, football-daft kids to flirty teens. We drop in on a husband and wife filmmaking duo working on a movie that requires real couples for its final section; there's a micro-drama about a pair of football-loving dogs who are eager to watch the World Cup together but can't decide on the best venue. These mini-stories drift along and intertwine in beautiful, surprising ways that are simply breathtaking, effortlessly joyous and, cumulatively, deeply moving. And as for the thwarted lovers, Lisa and Giorgi, let's just say the transformative power of cinema proves greater than any evil eye.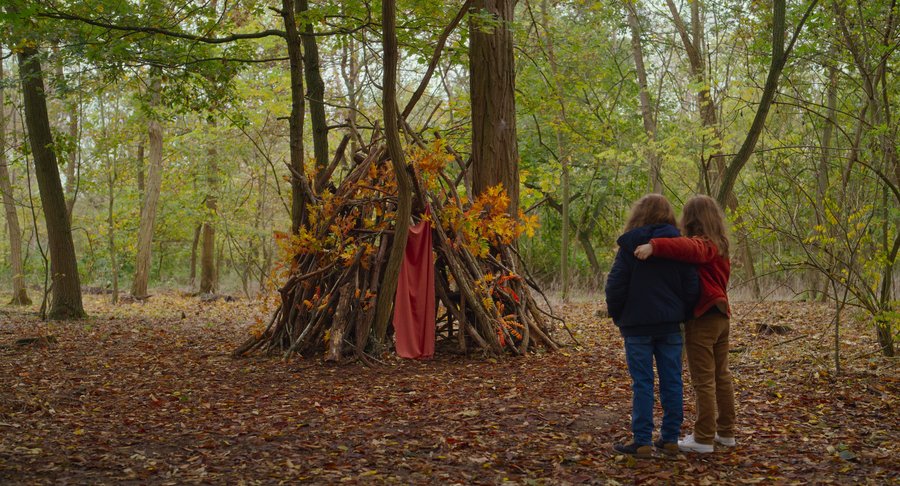 Fairy tale might also be the best description for Petite Maman (★★★★★), the latest film by Céline Sciamma. Here the brilliant French director returns to the world of childhood with the story of an eight-year-old girl, Nelly (Joséphine Sanz), who makes a wonderful discovery one day in the woods behind the house that used to belong to her gran, which is being packed up after her recent death. While playing she meets Marion, a girl with a striking resemblance to her (she's played by Gabrielle Sanz, Joséphine's twin). It's no wonder there's a similarity: Marion is Nelly's mother.
The time-space continuum breach that allows a mother and daughter to meet at the same age – lonely kid's daydream or Back to the Future-esque time-travel? – is left ambiguous initially, with Sciamma instead happy to let us enjoy the magic of child and parent meeting at the same eye level. We watch them build a fort and act out a goofy murder-mystery play and simply delight in each other's company. The filmmaking is simple and the story slim (the runtime is an all-too-brief 72 minutes), but Petite Maman is brimming over with emotion and, like its young protagonist, surprisingly wise in its explorations of grief and love.
As for a film more concerned with reality than myth, there's the brilliantly titled Bad Luck Banging or Loony Porn (★★★★), the latest from crackerjack Romanian filmmaker Radu Jude.
It's one of the first feature films I've seen set firmly in the COVID era. It centres on Emi (Katia Pascariu), a school teacher who's embroiled in a public scandal after a saucy home video she made with her husband makes its way on to the internet. The offending amateur skin flick acts as Jude's prologue, and the film just gets more bracing from there. The elegant opening section follows Emi on several errands around Bucharest ahead of a school board meeting. We track alongside her as she makes her way through town, which is bubbling over with civil unrest as mask-wearing citizens get involved in petty disputes around street parking, driving protocol and store etiquette. In between these mini eruptions of anger and harassment, the camera will wander off to observe some sexist advertising billboard or gaudy window display, introducing us to a grotesque society where any semblance of decorum is a thinly veiled charade.
This realist opening then gives way to a section titled "a short dictionary of anecdotes, signs and wonders," which takes the form of a Godardian collage of text and image dissecting a whole litany of Romanian political, religious, social and sexual mores. Finally, we arrive at the meeting with concerned bourgeois parents, who include a mealy-mouthed priest and a chauvinistic military official. Everyone is sat in the school courtyard at a respectful social distance, but masks soon start to slip, and we're not just talking about the surgical ones falling off the hypocritical parents' noses. This kangaroo court descends into chaos and Jude makes his point long before its conclusion, but it does close on three witty alternate endings, one of which suggests Zack Snyder should step aside so we can see the #JudeCut of Justice League.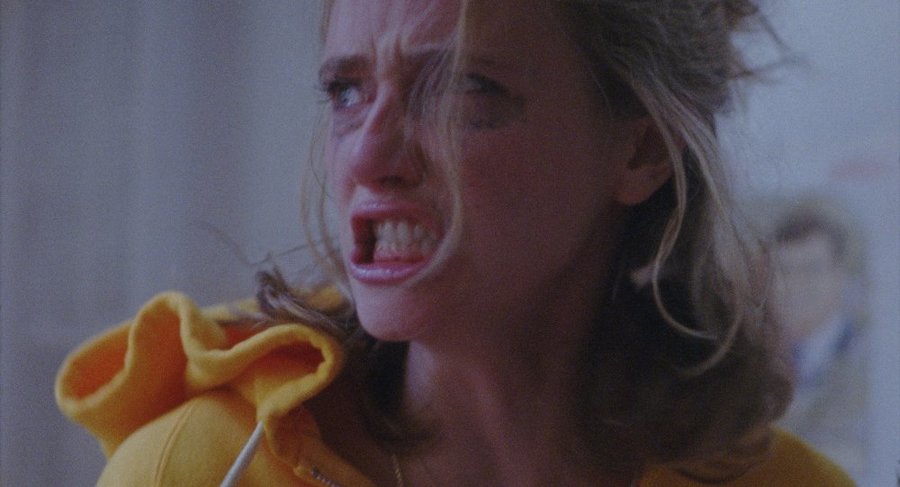 I'm sure I'd have enjoyed Jude's bolshy film even more with an audience. A rowdy crowd would also have been appreciated for Dasha Nekrasova's jawdropping The Scary of Sixty-First (★★). It's a knowing piece of scuzzy horror schlock focused on two young New Yorkers, which looks and feels at times like Dario Argento has directed an episode of Two Broke Girls. One of the women, the sarcastic Noelle (Madeline Quinn), becomes obsessed with conspiracy theories surrounding Jeffrey Epstein after she unwittingly moves into an apartment that was owned by the sex offender. Meanwhile her flatmate, Addie (Betsey Brown), appears to become possessed by one of Epstein's victims, a fact that becomes apparent when a commemorative spoon from the Duke of York's wedding to Sarah Ferguson is discovered. "Anglophilia is one thing," Noelle says of Addie's newfound Prince Andrew obsession. "Paedophilia is another."
This is just one of the moments of bad taste that will have Daily Mail readers clutching their pearls. Another scene involving royal memorabilia might make Nicholas Witchell's head explode. While I got a kick from its gags about the prince who cannot sweat, Nekrasova's glib film doesn't seem to have much insight into the Epstein case or empathy for the young women he abused. Plus, its horror setpieces aren't scary enough to satisfy gorehounds. But there's no denying the catharsis of Nekrasova's rage or the chutzpah of her satire.
The Scary of Sixty-First prove to be the buzziest title at this year's festival while the biggest hit with the Berlinale jury was Jude's Bad Luck Banging..., which walked off with the Golden Bear. Nothing, though, for Petite Maman and What Do We See When We Look at the Sky? Magic, it seems, didn't cut it this year, but it's to Sciamma and Koberidze's films I'm most keen to return.
---
Berlinale 2021 took place online 1-5 Mar, with an in-person event planned in Berlin 9-20 Jun