Xhloe Rice and Natasha Roland: Rodeos, Cannibalism, and Reproductive Rights
2022's breakout Fringe stars Xhloe Rice and Natasha Roland return with an old favourite and a zany new offering
Imagine the figure of the cowboy and something lawless might emerge from the mist, all leather chaps and fast-shooting guns and wanted posters stuck up in dust-stricken towns. Yet think of the rodeo – the theatre where the cowboy performs his tricks and sells his craft – and a much stricter state of affairs comes to mind. The rodeo has a hierarchy; a fixed way of doing things: a place where cowboys reign, rodeo clowns scramble to fulfil their desires, and cattle find themselves at the mercy of rope and saddle. It is a place of contradictions, where order thrives and underdogs – human and animal – can muscle their way to the top of the audience's affections: where the hierarchy exists only to, ever so briefly, be broken down.
It is fitting then, that this world of simultaneously unforgiving order and scrappy dreams found expression last year in the unexpected runaway success of And Then the Rodeo Burned Down, a queer, absurdist play that started August as a tiny show with a tiny run in a tiny SpaceUK venue, and ended the month by winning its New York theatre-makers Xhloe Rice and Natasha Roland a prestigious Fringe First award.
"It was crazy," Rice gushes, "and it still feels crazy. We're still pinching ourselves." They and Roland are calling from a small theatre in New York where they are deep in rehearsals for this year's Fringe – returning with And Then the Rodeo Burned Down and new show What If They Ate the Baby? – petticoat-ed up and spending the Zoom call passing a plant filter between their faces. Their Fringe dreams, it turns out, had been in place for a while: the two were registered to attend with another show – an apocalypse piece about two people who, in the face of the world ending, shutter themselves inside – right before the pandemic hit. "We accidentally manifested COVID," Rice laughs. When everything opened again, their original idea's latent plague narrative felt too on-the-nose, so the pair put pen to paper, passing a new script between them until the shadows of the rodeo began to take shape. 
"Our process of writing together is like… it's beautiful but very chaotic," Roland laughs. The play was inspired by a true story that had long obsessed them: the 1944 Hartford circus fire, down in history as one of the worst fire disasters seen in the US, and whose origins remain a mystery. Yet the beauty of And Then the Rodeo Burned Down lies not only in the charming clowning that Rice and Roland have immaculately choreographed ("We get bored if we don't move," Roland laughs again ruefully), or in the foot-tapping Dolly Parton-filled soundtrack, but in the beguiling complexity of its writing – a tidy, less-than-an-hour script that, mid-play, turns the whole story on its head, crafting a mediation on the very act of making art.
"It was so accidental," Rice says of the play's meticulously clever twist (too clever to spoil here). "We never go into anything with an idea of what it's about. We're very image-based or character-based." Rather, the play's metatextual bent emerged from Rice and Roland's own experiences, as they struggled to fit playwriting and rehearsals around their day jobs and scraped together savings for the Fringe's registration fees.
"And Then the Rodeo Burned Down is so much about not being able to afford to make the art that you want to make," Roland says. "We just want to tell stories because we truly believe we have something to say – the only reason people are not listening is because we can't afford to tell them." The play, in this way, takes on an almost Brechtian character – a Verfremdungseffekt that draws attention not only to the artificiality of play-as-performance, but to the material circumstances that it, and all art, are made under.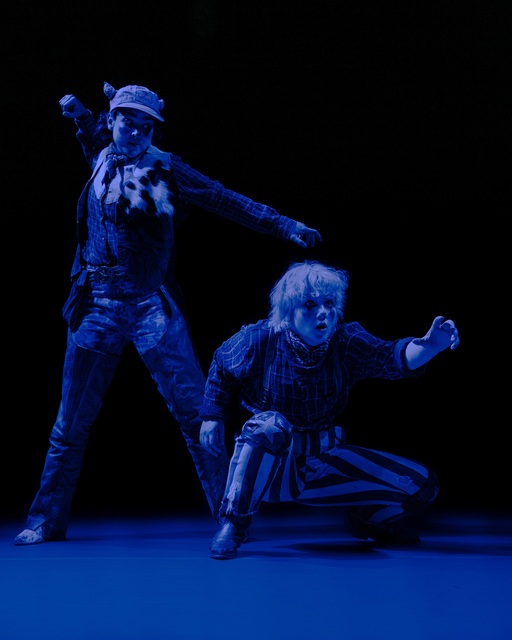 And Then the Rodeo Burned Down. Credit: Morgan McDowell
And Then the Rodeo Burned Down was Rice and Roland's first major career success – the Fringe First Award allowed them to bring the show to London in February and return to Edinburgh this year. Yet the two have been making theatre together for years under the most determined of conditions; having met in high school and immediately starting to write and perform together, Rice and Roland have fought tooth and nail to make the art that they love, rehearsing in parks and sneaking backstage in the face of the precarity of New York's theatre scene.
"We started producing and putting together fun little stuff at our schools kind of secretly…" Rice explains. "Like really secret," Roland adds. "Like against the rules secret," Rice says. "Like they tried to shut us down," Roland laughs. The unmitigated enthusiasm they have for making art and for each other is irresistibly guileless; they tell the story of their friendship (Roland was Rice's high school tour guide, they immediately resolved to be best friends) with the adorable fluency of one of the elderly couples from When Harry Met Sally; they fall over each other to finish the other's sentences. The depths of their chemistry, tender and brash and always in sync, is the secret ingredient of their theatre-making – whip-smart writing married with something that is, at its core, deeply sincere.
It is heart-warming, then, that after so long fighting for a place at the table, the two have finally edged onto a seat. The Fringe seems to suit Roland and Rice: a space where their experimental, absurdist theatrical shenanigans can meet the needle-sharp point of their social critique. And Then the Rodeo Burned Down is, at its heart, a play about industrial precarity; their new show, What If They Ate the Baby?, is a timely inquiry into themes of surveillance, control, and reproductive rights, told through an encounter between two housewives that occurs again and again on stage. It imagines, Rice explains, the way the same scene could unfold if the audience happened to only hear the conversation rather than see it.
"The Rodeo are characters that we fall into relatively easily," says Roland of their shift to the new show, "the rough-and-tumble clowns that have that funny physicality. [Here], we're challenging ourselves a bit."
"We're not used to exploring our femininity quite as much," adds Rice. "The performed hypermasculinity is a big element of the rodeo… it's different and more knife-in-the-heart when to be feminine is to already be performing." In its aesthetic, What If They Ate the Baby? could not be further from the DIY grit and grime of Rice and Roland's rodeo; yet both pieces inhabit the same formally and politically subversive space, using a dramaturgically ridiculous approach (their new show is pitched, they tell me, as the "queer cannibal housewife" show; the rodeo clowns, meanwhile, spend half the runtime wondering if they should kiss) to speak to urgent moments of contemporary crisis. What If They Ate the Baby? was written before the fall of Roe v Wade but has only accrued more significance in the intervening year, something into which both Rice and Roland are unflinchingly leaning.
"I wouldn't say that we've ever sat down and tried to write a political piece," explains Rice. "But in many ways, existing in non-normative identities, existing as someone who is seen as a woman – especially in America right now – is just political by existence. I don't think we have the privilege to be apolitical."
As the Fringe continues to transform into an unwieldy and capitalist behemoth, it is beautiful – and encouraging – that such underdog stories can still happen; that a plucky two-hander with no institutional producing structures or money can create such waves in the ways the Fringe was originally intended. With such buzz around them, this year's edition will hopefully look somewhat different for Rice and Roland, who arrived last summer to "the darkest, dankest room you'll ever see," Roland laughs, "in like a nine-person room with bunk beds and a slamming door."
"We loved it!" Rice grins. "But we're being put up in an apartment this year."
"We're sharing a room," Roland adds. "But still."
---
And Then the Rodeo Burned Down, theSpace @ Niddry St, 4-17 Aug (not 13); theSpace @ Venue45, 18-26 Aug (times vary)
What If They Ate the Baby?, theSpace @ Niddry St, 14-19 Aug, 5.50pm; theSpace on the Mile, 21-26 Aug, 9.15pm