Horizon Showcase Pushes The Boundaries of Performance
Horizon brings its first in-person showcase of genre-defying and radical performance to the Edinburgh Festival Fringe this month
After two years of accessing our entertainment primarily through the internet, visiting an in-person festival can be overwhelming. Thankfully, Horizon have you covered – their upcoming showcase of 10 genre-defying, global, and multidisciplinary shows is a highly anticipated follow-on from their entirely virtual showcase in 2021. Horizon is a programme of global artists based in England, curated specifically for the Edinburgh festivals. The Horizon consortium is delivered by the Battersea Arts Centre, FABRIC, Fierce, GIFT, MAYK and Transform, who emphasise their focus on underrepresented and experimental artists who may not normally have the opportunity to show work at the Edinburgh Fringe and beyond. Horizon's showcase is targeted primarily at an international audience, making it distinctly appropriate for the Edinburgh festival environment.
Amy Letman, the Creative Director of Transform, says: "What those partners have in common is a desire to support a new generation of performing arts – to create, promote, and present performance that really pushes our understanding of what performance can look like, and what it can be. [We have] a real commitment to explore international collaborations. We're not only thinking about the specific shows we can present, but how a programme in Edinburgh is framed and cares for artists and audiences, and what a journey through a showcase could look like." 
Letman highlights the site-specific nature of Horizon's pieces. Many of the programme's shows interrogate "what kind of performance can happen in Edinburgh itself. Where can work happen, how long can it last, and how do we really invite audiences to travel beyond those blackbox spaces?" 
One such work is Sonia Hughes' I Am From Reykjavík, which is a roaming, outdoor work of performance art and sculpture. "It's really about those conversations that Sonia has with passersby," Letman says, "exploring if it's possible to place yourself anywhere, to set up house anywhere, or, in fact, if there are borders that prevent us from moving." Letman adds that, with the closures of international borders during the pandemic, demographics from the global North who may not normally think about their own freedom of movement have had to confront the possibility that spaces may be closed to them, and that their access to those spaces is beyond their control. Hughes' work interrogates the conditions and constraints of our physical belonging.
Horizon is also bringing Common Wealth's Peaceophobia to Summerhall at Q Park, Omni. Described as 'part car-meet, part theatre', the piece uses aspects of a car-rally (cars included) to address rising Islamophobia. Complete with an original electronic score, Peaceophobia promises to be completely unique and unapologetic in its confrontation of racism, prejudice, and hostility. 
Letman also highlights The Vacuum Cleaner's Exposure, an interview-based exhibition featuring the personal and professional stories of healthcare workers in the early months of the pandemic. "It's a really beautiful, tender, very intimate performance, but it also invites you into conversation with The Vacuum Cleaner about those stories." Two years on from the initiation of the piece, Exposure is an opportunity to engage in the lasting effects of working as a healthcare provider through a global health crisis. 
If you're searching for a strong queer aesthetic among Horizon's programme, Eve Stainton's Dykegeist is a good place to start. The piece is rooted in the sounds of Speed Garage, which originated from Manchester's club scene. Dykegeist uses performance art and live sound to explore lesbian stereotypes and consent. While the audience will be asked to participate, it will be easy to decline, making this piece particularly suitable for audience members who are interested in experimental theatre but still apprehensive about participation. Letman says, "It's sort of grotesque and surreal, and should be a really interesting, more immersive experience for audiences to engage with."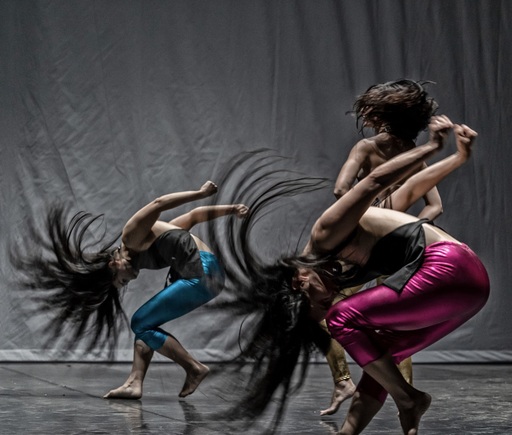 Nutcrusher
Created by Sung Im Her, Nutcrusher uses the body to explore its own objectification. Hailing from the Republic of Korea, Sung positions her work in a cultural context, interrogating the gaze not just as a phenomenon in and of itself, but also as a social product that produces and reproduces culturally-specific modes of oppression. Sung's energetic, repetitive choreography makes the piece both electrifying and thought-provoking. 
These five shows, along with Aidan Moesby's I was Naked, Smelling of Rain; Dan Daw's The Dan Daw Show; Jaz Woodcock-Stewart's Civilisation; Marikiscrycrycry's He's Dead; and RashDash's Look at Me Don't Look at Me, promise to make this year's Horizon Showcase a supremely diverse, engaging, and genre-defying programme. "It's an opportunity to engage with a really extraordinary range of artists based across England, working across different forms, from personal storytelling to dance to live art to site-specific work," Letman says. "It's really about a different kind of conversation around what performance can look like in our geographic context, and a connection with the international, whether that's about the themes that Sonia's exploring in I am from Reykjavík, or Common Wealth, who are looking at Islamophobia, but also about the form and the aesthetic, and a kind of boldness."
Horizon is serious about opening a two-way channel between artist and audience. They plan to host a series of online and in-person conversations centred around fostering a new kind of showcase: "We're wanting to really reimagine what a showcase can be, and move away from the more transactional buy-sell mentality of showcases," Letman says. With this robust programme, Horizon hopes to "think more creatively about how we can connect with our colleagues around the world through a deeper dialogue."
---
Horizon 2022 runs from 22-28 Aug in venues across Edinburgh