Edinburgh Fringe 2018: Queer Theatre round-up
Looking to celebrate the range of human sexualities in theatre, but don't know where to begin? Here's a helpful guide to help you find the show that's best for you
LGBT stories
Playwright Jen McGregor, who is 'quietly queer but deeply invested in telling the stories of LGBT characters', brings her new play Heaven Burns to Assembly Roxy (2-27 Aug (not 14), 2.35pm, £7-11). Set in 1662 Morayshire, it tells the true story of the woman Christian Caddell, otherwise known as John Dixon the 'witch-pricker', who sentenced several women to death for witchcraft.
For something lighter, "bi-guy"-identified writer and director Ash Pryce presents First Time Buyers at the PBH Free Fringe (Tolbooth Market, 4-24 Aug (not 7, 14, 21), 9.30pm, free). In this supernatural comedy, Sarah and Claire buy their first home as an engaged couple. But the previous residents won't leave the couple's new home and to make matters even harder, they're dead. Pryce's script stipulates that at least one of the characters is bisexual, "because I wanted to see others like me on stage. Sarah being bi doesn't stop just because she is engaged to Claire. It's also important to see bi characters in a light other than 'temptress', and here the character being bi is a fact about them rather than the driving force of the plot."
Rather than starting with a script, Breathless Theatre have devised Spaces (Sweet Grassmarket, 2-26 Aug (not 7, 14, 21), 2.25pm, £7-9), a part-verbatim play about sexuality informing personal boundaries, and how these impact relationships with family members and loved ones. Company member Emma Nihill explains she is "playing a woman called Lucy who is very comfortable with her lesbian identity – during the course of the play I develop a complicated relationship with a woman who is discovering her bisexuality and attempting to reconcile this with her Catholic faith."
Solo shows 
These queer stories come solo, too: Grace (Gilded Balloon Teviot, 1-27 Aug (not 13), 1.45pm, £6-9.50) by Katie Reddin-Clancey, inspired by a friend coming out as transgender, has created a show framed by showbiz. Set in a regional theatre, Grace focuses on Zora, formerly Alfie, and the people she works with. Femme-identifying La JohnJoseph draws on more recent history with A Generous Lover (Summerhall, 1-26 Aug (not 2, 6, 13, 20), 4.10pm, £8-10), a one-person show looking at mental illness.
Like Reddin-Clancey, Jamie Gould looks at the trans experience in Ganymede (Paradise in Augustines, 3-25 Aug (not 5, 12, 19), various times, £7-10) his adaptation of Shakespeare's As You Like It. Trans man Gould and TypeCast Productions add Gould's new writing to Shakespeare's original to create a new play about gender transition. 
More than half of the company are queer, and a trans actor has been cast as Ganymede. Holly and Ted's "fantastical adventure through time and space", Polaris (Pleasance Courtyard, 1-27 Aug (not 14), 12.55pm, £6-9.50) is also made by a trans artist, Teddy Lamb.
Comedy
If you're looking to extend your LBTQIA+ Fringe-going beyond theatre, comedy has some offers: Catherine Bohart: Immaculate (Pleasance Courtyard, 1-26 Aug (not 14), 4.15pm, £6-10.50) draws on Bowhart's experience of coming out as bi when her father simultaneously comes out to her as an aspiring priest. Sian Davies presents Comedy Queers and Best in Class and Karen McLeod investigates lesbian cliches in Who Do You Think You Are? Barbara Brownskirt (Assembly Rooms, 14-25 Aug, 6.20pm, £8-11).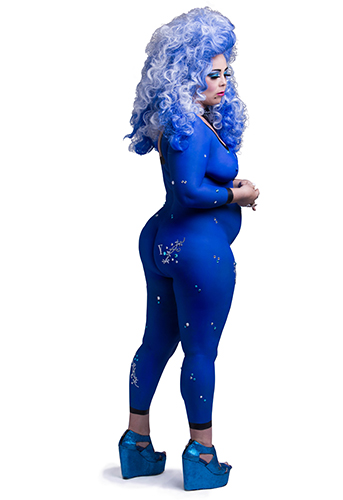 In cabaret, Queen Of The F*cking World: The Second Coming (The Street, 5-25 Aug (not 6, 13, 18), 6.30pm, free) "takes sexual politics by the balls", and Sarah Ward and Bec Matthews' Yana Alana – Between the Cracks (Assembly Checkpoint, 2-26 Aug (not 8, 13, 20), 8pm, £10-13) is performed by pansexual Ward; Matthews is gender-queer. The perennially popular Hot Brown Honey – winner of a Total Theatre Award – implores women to "moisturise and decolonise" whilst celebrating and empowering women in all the forms they take (Gilded Balloon Teviot, 3-27 Aug (not 8, 15, 23), 7.30pm, £12.50-16.50).