Edinburgh Fringe Reviews: Two Riotous Double Acts
Both Yeti's and Zach & Viggo walk the line of mischievous pranksters and sympathetic clowns
For a lot of people, Yeti's' show Demon Dive Bar [★★★★] will draw comparisons with shows like The Rocky Horror Picture Show, The Mighty Boosh and Flight of The Conchords. Frankly, these comparisons seem apt, given the way the audience are hit with a tidal wave of creativity, mixing songs with gloriously absurd costumes, creatures and characters. These aforementioned shows have given mainstream audiences a clear idea of what a weirder, misfit show can be, the downside of which is that they can overshadow the originality of shows likeYeti's and its innovative ideas.
Despite this, Yeti's is a show that produces some of the most bizarre and brilliantly dark character-based cabaret and circus acts around. This dark tone may not be for everybody, and the aesthetic doesn't put audiences off, their juvenile humour might; at times it overpowers certain segments. There's an over-abundance of crass jokes that dilutes the enjoyable and remarkable; the more low-key moments make for compulsive viewing.
What is unique about Yeti's is their assembly of characters: they fit the show, not the other way round. At no point does it seem meaningless for a character to be introduced, with the cabaret aesthetic neatly blanketing the cast and giving the show an undeniably chaotic energy. It's quite unlike anything else on offer this year.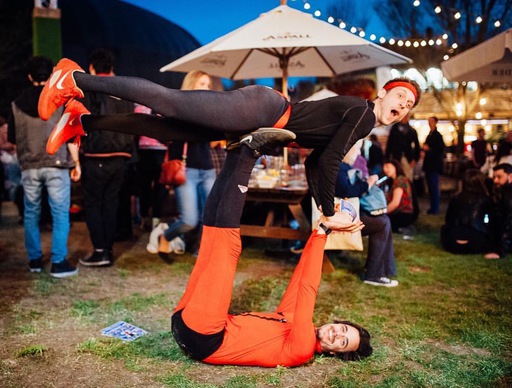 Zach and Viggo
Zach & Viggo like the unpredictability of the crowd seated in front of them, whose members will soon be a part of the onstage carnage. In Thunderflop [★★★★] the participation isn't mandatory, nor is it ever mean-spirited, as the pair lay claim to their cohorts with a grin and openness that makes even the coldest of hearts want to be part of the fun. And that's exactly what this show is – pure fun from start to finish.
The highly skilled Dutch clowning duo spend the show playing (in the childish sense) in this superb hour of physical comedy, mixing a collection of oddball characters and vignettes. They run off and on stage as their various characters throughout the show, creating an intensely energetic performance that keeps the crowd mesmerized with their every action. Even as the more serious characters (admittedly, 'serious' is a stretch), the pair grin so hard, it would be difficult not to feel in safe hands.
There are moments of planned brilliance and plenty of off-the-cuff magic that keeps the show fresh, imaginative and riotous.
---
Zach & Viggo: Thunderflop, Underbelly, Cowgate (Delhi Belly), 4-28 Aug (not 15), 5.20pm, £6-11
Yeti's: Demon Dive Bar, Pleasance Courtyard: Two, 3-29 Aug (not 17), 9.20pm, £6-12