Edinburgh Fringe Reviews: Loss
A loss in the family is often both a common theme and a hard sell for a fringe show. Here's three that address the tearful topic
Pelican [★★★★] is an unpolished gem of a show. It details a mother and daughter relationship without being either too saccharine or hateful. It's the ultimate dead mum show. Except she's still alive.
Elf Lyons' mother is a strange character; artist by trade, walking menopause by nature. She's often depicted through incongruous impressions which embody her unpredictable behaviour. Lyon's presentation and delivery is fantastic, no doubt helped by her recent training at École Phillipe Gaulier. She has a wonderful way of constructing a scene, packing the show with thoughtful and well-written gags – such as a comparison between her mother and the sea, and her idea that if she owned a penis, she'd dunk it in some yoghurt and the world would be much nicer.
There's plenty of realism in the show too. Not only is her fraught maternal relationship explored, so is her relationship with others: her sexuality, her fling with an older man and a recent, surprising miscarriage. The latter is dealt with sensitivity and isn't made to linger or feel unwelcome. If anything, the discussion of such a common occurrence is incredibly brave. Feeding into the overarching theme of loss and motherhood, it satisfyingly completes the hour.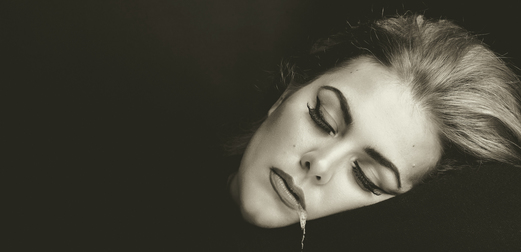 Jayde Adams
In a somewhat disjointed debut, Jayde Adams [★★] hurtles through a late-night nostalgia-fest which addresses the loss of her sister. It's a loud, crass, abrasive hour featuring a few fun ideas, but is over-reliant on facial mugging to get through the routine. Written jokes are scarce and there's some quite uncomfortable audience interaction.
The hour feels very bitty; lots of shorter segments with no connection to the next. Without wanting to sound insensitive, the reveal of her sister's death feels very out of place because of this. As most comedians know, to gain critical recognition, there needs to be an emotional pull, but this one would have worked better told slightly differently.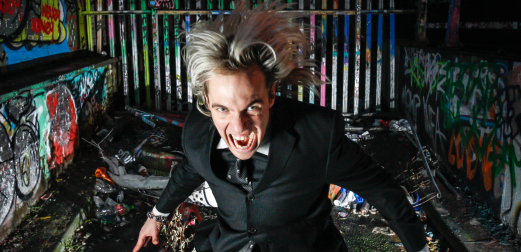 John Robertson, photo: Chris Schmidt
John Robertson's preamble to Arena Spectacular [★★★] is a lament that his previous shows have revolved around the deaths of his father and best friend, but in 2016 there's nothing significant enough for him to do a show about. Perhaps a show about his dead dog? That death happened eight years ago; a little less than topical.
Therefore, this is a show about not having a show, and this preamble lasts for approximately 52 minutes. It doesn't make it any less entertaining though. Picking off audience members with ease ("tablecloth men" in plaid shirts be warned), Robertson fills the room with wary laughter. Everyone is the next potential target to be stripped unceremoniously in front of a room of sadists. And that's just the way he likes it. Fittingly, he talks at length about his depraved shenanigans in a London sex dungeon, and ensures you'll never listen to the Vengaboys in the same way again.
As with all arena shows, however, there is more populist material for prudish fans. His description of the cultural differences between comedians is pretty special, as is the finale of the show, where he plays this 40-seater like it's Wembley. These eight minutes are amped up to eleven and makes you wish the rest of the hour had been played at the same volume.
---
Elf Lyons: Pelican, Voodoo Rooms (French Quarter), 6-28 Aug (not 16 & 23), 7.50pm, PBH Free Fringe
Jayde Adams: 31, Voodoo Rooms (French Quarter), 6-28 Aug (not 17), 10.30pm, PBH Free Fringe
John Robertson: Arena Spectacular!, The Stand Comedy Club 2, 4-28 Aug (not 15), 3.40pm, £7-9