Edinburgh Fringe Reviews: Four Double Acts
Four sketch double-acts ranging from promising to compelling
Revan and Fennell's Fan Club [★★] is a likeable, inoffensive hour of character-driven sketches. Both performers are clearly capable, but some of the sketches feel a little hack and old-fashioned (the science hooligans for example). It's very much an hour of traditional sketches, not necessarily a bad thing, but ones which can drag on a little and characters can wear thin. Also, the pseudo-finale is rather reminiscent of the infamous Smack the Pony singing sketch. 
Having said that, the opener to the show, a low-budget version of Circle of Life from The Lion King, is brilliant, as are some inventive twists to sketches where you think you can predict the punchlines. Overall, it's a reasonable sophomore effort from a duo with potential, bound to win them fans to add to their club.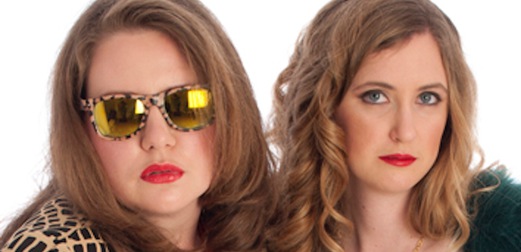 Revan and Fennell
Over at T-bar, we find Shelf's [★★★] lo-fi show. They are very much a member of the anti-sketch sketch club – essentially, they're Twins, but with a friendlier approach to their audience. Presenting regular sketches alongside sketches disguised as compering, Ruby and Rachel create fun and mischief wherever they go. The dynamic between the pair is similar to putting a puppy and a cat in a sweaty box and shaking them; one which certainly appeals, and is less violent than it sounds. Ideas are inventive (the 'Ruby wants a hug' series) and well executed (Ruby and Rachel go shopping). It's silly, cool and relevant.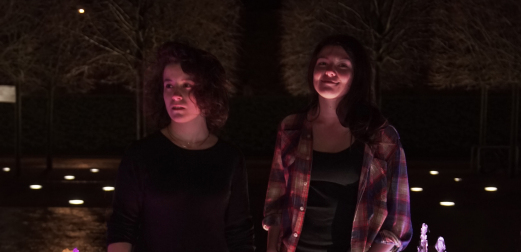 Shelf, photo: Scott Newstead
Crazy Sexy Fool [★★★] is the latest outing from Fringe favourites Lazy Susan. Having only seen them do small spots before, it was a great opportunity to see a full show from the rising stars. 
Celeste Dring and Freya Parker make a delightful team, counterbalancing each other in more ways than one. They really do draw you into their odd little world full of salacious news presenters, sock puppets and jailbreak bears. Parker's asides while Dring supposedly bores the crowd are particularly great, and there's some subtle topical nods for the more worldly audience member. Characters are well developed and there's certainly something to say about Lazy Susan being more bizarre than their peers. 
It is indeed crazy, sexy and foolish. However, some of the recurring sketches seem to go a bit too far, while some – the popstar series – don't seem to go anywhere at all.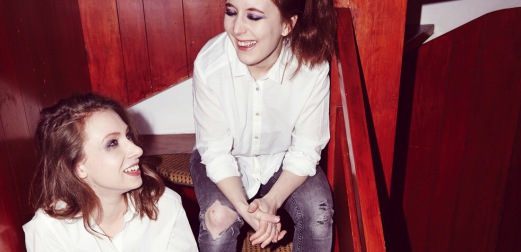 Lazy Susan
Finally, Goodbear [★★★★] prove that less is maybe more in sketch comedy. Minimalist appearance and effective staging makes this show a very slick affair. Billed as a day-in-the-life style show, Henry and Joe create an unmissable stream of characters and concepts, held together by a unique framing device: a clock projected onto the wall behind them, changing as each new sketch begins. 
Alongside the neat structure, the show's conclusion is equally well devised, with both old and new characters cropping up to provide a bittersweet ending. On the way, we visit some rather enthusiastic, catchphrase-heavy Swedish cyclists ("It's pretty exciting"), a bleak Gaelic kitchen-sink drama about flying the nest, and a lover returning from a desert island, among others. Even when words are stumbled over and lines forgot, the pair are so magnetic, you can't look away. 
---
Revan and Fennell: Fan Club, Just the Tonic at The Caves (Just Up The Stairs), 4-28 Aug (not 15), 12.05pm, £3-5/PWYW
Shelf, T-Bar (venue 201), 6-27 Aug, 4.45pm, PBH Free Fringe
Lazy Susan: Crazy Sexy Fool, Pleasance Courtyard (Bunker One), 3-29 Aug (not 15), 7.15pm, £6-10
Goodbear, Bedlam Theatre, 3-28 Aug (not 17), 9.30pm, £8-10