Jessica Brough on Fringe of Colour Films
We chat to Fringe of Colour founder Jessica Brough about brand new online festival Fringe of Colour Films, the possibilities of going digital, and whether Shakespeare can save theatre
Like many of our colleagues and friends in Scotland's creative community, The Skinny have been hit hard by the coronavirus pandemic, so we're asking for your support to help bring back the magazine after lockdown. Donate to our crowdfunder here – any support you can offer is hugely appreciated!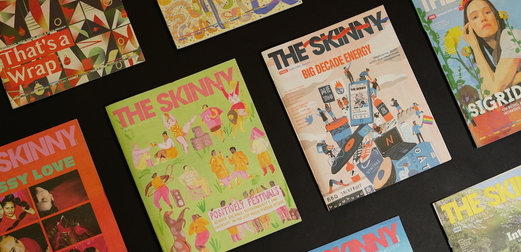 ---
There was a moment in March of this year when Jessica Brough, founder of Fringe of Colour, thought they might have a quiet August. "Corona hit and the Fringe cancelled, and we thought, well maybe that's the job done – we're going to have a really nice, relaxed summer!" They laugh, mock-ruefully. "Can you imagine?"
Now in its third year, Fringe of Colour has, until this year, run concurrent to Edinburgh's festival season. Starting out as a spreadsheet created by Brough compiling all the festival shows created by or predominantly featuring artists of colour, the initiative grew exponentially in 2019. There was a free ticket scheme which distributed over 500 tickets for young people of colour, a Fringe of Colour living room space provided by Lighthouse Books, and numerous panels, networking events and parties. Brough won three separate awards for their work, including the Total Theatre Award for Significant Contribution, and was starting to lay the groundwork for an even bigger and better festival season this year. And then, coronavirus hit. 
With the cancellation of Edinburgh's festivals, it would have been easy to write 2020 off, to hit pause on all the careful planning, to mourn what could have been. But as far as Brough was concerned, that isn't what Fringe of Colour is about.
"We realised Fringe of Colour is not about the free tickets, it's about thinking of what is needed in this climate and in these spaces, and trying to meet the needs," they explain. "In 2018, people needed to find shows, in 2019, the need was to access these shows, and then this year it was more than all of those things combined. It was people needing work and pay from not being able to access these usual stages, not being able to perform, not being able to promote themselves at a massive festival."
Out of this desire to meet these needs, Fringe of Colour Films was born – a brand new, digital festival created by and for people of colour.
Taking place over the month of August, Fringe of Colour Films features over 40 filmed performance art pieces, from physical theatre to stand-up comedy and everything in between, released in weekly batches every Saturday. The films include specially commissioned pieces for the platform, submissions from international artists, a spoken word series directed by Scotland-based poet and writer Hannah Lavery, and a series of roundtable discussions every Saturday entitled This Shit Is For Us. There is also a brand new writing platform for writers of colour to respond to the performances in a way that transcends traditional reviewing.
For Brough, the purpose of Fringe of Colour Films is to provide opportunities for those who need them the most, whether that be the financial boost of having a piece commissioned, writing opportunities for journalists of colour, or the practice of translating theatrical work into a digital medium. "We're going to have to be doing this for a while now, because who knows when theatres are going to be fully safe again," Brough stresses.
And it is not only the performers who benefit from the platform's digital medium. All the films are fully captioned, and BSL interpretation is provided for the live events. "We've been trying to think about what access means and what online spaces offer for access. Even who we can include in the festival, international artists and audiences who don't have to think about visas and flight costs. It's been really fun to think outside of those confines."
With the financial and access pressures of the festival season alleviated, Brough hopes that the festival can become what arts festivals should have always been about: community building. "We're hoping to do something a bit different to what you usually see at arts festivals, where it's like: 'I've got a show, I'm trying to be found in this sea of audiences, so I have to think of me as an individual'. We want to have something where you're part of this community of artists who have probably faced many similar issues, like tokenism, or not being looked at in the way that fully appreciates what you're doing."
It's a distinctly holistic approach that goes beyond issues of diversity, and to the core of the relationship between performer and audience, and their presence in the broader arts scene. "The issue many Black and Brown artists have at the Fringe is that they'll be performing for three weeks to an all-white, all-middle class audience for most of the time, and many of them will want more people in their audience who represent the stories they're telling. But you can't just say, 'I want more Black people' and expect them to come, because there are barriers of access as well. You really have to approach it thinking about the problem as a whole."
At a time when the future of theatres stands on a knife's edge, Brough's insistence on paying attention to these issues demonstrates the creative and productive potentials of going beyond what's safe. "I think people are scared, and their scapegoats are marginalised communities," Brough sighs.
"How can we possibly make money from the theatre if we're not making theatre that looks exactly like us? But this idea that in order to save theatre, we need to go back to what we know, that Shakespeare will save us all, is bollocks." Brough laughs. "I don't know if I can say bollocks. But I think when you're thinking in terms of just the UK, how can we save the UK's theatre scene, then you're already limiting yourself."
It's a profoundly anti-capitalist stance, all the more striking given the increasingly consumerist bent of the Fringe. But for Brough and their team at Fringe of Colour, it all comes down to reevaluating what success means.  "For something like this, it's successful if we've been able to make new work," Brough emphasises. "If we've been able to produce new work, and artists can use films that they've created with us on their own platforms after the festival is done, that helps them get into other spaces or find other opportunities. That's successful."
---
Fringe of Colour Films continues until 31 Aug; access is by donation, Standard Pass £10, Concessions £5, Organisation Pass £50
fringeofcolour.co.uk