Baltasar Kormákur on The Deep
Icelandic filmmaker Baltasar Kormákur returns to his home nation for The Deep, a true life tale of survival on the high seas. We spoke to Kormákur while he was in Edinburgh for the city's International Film Festival
Iceland has had a rough time of it recently. Quiz members of Joe Public about this fascinating, mysterious Island and they're likely to bring up the financial meltdown or the angry, inconsiderate volcano that disrupts their travel plans. For Icelander Baltasar Kormákur, director of recent US fare Inhale and the Marky Mark vehicle Contraband, such events prompted a return home. His new film, The Deep, is a story of survival against the odds, a potent true life tale of a local trawlerman who swam through miles of frozen Atlantic to shore when his vessel sank.
"I felt it was the right time to tell a story that looks a little bit to the past and remembers why we're all here," booms the striking 47-year-old when we meet at an Edinburgh hotel during the city's film festival. "Bankers didn't build the country, you know? It was actually Icelandic seamen! I felt we had lost our way a bit. We had got a bit of megalomania and thought we could run the world from a little island in the middle of the Atlantic ocean and then we collapsed and we didn't know who to blame." This confusion and frustration inspired Kormákur to look to the roots of his nation's identity for solace: "I thought, let's remind ourselves of stories of real drama and real trauma and how people dealt with that. Showing good, old qualities of the country and how we've gone through the ages of living in this inhabitable place."
This inhospitable climate and terrain is wonderfully evoked in The Deep, an elegant, visually arresting and atmospheric picture. The cold is palpable onscreen, not an easy thing to convey. "The ocean doesn't really look like winter,", Kormákur explains. "It doesn't freeze, there isn't any ice floating around, not in this area, but it's really damn cold! So I had to use every opportunity of creating cold before they go out there. So I really wanted to nail that, so you're already cold to the bone when they go on the boat." Before the doomed voyage, the initial scenes on land are breathtaking: extraordinarily harsh conditions (heightened by a frozen aesthetic of greys and whites) smash against the stoicism of the characters, their acceptance of what needs to be done to survive such an environment indicative of the "good, old qualities" Kormákur sought to promote to others, and perhaps reinstil in his own people.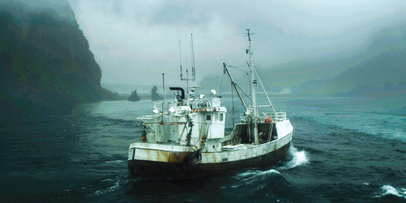 Creating an honest and unflashy account of the events that befell Guðlaugur Friðþórsson, the real life inspiration for The Deep, was paramount to the filmmaker, and no heartstrings were ever going to be tugged cynically. This would be an injustice to the subject. "If you want to cry, you can cry – but I'm not asking you to," says Kormákur. "I'm not a big fan of very manipulative dramatic filmmaking. I tend to think, 'Okay, I get it. You don't have to push that hard!' I let the story talk." Integral to this approach was Friðþórsson himself, whose first-hand accounts added elements to the story that are either so painfully mundane or thoroughly outlandish that they allow the piece to become genuinely transcendent. "He was actually watching a programme of people dancing a waltz," says Kormákur of the moment his hero realised something was wrong at sea. "That's awesome! I mean, it's such a contrast! This big man, a sailor, watching a documentary about waltz, you know? And then the ship goes down! This sort of thing gives you permission to take it to an abstract level. Even the fact he's speaking to a seagull is because he said that he was speaking to a seagull, and it doesn't become theatrical because it is actually real."
It is in these truths, these details, that the picture thrives. Though Friðþórsson had little involvement with Kormákur or the man portraying him onscreen (Ólafur Darri Ólafsson), his own words were readily available in the form of interviews recorded in the aftermath of his miraculous survival, with one such tape included at the end of the film. "I did talk to him a couple of times," says Kormákur. "He did not want to interfere with the film or be involved with it, which was kind of freeing for me. The interview that I use in the film is basically conducted the day after the incident, when he's worn open, and he hasn't put up his guard, and it's by far the best information, because it's a long, long interview. A lot of the things, his character, the way he was, what he said, was very informing. There were a lot of articles that were also good, but the further the time," he pauses, adding: "talking to him today, he's a very different person."
---
"I'm not a big fan of very manipulative dramatic filmmaking. I tend to think, 'Okay, I get it. You don't have to push that hard!' I let the story talk" – Baltasar Kormákur
---
With his portrayal of this near mythical figure, Ólafsson has created a sad, recalcitrant ingenue; a simple man as baffled by an evolving world as he is relentless in fighting for survival in it. The performance is outstanding, but, while always in his director's mind for the role, Ólafsson had to put up a fight. "When I started talking about making the film and then when I was going to make the film, I never talked to him," smirks Kormákur. "In the end he came to me and said, 'I know you haven't spoken to me, but I just gotta tell you – I really wanna to do this.' And right away, I was like, 'D'you have any idea what you'll have to go through?' And he said, 'I don't care. Whatever I have to do, I'll do it. Swimming in the ocean for a month? I'll do it.' It's called horse whispering; I needed to push him away until he would come to me, ready to do whatever I wanted, you know?"
The performance and the character are the bedrock of The Deep's overarching message of a return to necessity, the basics of life, in the wake of crippling effects of the prolonged largesse in a global culture chasing a buck. Friðþórsson's old-school hardiness is idealised. "It's not like I'm a preacher, or giving a lesson," Kormákur is keen to point out, "but I think there are three elements of a character in a movie. He has to be a consequent and real human being in a situation. He has to function. Then, he has to draw a story, pull us through a story – be functional to the storytelling. And third, he has to refer to something bigger. When you don't have that third element, movies become small."
And what of his nation, and this world broadly? Fascinatingly, The Deep ends not with a triumphant return to civilisation, but with Friðþórsson attempting to adjust to a new life after being studied, prodded, in an effort to solve the riddle of his endurance. As Kormákur puts it, "There is being saved, and then there's surviving being a survivor." Saving the survivors is something that appears to be on the filmmaker's agenda in a more tangible sense, too. Further work in Iceland is scheduled, and others set to feel the benefit. "I want to bring more opportunities there," he says. "I'm producing a film that's in post-production by a fellow filmmaker in Iceland, and I'm doing one with a first time director soon. So, you know, I'm trying to help others to make it happen.  I mean, it's a very little industry and there are very limited resources." We can only hope he continues to produce work this interesting; if so, those pesky volcanoes and irresponsible fat cats may yet become a distant memory.
The Deep had its UK première at Edinburgh International Film Festival and is released in the UK on 12 Jul by Metrodome
http://www.metrodomegroup.com