Immigrant Song: James Kelman on Dirt Road
James Kelman's important new novel plays a soundtrack to America's immigrant heritage, pulsing to a Zydeco rhythm and a Scottish beat. While being termed as among his most accessible works, it's nice to find that the great author has not yet mellowed
I won't call James Kelman's new novel the feelgood book of the summer. Partly as, while sunnier in disposition than many previous works, its story is still painted over a backdrop of grief. Partly as the formidable novelist would surely hunt me down. Still, Dirt Road is undeniably optimistic. Moments of wonder radiate from its pages like sun streaming through a window.
It's a story of family and freedom. Of a son travelling from Scotland to Alabama along with his father. Of their fragile yet loving relationship in the wake of the deaths, from hereditary cancer, of both the boy's sister and mother. Yet, in the foreground, the book glows with the vitality of youth and music: Murdo, a natural musician from whose naïve viewpoint we encounter the world, and the Louisiana Zydeco music he's bewitched by (a French heritage blend of blues and R&B, with an accordion and washboard – le frottoir – as its staples).
While Kelman has previously railed against his perceived place on "the margins" of the broader literary scene, it is difficult to imagine an easy embrace between the man and the mainstream. His novels often leave you feeling like you've tussled with something vast and thorny: the Booker Prize-winning How late it was, how late with its dizzying spirals of repetition. The Saltire Society Scottish Book of the Year Kieron Smith, Boy with its unrelentingly and utterly realistic worldview of an unremarkable Glasgow youth – what Michel Faber described at the time as "revolutionary and very, very dull."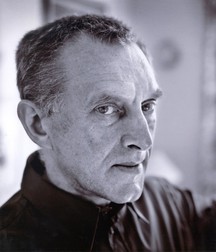 James Kelman
It's interesting then to ponder on how Kelman might feel about Dirt Road being deemed accessible enough to be chosen for Radio 4 Book at Bedtime. "It's probably the first one that was ever possible," he admits when we meet for coffee, and punctuates with a laugh. "Well, I don't know if they'd ever enquired before."
But Dirt Road in no way dilutes the author's celebrated technique. His trademark dialogue remains uninhibited by quotation marks, allowing him, he explains, to "move in a seamless way from the third party narrative to the inner psyche of the character." Then there's his complex use of tense: "It's a third person narrative, it operates in the immediate past. It's almost like the present, the recorded present."
But his workings here are transparent, allowing the reader to glide through stream of consciousness text which forms into thoughts and voices, ultimately lives; impossible to associate with ink on a page. A form of alchemy perhaps? Well, there's a suggestion the author would surely bristle at, equating the graft of his writing when we spoke last year to 'pulling teeth'.
Scotland and immigration
While the morning sun bathes our booth in Glasgow's Rio Café, the EU Referendum result has just this day landed, so political skies are more uncertain. Following this national debate, partially stained by views on immigration, Dirt Road reminds us that Scots have been an immigrant nation across centuries.
Canada and The States are littered with communities of Caledonian origin, many traceable to individual crossings or acts of history, like the MacDonalds being driven out in the 1700s. It's the same for those in turn reaching Scotland. "If you've come from Italy at a certain point you're likely to have come from that [particular] range of mountains." Kelman explains. "Usually it's to do with hardship at home."
Of course emmigrant Scots preserved their culture in the New World. Dirt Road sets a significant section at The Gathering, a display of shrink-wrapped shortbread tin tradition in Alabama. A celebration of outdated heritage by an enclave community clinging to marks of identity. "I mean it's one of the things you become aware of, travelling in the States," says Kelman, "But it's like travelling in parts of anywhere else. You enter into places that are ghettoised, either enforced or through choice."
The situation is further exacerbated by what can be an inability rather than reluctance to integrate, something the author experienced first-hand when he journeyed to America as a young man: "The problem for me being there at 17 was that I had left school at 15 so I was serving my time as a compositor in the printing trade, but when I arrived in the States I wasn't able to work, because you had to be 18, that was a federal law… you can only work within the black economy… You can only do it because you know a family and they're giving you a job in this hamburger stall or something." The flee from hardship, ghettoised communities, black market existence; aspects of modern migration we now often view from the opposite side of the glass.
(Continues below)
---
---
Dirt Road gathers together the pieces of the American cultural jigsaw, including amongst others the French (divided here further into Cajun and Creole), Scots, Irish, Mexican and African. "I think it's a crucial aspect of the novel, because the older forms of immigration are alluded to at one point. There should be nothing needs to be said about the States," Kelman suggests of their historical make-up, "although it continually has to be said because of the right-wing nationalism that goes on, which is such a kind of absurdity."
That absurdity is highlighted by the novel's Scots dividing down finer lines when singer Declan Pike introduces loosely understood Billy Boy lyrics into Marching Through Georgia: "Declan would expect to be thought Scottish since his mother's Scottish, but of course the old Glasgow guy Uncle John, who comes from a different tradition, he would say he's a bloody Irish immigrant! I mean, what are you talking about?" Kelman shakes his head, smiles a wry smile. "The absurdity of this whole thing about immigration gets shown up in these characters. The idea of any culture being homogenous, which is nonsense."
We've been discussing immigration in more historical and complex terms than the crude tactics often used throughout the Brexit debate. There are those who stoked the fires of nationalism. Will they now be able to dampen them? 
"Why would they want to?" Kelman shrugs. "I mean that's to assume that the people within the Tory party have some liberal or moral or ethical position. There are things that they've been wanting to do for a while." He lists them: "The need to cut out employment law. The need to destroy human rights legislation… they want absolute freedom to employ people at [a rate of] free teacakes for an 80-hour week… they want to be able to discriminate against disabled employees… close down any factory, close down anything."
I push a recent pamphlet by the celebrated author Kirsty Gunn across the table – Notes Towards a National Literature – which initiated much debate within the Scottish literary community. Kelman has not read it as yet, and while the essay is far more complex than soundbites, certain quotations relating to Scotland's place in both the contemporary and historical literary canon run contrary to the marginalisation he has regularly claimed. "All I can say is that's great," Kelman says. "… but it's not my experience that Kirsty is talking about. It certainly doesn't bear [resemblance] to the hostility I've received and continue to receive."
James Kelman vs the literary establishment
It's a confusing claim for this multi-prize winner, to view himself as still working from the margins. "It depends what you mean by margins," he counters. "You don't earn a living at it in the ordinary way. My work still gets marginalised in book shops… What I feel is, in retrospect, you can't underestimate the damage that was done through the hostility for How Late It Was." That novel of course attracted controversy and ire when certain Booker Prize judges and critics condemned its use of language.
Kelman has spoken often of this war with the UK literary establishment. During a 2008 interview with 3AM Magazine he replied: "Your question suggests it is a fair go, an even fight, or some such nonsense. It isn't. One side has power and authority and the other doesn't. One has the power to stop the other from earning a living."
It's perhaps with a sly wink then that Dirt Road features the following sarcastic dialogue, lamenting the treatment of a legendary musician whose reputation far exceeds her earnings: 'Oh please come please come; please come play for us Miss Monzee-ay you are a legend, an all-time star of the world; you are the Queen of Zydeco music. Only we can't pay you no money!'
Balancing this, his young central character Murdo performs music as a collaborative act. Never competing for applause or chasing monetary reward. Might this be his own creative manifesto? "Well that's a good way of putting it, as a creative manifesto." Then he tells a story. "There's a great quotation by a Texas musician. He's asked why he's never made any dough – and he's a good name, this guy – his response to the question of why he's still scrabbling around, he said what he'd come to realise was, 'I want to live my life doing this.'" There is a pause. "That's how it equates for myself."
---
Dirt Road is out now, published by Canongate, RRP £16.99
James Kelman will be appearing at Edinburgh International Book Festival on Sun 21 Aug