Edinburgh International Book Festival: Highlights
Our Books Editor asks you to engage with the grand questions facing the world today, all being discussed in one small square in Edinburgh's west end over August. Here's his highlights for the Edinburgh International Book Festival 2017
It's both the easiest and most challenging task of the year. Edinburgh International Book Festival offers a seemingly bottomless pail of goodness for me to recommend to you and I have only one Tardis-like page to fit everything in. So, let's not waste words.
Firstly, I recommend you not only visit individual shows at EIBF, but the Book Festival more generally. Charlotte Square is a gorgeous suntrap (occasional Scottish floodplain) in August; a tea and beer soaked oasis where all are welcome to peruse the daily programme and make leisurely choices. Worrying rumours of pastel coloured, shoulder-draped cashmere and Panama hats are wildly exaggerated. And while evident, these fashion choices are neither compulsory nor contagious. I've been attending for years and have still to show a touch of class, middle or otherwise. EIBF is a festival of ideas for all, engaging with important themes, tackled by intelligent, inspiring and vibrant writers, thinkers and speakers. Come and be a part of it, dilute the stereotype and add your voice to the symphony.
Let me prove my point instantly. Forget about the big hitters such as Paul Auster and Chimamanda Ngozi Adichie (they've already sold out). More exciting than proven genius is the evidence of green shoots and that hope springs eternal. The past 12 months have offered a bumper crop of Scottish debuts – from Helen McClory moving from flash fiction to the novel with Flesh of the Peach (Wells of Loneliness, 15 Aug, 7pm), Ever Dundas tackling gender and animal rights in Goblin (Outlaws and Exiles, 16 Aug, 7pm), Kaite Welsh introducing a Victorian feminist crime heroine in Wages of Sin (Partners in Crime, 21 Aug, 2pm) and Martin MacInnes's rabbit hole of a novel Infinite Ground (Infinite Madness, 14 Aug, 7pm). EIBF is pairing them up with interesting and varied contemporaries from around the world. Get in on ground level, and also consider voting for those up for the first book award.

Ever Dundas
Aside from individual authors, it's interesting to consider the festival in terms of the various themes marbled through its meat. Race and identity are two of the most pressing questions being asked of the world of late, and form the headlines decorating our broadsheets and online news sources (fake or otherwise). EIBF explores race throughout modern history. The Last Poets (23 Aug, 6.30pm) – often competing with Gil Scott Heron for the title 'godfather of hip-hop' – were formed in the racial cauldron of 1960s America, an era of Civil Rights battles and the Black Panthers. They chat with the teller of their tale, author Christine Otten, and then perform later that night at the festival's free Unbound series of events (an open-door performance-based gem each evening). Scotland's Makar Jackie Kay interviews Pulitzer Prize winner and author of memoir Negroland, Margo Jefferson – combining feminism with civil rights in what will be an important event on 20 Aug (8.45pm). Two powerful voices.
Paul Beatty provoked from the first line of his racially charged satire The Sellout, a book which challenges a history of race relations in the US.  He also won the 2017 Man Booker Prize and his event will be a hot ticket (Exploring the Nature of Genius, 26 Aug, 2.15pm). Reni Eddo-Lodge has also provoked (readers and non-readers: the latter often the most vocal) with her book Why I'm No Longer Talking to White People About Race. Come and engage with the subject rather than simply the title on 18 Aug (4pm). It promises to be challenging and illuminating.
Then, light a fire under the political questions of the past that reflect into today. There's a revolution double bill on 22 Aug: Laura Hird and Gordon Pentland discuss the Radical War of 1820 when workers of Scotland rose up (4.30pm) – if this is a gap in your historical knowledge then fill it here. Both are contributors to an excellent new anthology titled Protest: Stories of Resistance. And this is simply one example in history of the people rising up against oppression. Take your notepad and jot down tips – the time is right. Perhaps take less from The Bolsheviks (or at least add caution), but certainly head along to The Language of Revolution (same day, 7pm) to hear guest poets Sean Bonney and Hollie McNish recite the translated work of Vladimir Mayakovsky, the most significant poet of the Russian Revolution – another that links so well with our current times. "What does it mean to have a language of revolution?" the event asks, "and how can we use it?"
There are many other events not tied to theme. They are good, and being good is good enough. James Kelman will in my opinion be the finest writer walking among us in Charlotte Square. Others will disagree, some lightly, some vehemently. But hey, that's literature. The Book Festival title his event accurately (Fiction's Master Craftsman, 18 Aug, 1.30pm) where he will discuss his new short story collection That Was a Shiver. As a master of the short form it will be a treat and an education to hear him shine a light on it. It would take cheese before bedtime (or perhaps even hallucinogenic mushrooms) to imagine Kelman playing the kazoo during his event, but Joe Hill certainly did at the launch I attended for his novel The Fireman. Storytelling runs in his blood, being the son of a certain Stephen King. And while he's never played up to that heritage, ensuring he made his own name and dropped that of his father, the influence is clear in his novels. His fantasy and horror is fast moving and fun, with much socially and politically lurking in the subtext. And he performs like a man on his eighth espresso, ensuring a lively event (Terrifying Dystopian Dramas, 20 Aug, 5.45pm).
Then we have John Niven. When he's not joining Irvine Welsh in an expletive-laden Twitter commentary to Andy Murray tennis matches, he's writing fine books. While I've not yet read No Good Deed, I have read the Twitter feedback about a notorious blocked toilet scene. I feel I can't look away (Judging John's Deeds, 26 Aug, 6.30pm). His partner in profane tennis punditry is notable by his absence this year.
EIBF always takes the International in its name very seriously, which means it offers rare opportunities to see writers from around the world discussing their work on these shores. West Coast California meets with West Coast Scotland when Ryan Gattis teams up with Stanley Odd MC Dave Hook for (Words on the Street, 15 Aug, 4pm). Gattis's incendiary LA riots novel All Involved lit up the festival in 2015. His new novel Safe (Treading the Mean Streets, 17 Aug, 7pm) is a more than worthy follow-up. But he puts this to the side to discuss different forms of storytelling with Hook; rap and street art two of these.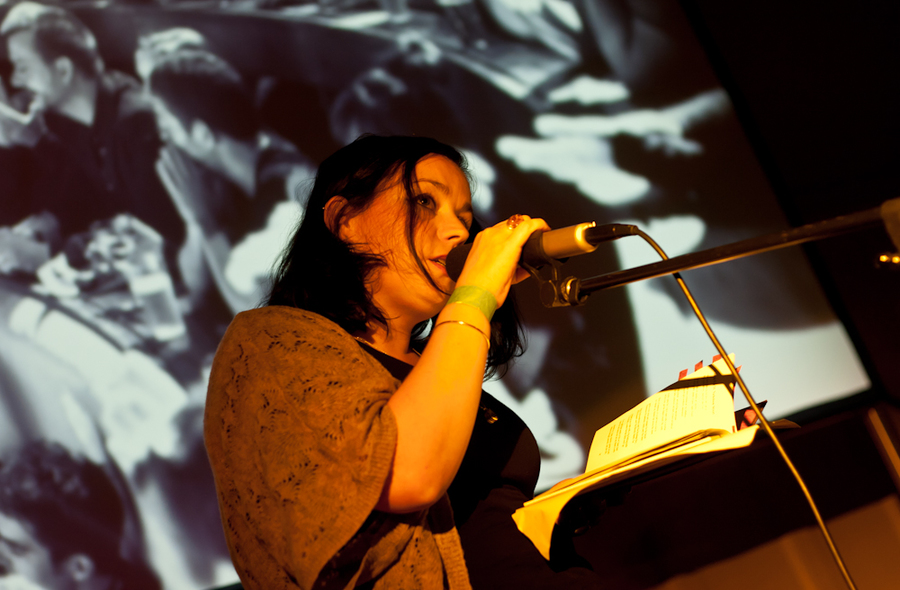 Jenni Fagan
Further highlights for 2017 include twin Argentinian talents Mariana Enriquez and Samanta Schweblin. Enriquez drops any ego to claim she's happy to be termed a horror writer, but her work simply cannot be constrained by genre. She fearlessly tackles the dark political past of her country in twisted short stories of the highest calibre. She was also part of EIBF's outrider project where Scottish writers such as Jenni Fagan (13 & 14 Aug) were sent on road trips across the Americas, Enriquez teaming up with Kevin MacNeil (13 Aug, 5.30pm & 8.45pm, also 15 Aug, 2.30pm).
Schweblin's Fever Dream is quite simply the most uneasy and effective piece of writing I've read this year, with such an unsettling power I've locked my copy in a vault. She's appearing in the festival's smallest venue, The Writers' Retreat (Deeply Unsettling Secrets, 16 Aug, 3.30pm), which each year seems to offer up-close and personal connoisseur's choices for the informed or lucky who stumble upon its events.
But let's save the best to last. The Skinny is sponsoring two standout events this year. Perennial Skinny favourite Hollie McNish's passionate and wonderfully crafted poetry connects with the lives of many and so breaks into audiences outside the poetry faithful. She is talking with Hera Lindsay Bird (21 Aug, 7.15pm), whose debut collection is the most popular poetry book New Zealand has ever published. Then secondly there is literary superstar Karl Ove Knausgaard (Lexicon of Life's Loveliness, 23 Aug, 5pm). The author's expansive and meticulous six-part autobiography My Struggle should come with its own complimentary bookshelf. Never one for doing things by half, he's moved on to his seasons quartet and discusses the first, Autumn, here – begun as a letter to his then unborn daughter.
This is simply a flavour of what's taking place in Charlotte Square this August. You can season these choices with many fine writers appearing across the two weeks – Anneliese Mackintosh, Katie Kitamura, Gwendoline Riley – but my intention is not to direct you towards individual events but to what the Book Festival offers as a whole, a vast tapestry of authors and themes and conversations, covering the most vital questions facing us as individuals, as nations, as humans. These events allow you to become part of that conversation.
---
Edinburgh International Book Festival takes place in Charlotte Square (and slightly beyond) from 12-28 Aug – for full details and tickets, head to edbookfest.co.uk