Edinburgh Book Festival: The Second Weekend
As the Edinburgh International Book Festival continues to bring a range of brilliant writers to Charlotte Square Gardens, The Skinny rounds up some of the stand out events from the festival's middle weekend
Raymond Antrobus & Joe Dunthorne – Poetry in the Raw
The evening begins with two lengthy readings to introduce the audience to the respective poets. Joe Dunthorne opens with a poem of someone whose daughter seems to be in love with an owl from his debut collection O Positive, having made the move from prose. His poetry shines with its sharpness, rising laughs from the audience on many occasions.
Raymond Antrobus follows, discussing his trip to the Gaudi cathedral, and a moment on the audio guide where a particular description was 'akin to how angels would experience sound', and he wondered, "Are deaf people included in this experience?" His poetry is emotive and impactful – at times a dual performance with BSL interpreter Anna Spence – as strong in its silences as its words.
Two different poets with varying subject matter, the pair discuss their work, explore language and engage with the festival's overarching theme: we need new stories. "Art creates a whole new understanding and will save us," said Antrobus. It's a thoughtful, brilliant event, that will stay with attendees far beyond Charlotte Square Gardens. [Heather McDaid]
Read Raymond Antrobus's recent conversation with The Skinny on his debut The Perseverence here.
Charly Cox, Theresa Lola & Tayi Tibble – Generation Next: New Poetry Voices
We've fallen back in love with poetry, they keep saying. But what about those that never fell out of love with it? This event showcased three exciting new poetic voices who have released debut collections and are at the flow of their poetic lives.
Charly Cox published her first poem on Instagram in 2017 and has been described as 'social media's answer to Carol Ann Duffy'. She describes most of the work in her debut She Must Be Mad as "quite depressing", apt as she has been living with "mental health and its ill health" for years. New Zealander Tayi Tibble's words are powerful, restrained yet unafraid. Her work offers a fascinating insight into what it's like to be a Maori woman, exploring themes like identity politics and colonial guilt. In her home country she is known as 'the nation's sweetheart war poet', thanks to her poem Hoki Mai. 
Theresa Lola is currently the Young People's Laureate for London. Her collection In Search of Equilibrium explores the impact that death has on people, and her own experience of losing her grandfather: "Time heals slower than a plastic bag degrades." [Tina Koenig]
Benjamin Zephaniah – Averse to Injustice
The Book Festival's Main Theatre was packed with anticipation, excited to hear from one of the most influential writers and activists of our time. Benjamin left school aged 13, unable to read and write. Now 61 – veganism is his secret to looking younger, he says, after gasps from the audience – Zephaniah has published around 30 books of poetry, novels and children's stories and shows no signs of slowing. 
"I feel like I haven't written my best,'' he announces. "I'm busy doing activism but I haven't got around to writing this novel that's been in my head. I feel like I should be doing more." Now, more than ever, that he feels the political need to speak, and a spiritual need to write. 
"In times like these artists really need to step forward," he insists. On the power of music, Benjamin gives high praise to Stormzy, who this year made history as the first Black British solo artist to headline Glastonbury. "Stormzy wants to create, get young people reading and writing. He is the real deal."
Benjamin possesses that rare ability to spot the beauty and fun in life. "I believe in the victory of good over evil. I know that we will win." [TK]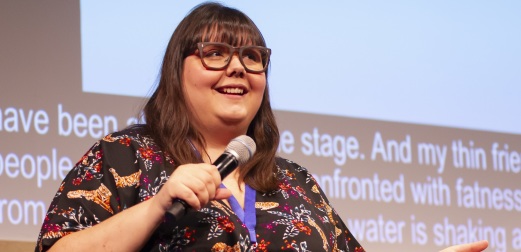 Sofie Hagen – Tackling Figures of Fun
Hagen's new book Happy Fat discusses the notion that being fat is wrong, in a society obsessed with shrinking. Many who read it take a positive, upbeat message about loving yourself, but she says her initial approach was 'Fuck you, fuck you, fuck you'. Then she compromised with her editor.
"I'm furiously fat," she laughs. She dealt with the anger of how the world hates you for your body, becoming too fat for the world, where you're unaccommodated for and made the butt of jokes, and how that feels. She recalls a hairdresser who insisted she sat on a flimsy chair and queried her refusal, noting 'they don't see size'. "If you can't see it, you can't make sure people are accounted for."
Hagen offers practical tips on how not to hate your body, also saying it's more than okay not to love it. She is brilliant, hilarious and frank. It's fine to be angry at the world, it's fine to take up space, it's fine to yell 'fuck you', and it's fine to hide subliminal messages in your poetry to get round editors… A real festival stand out. [HM]
You can read Sofie Hagen's chat with The Skinny about her book Happy Fat here
Unbound – Writers vs the Apocalypse
The world is ending, and only comic creators can save us. That's the premise of writers vs the apocalypse, hosted by BHP Comics' own Sha Nazir as part of the Unbound programme. The evening starts with a quick Q&A with Craig Paton and Dave Cook of cyberpunk Killtopia, and David Lumsden, creator of BOAT, before moving onto apocalyptic pictionary, picking the best of horror films to help aid the journey later.
Dave and David are tasked to take us through the ending of the world, across zombies, ice ages, floods, the floor being lava, the floor being lego and your shoes are gone – who can say which is worse? – and more horrors, with tools thrown in from the audience to help them along. Craig is up to the challenge of live drawing the journey, with all its wild twists and turns along the way.
It's a brilliantly bizarre event and just good solid fun, unlike anything else at the festival; interactive and apocalyptic, the creators did manage to make it through in the end, though as they were trapped in the top floor of a House of Fraser huddled in duffle coats with the Rock, it did feel a close call for a bit. [HM]