From Shanghai With Love: Chinese Culture, Scottish Fashion
Fashion show and exhibition From Shanghai With Love continues to celebrate Chinese culture at the Edinburgh Festival Fringe
In amongst all the usual comedy and theatre shows that take up the bulk of the Edinburgh Festival Fringe, there are also plenty of other hidden gems that can easily go amiss.
From Shanghai with Love celebrates Chinese culture through the medium of fashion, and returned for its third outing at Edinburgh's Playfair Library on 23 and 24 August. In its third year, the runway show took on the theme of Qipao 3.0 and saw the worlds of fashion and technology collide, with designers closely collaborating with hi-tech researchers to produce the garments on display.
Co-hosted by the University of Edinburgh and China's Donghua University, with support from the Shanghai Promotion Centre for City of Fashion, the famous Shanghai dress known as the Qipao took centre stage; an item considered emblematic of Chinese culture. Adaptations of the dress came in the form of 3D-printed Qipaos, glowing qipaos and a shape-shifting Qipao, curated to tell the story of clothing styles of Chinese families.
The event began with an exhibition looking back to the Qing dynasty – the final imperial dynasty in China – and then into the early Republican Era via children's clothing made between 1860-1930. In the second half, artist Chen wen's mother and child collection brought Chinese landscape painting to life through the use of eco-friendly production techniques.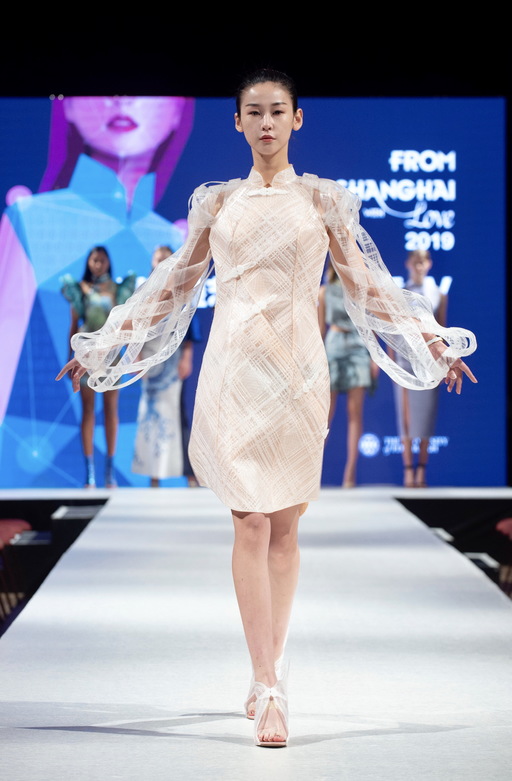 Then, in the runway show, the collections took Scottish fashion as an inspiration, with one collection developed by Donghua University researchers in collaboration with hi-tech material producer Covestro. Their pieces took the characters that make up the Chinese name for Scotland – su, ge and lan – as a particular influence.
Danish wearable fashion specialists Hanne-Louise and Michel worked with young Chinese students on their dress, which again took influence from Scotland, featuring a classic Scottish tartan. The dress also featured a unique design element made by Donghua professor Zhu Meifang's team; the dress was lit by LED lights in a criss-cross pattern, and turned out to be quite the spectacle.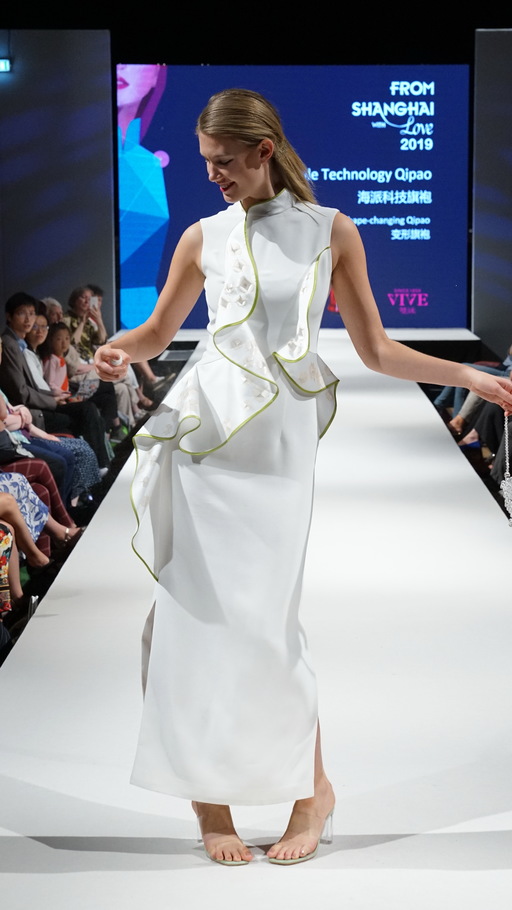 Another Donghua professor, Wang Hongzhi, is the brains behind the aforementioned shape-shifting Qipao, created to resemble the movement of flower petals in response to the morning dew. The dress was made using water-absorbent fibrous membrane developed by Hongzhi, which enabled its fluidity.
While the show itself began with a look to the past, the garments on show at From Shanghai With Love have a foot firmly in the future, with the designers embracing technological advances in the fashion industry to showcase the great steps it has taken, and will continue to take.
All photography by the Shanghai Promotion Centre for City of Fashion