ICYMI: Rosco McClelland on Back of the Y
Former Scottish Comedian of the Year Rosco McClelland takes on Back of the Y, New Zealand's absurd and raucous answer to Jackass
Let me preface this review by firstly saying that I am not a great writer. I'm always in awe of comedians who can write a beautifully crafted joke. It's a skill I just don't have, and I'm happy to admit that. So I knew I was watching something made for me when I heard the host of this show, Danny Parker, proclaim: "This will be our first-ever clean show, because this weekend I found God. I found him on the toilet having a wank."
Perfection.
Back of the Y first aired on TVNZ 2 in 2001, but had been quietly gaining an underground following on Auckland public access TV long before that. Each episode is a low-budget, action-packed 30-minute thrill ride based around stunts and toilet humour. It shares a lot of DNA with its well-known American counterpart Jackass, but in my opinion Back of the Y is so much more. Make no mistake about it, this show is crap. But that's exactly what creators Matt Heath, Chris Stapp and Phillip Bruff were going for.
It used to be that only big studios could afford to make TV shows because they were the ones with the equipment, but this show exists at the dawn of a new era. Cameras and editing software became available to the wider public – now any idiot group of friends with a little technological know-how could make their version of what they wanted to see, and the world is richer for it. 
Episode 1 begins with the sound of crunching, distorted guitar overdubbed with the following: "In 1974 Phillip Bruff had a dream, an idea that was daring and unprecedented in New Zealand television history. His dream? To make a New Zealand television series that wasn't complete shit... He failed miserably." It's the sort of intro that lets you know that this is going to be anything but boring.
Studio host Parker enters to the rapturous applause of old Jerry Springer audience cutaway footage and introduces fictional house rock band Deja Voodoo. Such is the nature of a cult show like this, Deja Voodoo (despite being a fictional band who would mime for ten seconds at the start of each episode) embarked on a nationwide tour and had two albums get top 30 spots in the New Zealand charts.
We cut to check in on the Back of the Y main event of the evening. New Zealand's greatest stuntman Randy Campbell and his crew are getting ready for an incredible finale in which Randy is going to jump a car and an angry monkey on a BMX. Before you can digest that scenario, we're thrown straight into a pastiche of the show COPS where an Auckland police officer is attempting to crack down on drink-driving by stealing a guy's beer for himself. It ends badly! 
The first few minutes of the show sets a marker for everything else to come. This isn't highbrow entertainment, but it doesn't care. It's young people with a contempt for authority sticking a middle finger up to every other lame duck show on TV. But if you think it's just violence, explosions and toilet humour you'd be doing the creators a massive disservice. There's subtlety under the surface in the showpiece sketches, none more-so than Vaseline Warriors IV. It's set in a dystopian future where all females no longer exist, leaving men to battle over the last precious resources of porn mags and Vaseline. It could just be a five-minute-long masturbation joke, but I see a deep dive about loneliness and desperation in the psyche of a young single male. 
Back of the Y was a forerunner of punk TV. With advancements in technology, anybody can create and edit videos from their smartphone, but these pioneers were doing it with VHS cameras, cardboard props and no experience. Nobody cared about that fresco of Jesus until an elderly parishioner attempted to fix it. It's not perfect or pretty, it's the chaos in the art which makes it so great!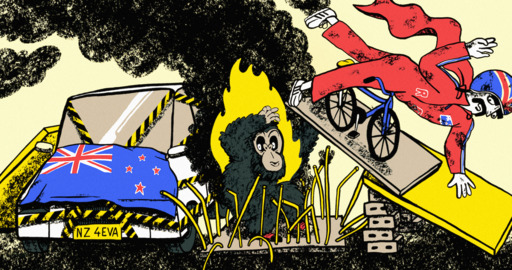 ---
Follow Rosco on Twitter @rossisacoolguy 
Watch his nightly Twitch show 12:30-2am on twitch.tv/rosco
Watch Back of the Y at youtube.com/backoftheytv
Illustration by Jonny Mowat