ICYMI: Chris Thorburn on Nighty Night
BBC The Social and Chunks regular Chris Thorburn experiences the deeply macabre Nighty Night
When given the opportunity to write for ICYMI and cover a comedy classic I had never seen, two options immediately sprung to mind: Ivan Reitman's 1988 film Twins and the 2004 BBC black comedy Nighty Night. I decided to cheat and watch both.
First, my verdict on Twins: Twins is lovely.
Now, Nighty Night. On writing and starring duties is Julia Davis, the mind behind the wonderfully bleak anthology series Human Remains and the I'll-also-get-round-to-this Camping. From her early appearances in the pitch-black sketch show Jam through to her brief turn in 2017's Phantom Thread, Davis has proven time and time again her capacity for playing characters with a detached yet devastating cruelty. She's wonderful at it. And in that regard, Jill Tyrell may be the role of her lifetime.
The cold open of the very first episode even plays out like a self-contained Jam sketch. Jill Tyrell and her husband Terry (fellow Jam alum Kevin Eldon; one day I will make my big spider diagram of British comedy actors and the sitcoms they've appeared in) sit in a doctor's office, where they are given the bad news – the removed lump was malignant and treatment must begin immediately. Jill bursts into tears: "I just feel so… I mean why? Why me?" Terry lovingly reassures her: "Jill, let's keep things in perspective. It's me who has the cancer."
After a quick establishing shot where we meet Don (Angus Deayton) and long-suffering Kathy (the wonderful Rebecca Front), we cut to the opening title sequence which encapsulates the tonal dissonance of the entire programme: the cheerful theme tune by Ennio Morricone (!) plays while Jill's silhouette drifts hauntingly towards us through a doorway. In the four seconds of the opening titles we realise Jill isn't simply a selfish asshole: she's a ghoul.
Jill sees her husband's diagnosis as a fresh start and is immediately determined to move on, despite Terry still being very much alive. She dates widower Glenn (The League of Gentlemen's Mark Gatiss), she forces herself into Cathy's life in the hopes of seducing her husband Don, and she withholds Terry's recovery diagnosis from him, convincing him he is dying. Eventually she begins telling others that Terry has passed.
Watching in 2020, Nighty Night is simultaneously a product of its time and seemingly ahead of it. In many ways it feels entirely bound to 2004; not least of all in its needle drops. Songs that were no doubt contemporary at the time now carry their own nostalgic comedy: In Demand by Texas, Can't Get You Out of My Head by Kylie Minogue, Don't Call Me Baby by Madison Avenue. Don't Need the Sun to Shine by Gabrielle plays at least three times, maybe more. It gets funnier and more sarcastic each time.
But more than that, Nighty Night is emblematic of the comedy of cruelty that the early 00s excelled at. Characters' disabilities, bigotries and suffering are played for laughs in a way that does jar today. But that's not to say it's aged poorly. Unlike other difficult comedy figures from that period, we're never invited to look past Jill's flaws and see the ultimately decent person underneath. She is a monster and all we can do is watch in horror at the destruction in her wake.
The show also feels prescient in terms of its lead, and in her terminal case of main character syndrome. Jill feels like a pointed retort to the golden age of television that was only just beginning, about good men turned bad. Breaking Bad wouldn't debut for another four years but they make for a fascinating contrast. Both are wish fulfilment fantasies incited by cancer diagnoses. We get glimpses of the story in Jill's head in which she is the hero, never better than the dance sequence to Marillion's Lavender in the first episode. The ongoing juxtaposition between the romantic fantasy and the grim reality is the show's best joke. Well, second best if you count Jill listing "red jumper" as one of the qualities she looks for in a partner.
As a binge-watch, Nighty Night is almost overwhelmingly misanthropic at times, but that's to the show's credit. As a case study in pure unchecked narcissism, it's a gleeful horror with a terrifically rotten central performance. I highly recommend it, and the movie Twins.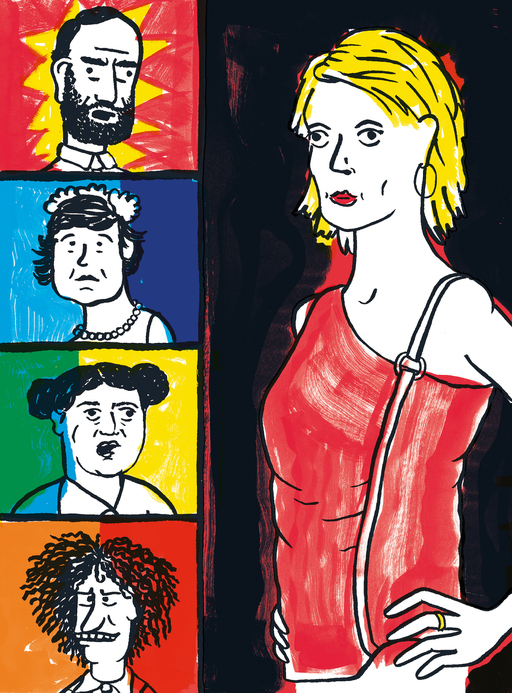 Illustration by Jonny Mowat
---
Chris Thorburn's 2020 Glasgow Comedy Festival show Grown Ass Man will debut at the 2021 Glasgow Comedy Festival, hopefully. Before then, you can catch him on Twitter @CBThorburn
Nighty Night is available on BBC iPlayer; Twins is available on Netflix