Nick Helm on Uncle and his new stand-up show
Nick Helm is a thunderous hopeless romantic. Both simultaneously surly and sweet, he's constantly teetering between loveable puppy and a man on the brink of a mental breakdown. But one who cares so much about his comedy
"I really loved that show. I love all my shows." Here Nick Helm's talking about One Man Mega Myth, the 2013 Edinburgh Comedy Award-nominated triumph about forever being an underdog. And Evel Knievel. For his next feat, he's undertaking a 25-date tour entitled There's Nothing You Can Do To Me That I Haven't Already Done To Myself. So what hasn't he done? "I haven't been as kind as I should have been. But every day is a learning experience. If you're going to get one thing out of my show, it'll be to treat yourself kind and others kinder." It's a lovely sentiment. "Yeah, but I'll be saying cunt a lot.
"I've been working on this show for a couple of years now. I'm finding some really old material that when I first started out was shit, and I couldn't work out how to do, so I'm going back and correcting some bits that I never managed to pull off. I'm doing some of my favourite poems too and there'll be songs but no band, because it's too expensive."
Is it strange, then, getting to craft his first full show since 2013?
"It is a bit weird because One Man Mega Myth came after three great Fringe hours, and they all came from the cycle of writing Edinburgh shows where you start to churn them out and get into a rhythm. It's all about fixing yourself and rising from the ashes."
Not that Helm's career needs raising from the dead. In 2017, he's been on various screens with the final series of Uncle; Loaded for Channel 4; and he's finished filming a food travelogue – Eat Your Heart Out – for Dave.
It is less the busy schedule and more the expectations his TV roles give an audience that makes performing new material difficult.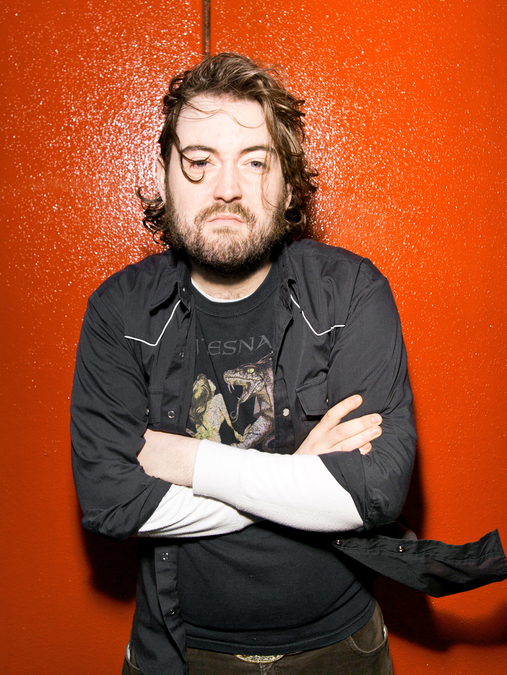 "Audience expectations are weird because of Uncle and Loaded. You get people that come to see me because I've done some telly now. Uncle was so successful and everyone loved it; I spend a lot of time trying to explain to people that I'm not Uncle. And I think it's funny because you get fans that come along to see it, then leave confused. But I've got to be me."
It'd be rude not to mention the runaway success of the aforementioned BBC Three series which saw Helm play a slobbish, suicidal man given a new lease of life from having to look after his nephew. The final series was broadcast in January, but Helm would like to work again with Oliver Refson and Lilah Vanderburgh, the series' writers, at some point in the future.
"I'd love to, and I think the feeling's mutual. There's no Uncle on the horizon, we finished that and I think it all wrapped up nicely. They're writing stuff at the moment and hopefully we'll work together again."
Filming Loaded was a no less joyous experience, but in a different way.
"That was a different experience. Because Elliot Speller-Gillott [Errol, the nephew in Uncle] was a minor, I didn't get to hang out with him.
"Also in the second series, Daisy [Haggard, who plays sister Sam] had a baby and was breastfeeding between takes, so I spent a lot of the second series on my own. When I wasn't working all the crew were setting up the next shot. It was quite an isolating experience.
"With Loaded, we're all in our thirties, we've all got similar interests. It was just really fun. Because it was an ensemble cast, there was no hierarchy or pressure on anyone to deliver more than anyone else. Again it was like the mutual appreciation society. We all loved each other, got on really well, and if anything else, I'd love to do another series because it was great hanging out with that lot.
"I had so much emotional, creative and professional responsibility towards Uncle. I'm very protective of it. It was a real gift to be given that part. Henry Normal (recently retired producer of Baby Cow) gave me it without even auditioning me, and I'm terrible at auditions so wouldn't have got it otherwise. He just had enough faith in me to say I was the right guy for it. Olly and Lilah wrote the series for me, I wrote the songs, and I absolutely loved that, but there was a tremendous sense of responsibility to that show, whereas with Loaded, I wasn't part of the creative process, I was an actor. So I got to turn up for work and not feel that pressure. I wasn't even a lead, I was a co-lead, so it was lovely not having that amount of stress every day."
---
Nick Helm: There Is Nothing You Can Do To Me That I Haven't Already Done To Myself, Òran Mór, 13 Oct, 7pm, £12