Liam Withnail on Club Comedy and getting political
A staple MC on the Scottish comedy scene, Liam Withnail talks about the challenges involved in getting political in his latest full-length show Homeboy
There's a mounting pressure on comedians to dig deep to produce the perfect 'Edinburgh show'. 2018's Fringe perfectly demonstrated this as the impact of the #MeToo movement and its ripples in the comedy world inspired some of the most memorable efforts. Homeboy, Liam Withnail's most recent hour at the Fringe, was his political comedy debut, an insightful and honest look at privilege from the perspective of the straight white male. But Withnail points out that what initially appears to be a pressure to fall in line is actually more of a microcosm of a wider trend seen in comedy all the time.
"You'll get that every year. Comedians respond to what's happening," he says. Leading up to this Fringe, eyes were on the comedy world "because you had the Louis C.K. allegations, and then you had Aziz Ansari. You obviously had the #MeToo movement as well, and it is something that's been steadily growing. It really came to a point." Pointing to Hannah Gadsby's Nanette, joint winner of the Edinburgh Comedy Award at the 2017 Fringe, Withnail feels that 2018's crop of shows were a little different. "You can't really follow Nanette in terms of shows that have a serious point." He adds that, despite the perceived challenge in dealing with feminism and the #MeToo movement among Fringe audiences, especially as a straight white male, Homeboy was his response to Gadsby's smash hit. "I saw it at the festival last year and I was inspired to go in that direction."
The decision to go political, however, was just the first step in preparing a show like Homeboy. "I thought there would be left-wing people in there saying 'you don't get it.'" Withnail, though, wanted to challenge himself. In previous years, given his personal life at the time, his material almost seemed to write itself. His first Fringe show, True Defective, coincided with his decision to quit drinking. The second, The Immigration Game, came together after he and his wife had been separated due to immigration laws. "That gave me something to write about. It was obviously very sad as well – but you know, every cloud," he laughs. "I say I've been sort of lucky, but I've been given two bad situations to write about in previous years."
This year, Withnail "had to look elsewhere for inspiration," though the real challenge seemed to come from the material itself. "I thought I was kind of painting a big target on my chest for going at it in the way I was. I thought it wouldn't be, for want of a better word, 'woke' enough," he says, revealing the impact of the millennial generation's interest in social responsibility.
"There's an image painted in the media of students being really right on, snowflakes, blah blah blah. Even though I'd like to think that I'm smart enough to be around that, I was still caught up by it a bit and thought, 'Maybe people are going to come along and think I mean everything that I'm saying.'" Surprisingly, it was more often the opposite. "In general, people who didn't like it were middle-aged white guys who just thought I was talking nonsense. If people don't like it for that reason, I'm fine with that – if old, conservative people are like 'this is bullshit', that's fine – you're in your camp, I'm in mine."
At the end of his hour at the Fringe, and in the interest of equality, Withnail recommended two comedians: one male, one female. But does he have any comedy heroes? "[That's] one I always find tough," he says. "But, when I was seven, I watched a Jim Carrey movie and I said to my mum 'that's what I want to do', and she took me to drama club the next week."
And female? "My current hero would be Susan Morrison, she's one of the first stand-ups I saw in Scotland. I saw her at The Stand a couple of weeks after moving to Edinburgh and I'd never done comedy or anything. Susan was hosting and I couldn't understand a fucking word she said. She terrified me, but I was still laughing, because she was this really angry Scottish woman screaming at the crowd. And then getting to know her – what an amazing woman she is as well. She's a real talent," he adds.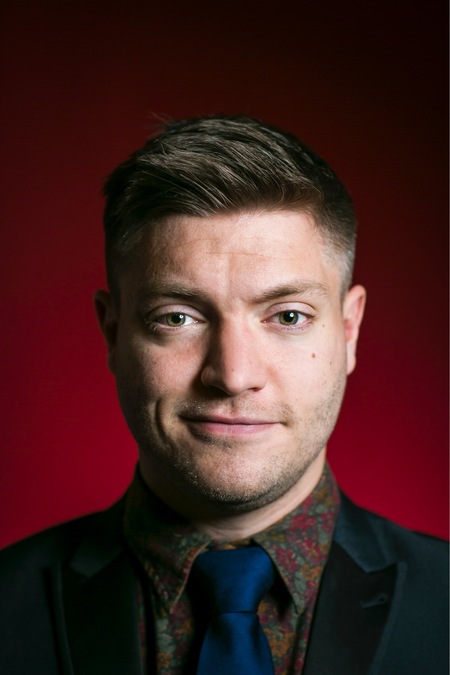 Politics and feminism, though, are quite new to Withnail's style of comedy. Usually, he can be found gigging and compering in Edinburgh: so established is he on the Scottish scene, he recently won Best Compere at the Scottish Comedy Awards. "I'm used to doing club comedy. [Homeboy] was very different from anything I'd ever done." And where festivals give him a chance to explore his more "Guardian-friendly material," at club gigs "people have been at work all week, they're tired. They just want to hear someone tell jokes about farts."
The Scottish comedy scene also serves as an important training ground: from a regular MC spot at Edinburgh venue Monkey Barrel Comedy to gigs in the east end of Glasgow, without which, he says, "I would not be as qualified a comedian.
"It's good to challenge yourself," Withnail says. "I can go to those rough pubs in the east end of Glasgow with my [Cockney] accent and say, 'hello, everybody' and really give it to them and come out the end of it going 'that was a battle, but it was fun'." MCing at Monkey Barrel is a different experience entirely. "What I like about hosting there is that it's been built up by comedians, people who do it and have done it for years, so they know how a room should look and should feel.
"It attracts students and backpackers, and they're people I love having in the crowd because there's just so many different and interesting things to talk about." Having compered for so long, Withnail has learned a thing or two about saving face, but in the past it hasn't been so easy. "When you start out, you just want to do gigs. You get better at figuring it out, often from the tone of the email that gets sent to you. If anyone ever says 'birthday' or 'wedding', for me that's an immediate 'I don't care how much money you have, I'm not doing this'."
As to the future, there is still some uncertainty. Success partly brought on by an Amused Moose nomination gives him food for thought. "I have some vague ideas for a next show, and what's weird – and what you never really get used to – is that people come to see you. I was stood at the door every day after shaking my bucket and speaking to people on the way out who were saying 'oh, we come to see you every year'. People who I've never met before. And I still find that confusing; I'm like 'why? D'you know my mum or something?' I do think that if I'm doing a new show, people have seen what I've done previously so they're gonna expect something like that. That's a new thing for me!"
---
Liam Withnail: Homeboy, The Stand, Glasgow, 14 Jan; The Stand, Edinburgh 15 Jan