Learning to Fail with Glasgow Improv Theatre
Glasgow Improv Theatre founders Martin James and Hannah Cruickshank discuss improv, the power of failure, and the impact of experimentation
As an adult, one of the scariest things you can do is go to a new thing on your own. That's the exact leap that a student, who recently moved to Glasgow, decided to take as she walked into the upstairs venue at The Old Hairdresser's. Finding someone nearby who seemed to be more comfortable in the surroundings, she asked: "Do you know what is happening tonight?" Amused by the question, the stranger explained: "It's improv, no one knows!"
Glasgow Improv Theatre has been organising unscripted comedy since 2016. It started when Martin James, who, having enjoyed improv podcasts like Comedy Bang Bang, decided to do a beginners class during a trip to Los Angeles. The passion for the medium developed fast: "I watched more improv shows than any normal person would consider an appropriate amount."
After returning to Glasgow and realising there weren't many options around for improv fans, James took it upon himself to organise Harold nights (a longform improv structure which switches between games and scenes). Hannah Cruickshank joined early on as a participant and was soon helping organise shows and classes. Today, GIT has weekly performances, regular beginners' workshops and multi-level courses. Booking events and teaching classes is now a fulfilling part-time job for Cruickshank: "You see such a confidence boost [in the participants]. The classes are really silly, they're getting to play with people in a way we don't do as adults," she explains.
Manoj, who works in tech and decided to join GIT after finding the group online, explains he felt quite nervous before his first session but soon adjusted to the surprisingly comfortable environment. The fear of 'going to a thing on your own' kept getting quickly replaced by a welcoming community. And even though he doesn't plan to do comedy professionally, doing improv has helped him in other areas: "I feel more confident telling stories."
At the start of his improv journey, he admitted to some nerves, and the awful feeling of saying something you thought was funny and being met with complete silence. The moment Manoj finished his first performance, he "couldn't remember a single thing that happened." Watching him on stage now, there's not a hint of self-consciousness; he just seems to be giving himself to the process and having a lot of fun along the way. 
Despite the tension of improvising on stage, or maybe because of it, the local scene keeps gaining new fans. "...It's steadily growing," James says. "Having said that, longform improv is always going to be a niche artform. The Glasgow scene will also never get to the size of the Los Angeles or New York improv scene. But I'd say we're probably punching above our weight at the moment, and things are still relatively new here."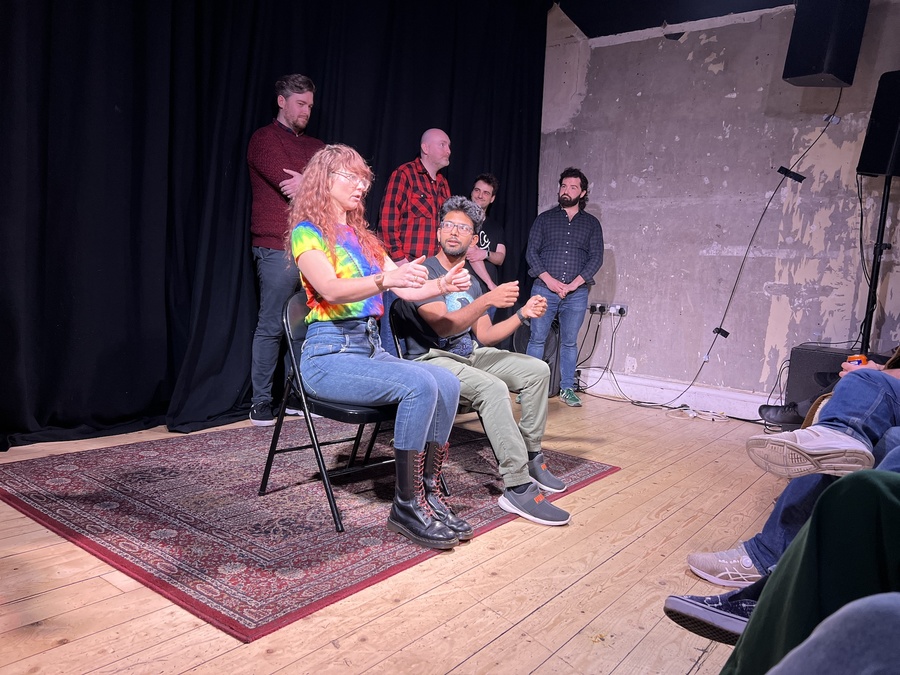 Members of Glasgow Improv Theatre on stage. Photo: Sam Gonçalves
For some, the draw of improv is in its inconsistency. What you see on stage is an experiment; in people trying to listen to each other and trying something out. Sometimes it pays off and sometimes it doesn't, either way you get to see something unique developing: "If something doesn't work, we're gonna change what we're doing," Cruickshank explains. To Manoj, that high wire act is itself the reward. He demonstrates by repeating the improv mantra: "There are no mistakes, only choices."
Del Close, one of the biggest influences on improv as we know it today, co-authored Truth in Comedy which has become something of a manual for improvisers. In it there's a description of Sufi weavers and how, if a mistake was made on a pattern, they would then repeat that mistake over and over in order to incorporate it into the design. You can't predict what might happen when you go see improvised comedy live, but in a culture saturated with over-produced content, watching (or even joining) some creative chaos has its own appeal.
A few days before their latest Harold night, the format that has existed since the very beginning of Glasgow Improv Theatre, Cruickshank sums up her approach: "Not every show is gonna be good, but we're never gonna do that show again."
---
Listings for GIT's upcoming performances and classes can be found on their Eventbrite page
Follow GIT on Twitter and Instagram @improvglasgow