Adam Buxton to present a BUG David Bowie special
The music video output of David Bowie will be celebrated at a special edition of Adam Buxton's BUG in April.
Comedian, presenter and all-round beloved funnyman Adam Buxton will present a special edition of his celebrated BUG show at Manchester's Albert Hall on 18 April, dedicated to the work of David Bowie. 
Adam Buxton's BUG: David Bowie Special will look at some of Bowie's music video output as well as other on-screen appearances, in a journey through some of the key moments of Bowie's life and career. 
Since launching BUG in 2007, Buxton has presented the show – which aims to 'celebrate global creativity in music video' – at BFI Southbank in London bi-monthly, and regularly toured special editions to other cities and festivals.
Previous special editions have looked at the work of Radiohead, Massive Attack, Björk and many more, as well as the output of record labels including Warp and Ninja Tune.
The BUG format features music videos played in full, with Buxton providing irreverent commentary and often selecting some highlights (and lowlights) of the accompanying YouTube comments.
"I'm like a pig in shit, basically," Buxton said of the BUG format in a 2013 interview with The Skinny. "In the olden days, if you had cool friends they might have a VHS of some weird stuff they'd found.... You were never sure when things were going to be on TV; you sat with a finger on the record button. The choice we have now is great, but you still need that cool friend, you know?
"I'm not saying I am that cool friend, but it's all about curators now, isn't it? Rather than some fucking YouTube algorithm that's noticed you've been watching David Bowie, so maybe you'd like to watch more David Bowie."
Adam Buxton's BUG: David Bowie Special comes to Manchester after a sold-out show at BFI Southbank in February. 
BUG will be making a donation to cancer charities from the proceeds of the show.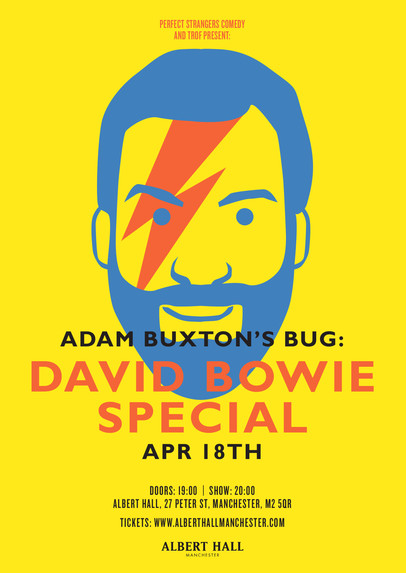 ---
Related: