A Comedians' Guide to Glasgow
A whole host of Scotland-based comedians give their insider's guide to the fair city ahead of Glasgow International Comedy Festival
Charlie Vero-Martin
Picnic (WIP), McChuills, 21 Mar, 5pm, £5
I have a real sweet tooth so I recommend Flying Ducks Vintage for home-baking and vintage treats and Big Bear Bakery for delicious fresh bread. I'm also desperate to try Whistler on the Green's 'Shuck and Suck' happy hour… Yes, I know how that sounds. 
And of course McChuills! I'm so excited to be doing my show here. It's a great pub with a very relaxed, slightly grungy vibe and a lovely wee venue year round for anything live: comedy, music, cabaret – the lot.
There are so many incredible shows on. If you want to support local up and coming fringe comedy acts then check out Giulia & Shari (Doing Our Best, McChuills, 29 Mar, 9pm, £5) and Jake Baker (Caring is Creepy WIP, Van Winkle West End, 19 Mar, 8.30pm, £5). For the best in sketch, see what Max & Ivan (Work in Progress, The Old Hairdresser's, 19 Mar, 8.30pm, £10) are cooking up and if you want to get really weird and wonderful then seek out Julia Masli (Choosh!, Blackfriars, 30 Mar, 8.30pm, £10-12), Viggo Venn (Club Comedian, Blackfriars, 30 Mar, 7pm, £12) and Stamptown (Òran Mór, 1 Apr, 7.30pm, £15).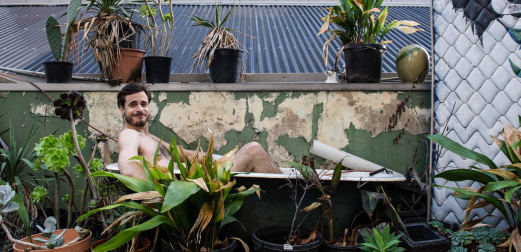 Viggo Venn, c: Stano Murin
Donny Vostok
Back (Parts 1 & 2), Van Winkle West End, 28 Mar, 8.30pm, £6
As a suburban Paisley father far from his Glaswegian homeland, following a mammoth 10 minute train journey I try to soak up as much of my former city's culture as possible. This I do by entirely frequenting secondhand record shops all day long. Missing Records is still the best; it ain't hip it's just row after row of glorious physical media. My direction of trawling dictates that either Glasgow's finest kebabs or gyros respectively are eaten and to which pub I settle in. So that'll be; Shawarma King then The Belle, or McTassos then The Laurieston. Pre-night bus dancing at Nice N Sleazys is available when you miss the last train. 
For show recommendations, Soup Group! (Kids Show, The Stand, 25 & 26 Mar, 2pm, £6) are so inventively and joyously silly that their kids show will make a great introduction to live comedy for the weans (mine included). With Progranimate (The Old Hairdresser's, 22 Mar, 8pm, £4), David Callaghan is doing something really fresh combining multimedia and Glasgow's best stand-ups and I've heard great things about John Aggasild's new show (Spring / Summer 23, Van Winkle West End, 25 Mar, 5.30pm, £5), so looking forward to catching that too.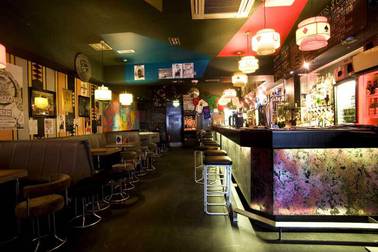 Nice N Sleazy
Ruth Hunter
The Ruth is On Fire, Van Winkle West End, 18 Mar, 4pm, £6
Glasgow Necropolis has beautiful views of the city! I often wake up in one of the crypts after a night out. Sometimes, there's someone there with me. Their body unmoving, their vital fluids completely drained. I love my job! Fifty thousand individuals are buried in the Necropolis. That's loads! 
Being a succubus of chaos and death makes me thirsty. Drygate Brewery is just down the road from the Necropolis. Do they have a great beer selection? I wouldn't know. I only drink the blood of man.
My comedy recommendation is Mr. Gabriel Featherstone (Being Alive is F*ckin' Sick!!!, McChuills, 25 Mar, 9pm, £5). I actively do not murder him because I enjoy his comedy so much. Go see his show or I'll find you.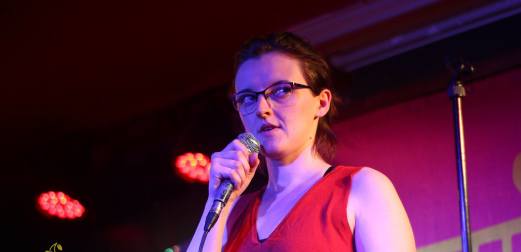 Ruth Hunter, c: Cherry Comedy Festival, Dublin
Robin Grainger
Robin Time, The Stand, 2 Apr, 5pm, £10
Glasgow's got lots of things going for it. Empire Ink on Bath Street is my favourite tattoo shop. Talented people and an amazing atmosphere. After, make sure to visit Paesano Pizza. They make the best pizza ever and you are bound to see comedians there before running off to a gig.
But my hidden gem is this: near Queen Street Station there's a bar called Dow's that does karaoke. I once saw an 80 year old man in a three piece suit walk in, absolutely SMASH a Sinatra song, pick up his weekly big shop and waltz off into the night in a haze of malt whisky and indifference. Beautiful.
My GICF recommendation is Philipp Kostelecky's show (Daddy's Home, Van Winkle West End, 1 Apr, 7pm, £7). He's easily the best newcomer act I've seen in years.
Eleanor Morton
WIP (What is Happening?), Drygate Event Space, 30 Mar, 6pm, £8
For food: Hanoi Bike Club for delicious fresh Vietnamese food and Brel for Belgian food (it's better than it sounds!), both off Byres Road (can you tell I went to uni there?). Also, if you can, take a look around the Glasgow Panopticon music hall, it's a beautiful original building and they still put on shows!
I'm recommending Cerys Bradley (Not Overthinking Things 2019 (WIP), Van Winkle West End, 24 Mar, 10pm, £5). I saw their previous show, Sportsperson, at the Fringe and it was a joy.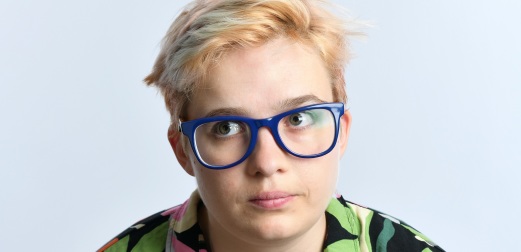 Cerys Bradley, c: Steve Ullathorne
MC Hammersmith
MC Hammersmith and Friends, The Stand, 27 Mar, 8.30pm, £10
One of my favourite restaurants in Glasgow is Akbar's on Sauchiehall Street. South Asian food with naan breads bigger than a small child. The Bungo in Strathbungo is also a great bar and grill. I'd also like to shout out Steak Lounge & Grill in Springfield Quay, because I performed at their launch party and I'm now contractually obliged to recommend them. Their portions are fierce though.
Finally, speaking of fierce, get yourself to any Wetherspoons at 11.30pm on a Saturday for an authentic Glaswegian experience.
A parting GICF recommendation: Krystal Evans's show (The Hottest Girl at Burn Camp, Van Winkle West End, 24 Mar, 8.30pm, £8) is outstanding. Absolutely unmissable.
Marjolein Robertson
Thank God Fish Don't Have Hands, The Stand, 22 Mar, 7pm, £10 (Also on 22 Apr, The Stand, 5pm) / WIP, Van Winkle West End, 25 Mar, 2.30pm and 10pm, £5 
I lived in the Soothside, so I may be biased, but one of my favourite cafes in the whole city is MILK Café on Victoria Road. It's also co-run by a fellow Shetlander. More biases. But it is my favourite because the food is incredible, portions hearty and you could sit there forever. And it supports women of a refugee or migrant background so you're doing some good at the same time.  
Then if you find yourself in the West End, which is easily done when The Stand's doon there; Chai Ovna. A peerie (little) haven of amazing teas, food and the feeling like you're in your Aunty's sitting room. She's not your aunty, but you can call her Aunty. She's also the woman who gave you your first joint. 
I'd recommend going to see Gareth Waugh: Doozy (The Stand, 16 Mar, 7.30pm, £10). I saw it at the Edinburgh Fringe last year and it was hilarious. Not a single moment wasted and a fantastic end. And I owe him a pint. But after giving him a shout out I think we're even. I'd say he owes me two now. 
Laura Quinn Goh
Far East Enders (with Sylas Szabolcs), Basement @ Tennent's Bar, 23 and 30 Mar, 8pm, £7
I go to People's Palace Museum often because I live nearby. It's less famous than Kelvingrove Museum but I just love how it tells the story of Glasgow, from reflexive reflections on slave trade to the recent histories of East End. 
For food, I'm almost too scared to share Glasgow's best-kept secret because it's my special place: Banh Mi & Tea in Partick. This no-frills gem is the most authentic Vietnamese restaurant in the city. Forget the pho – their bun bo hue has all the right ingredients and is massive!
You can't go wrong with Billy Kirkwood: Energetic (The Stand, 1 Apr, 5pm, £12). I've never seen anyone energise a room like Billy. He's like 15 cups of coffee with electric current running through it!
Kieran Hodgson
Big In Scotland (WIP), The Old Hairdresser's, 19 Mar, 5.30pm, £10
As a tedious real ale enthusiast, I'm going to have to recommend a few great city centre pubs: The Pot Still, the Bon Accord, the State, Blackfriars of Bell Street. Ales out the wazoo, and the first two have an amazing whisky selection for fans of half and half. Glasgow's also a fantastic vegan city so you've gotta check out Sylvan and Stereo and the Glad Cafe. 
Finally, I'd suggest visiting Speirs Wharf and walk the canal towpath to Maryhill, then recharge by watching my pal Tessa Coates at the Old Hairdresser's – a wondrous show with a truly wondrous title (Get Your Tessa Coates You've Pulled, The Old Hairdresser's, 19 Mar, 7pm, £14).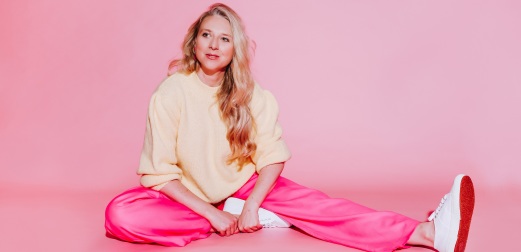 Tessa Coates, c: Rachel Sherlock
---
Glasgow International Comedy Festival runs from 15 Mar-2 Apr at various venues across Glasgow