Superstar DJ: In conversation with Sasha
An iconic duo of the early 2000s club scene, Sasha & John Digweed play Glasgow's SWG3 this month – their first Scottish show together in nearly a decade. We caught up with Welsh producer and Grammy nominee Sasha to chat about his current projects
Last month, Sasha reprised his REFRACTED:LIVE show in London and Manchester, following its hugely successful debut at the Barbican in London in May 2017. The live show sees Sasha's music re-imagined as an original score for live venue performance; Sasha plays piano and electronics, alongside a production team, an eight-piece string section, a percussionist and live vocalists. We spoke to him via phone from his studio in London about his touring schedule, recent productions, and upcoming Scottish show with long-time collaborator John Digweed.
The Skinny: We've been told you've just come out of a piano lesson this morning, is that right? Is that in preparation for your upcoming live shows?
Sasha: "I'm having daily lessons at the moment just to get me back in shape; at the end of last year I toured a lot, DJing, and I didn't really get near the piano very much. So when I got back home in January, I was pretty rusty. I started playing when I was a kid, and got up to grade six or seven standard. I didn't love playing the piano that much, because I just wanted to go out and play football with my mates, really. So I quit when I was about sixteen. About two years later I'm in a studio with synthesizers everywhere and I'm like 'oh, I actually know how to play one of these!'
"But I'd forgotten a lot of very basic music stuff. Since I was in my teens I hadn't really sat at the piano and played it properly I had to kind of go back to basics and learn how to play again, learn how to read music and follow music. Sometimes I'll get up at six in the morning and have lessons because that's the only time that [my teacher] is available, and I just love doing it first thing in the morning when my brain's completely empty and there's no distractions."
You've had an extensive touring schedule in the past 12 months; can you tell us about any recent highlights?
"I had an incredible weekend in America. I played Igloofest in Montreal, it's an outdoor music festival, and there was about 5,000 people there at the main stage, and it was minus 27 [degrees]! I was wrapped up warm and we had heaters in the booth and the only part of my body that was exposed was my face – that felt like it was freezing and about to fall off. It was a phenomenal event, because everyone really moves in the crowd, to keep warm, so the crowd are really energetic!"
You're playing a Sasha & Digweed show in Glasgow on 17 March, the first gig you've played together in Scotland in nearly ten years! What's kept you away so long?
"John and I had a break from playing together for a while, you know – I think we'd spent 12 years on the road living in each other's pockets. We both had our projects that we wanted to work on, and we figured we'd just have a break from touring. I never thought it would last as long as it did! We just kind of got carried away with our own stuff, and yeah, a few years flew by. But then we started getting offers again to play together and it seemed very natural [to do that]. I think our sound was back in line with each other and it just felt like a good time for us to do this. It feels great and very natural to be playing together again."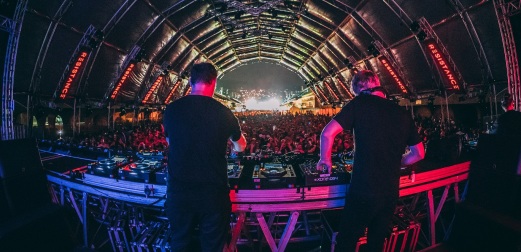 Sasha and John Digweed. Photo: Harley Lunar
What are your memories of previous gigs you've played in Scotland?
"My last show up there was in Sub Club [in September 2017] and it was absolutely superb, I love playing that small venue, but yeah, I've got great memories of doing these crazy gigs at The Arches, with the crowds just going absolutely ballistic. I'm really looking forward to playing to that Scottish crowd with John; it will be a great, exciting night."
You put out a new release, Singularity, in January via your own Last Night On Earth label – how do you manage to balance your busy touring schedule with time in the studio working on new tracks?
"It's a constant juggle, but you know, we'll have intense periods of writing and get a load of music together, and then you know, that stuff will get released over the course of 18 months to two years. Both Singularity and the El Jefe track I did with Alan Fitzpatrick, both of those things were written at the same time as Trigonometry and Do The Maff; we had a really major writing session for about three months where we were knuckling down."
Singularity includes a remix from BAILE, an artist who you discovered via Spotify; can you tell us about that?
"I found his music, and just really loved everything that was on there so I reached out to him, and it turned out he was a big fan of the Last Night On Earth label, and of my podcasts and my music. He's got a load of music that's unreleased, so his first EP is coming out very soon. It's wonderful that you can connect like that and share music like that - you don't know who's listening."
True – The Remixes comes out on 23 March [the original track came out of Sasha's reinterpretation of his own Scene Delete LP for the REFRACTED:LIVE shows]. Michael Mayer, Garden City Movement have contributed remixes, alongside Edinburgh DJ and producer Theo Kottis. What do you think of Theo's version of the track?
"He's great, he did a great job on True. I'm looking forward to sharing that with everyone!"
It's probably not something you have much of, but what do you like to do in your spare time, away from music?
"Umm... I do like to cook, I love going to the market and cherry picking what I'm going to cook that day and then spending the afternoon in the kitchen. That's one of the ways I like to relax and cook for the family, I love that. After spending so much time on the road, even if you're staying in nice hotels... I know it sounds ridiculous, but you just get bored of eating food that someone else has cooked for you! It's just so nice to get home and make a very simple plate of food, without any faff."
---
Sasha & John Digweed, SWG3, Glasgow, 17 Mar, 9pm-3am, £29.50 adv

True – The Remixes is out on 23 Mar via Night Time Stories; pre-order via iTunes