Hi & Saberhägen on Light On Leaves and working with Midland
We speak to Kami Cullen from Hi & Saberhägen about Light On Leaves, the latest EP from the Edinburgh duo released on Midland's Intergraded label
At the start of the year, Midland – one of the UK's most respected and well-loved producers – launched Intergraded, the second sub-label (along with ReGraded) of the Graded imprint he founded in 2013. Intended to expose music by emerging or unknown artists to a wider audience, the first Intergraded release, Introduction EP was a four-track compilation that dropped in February. For the second Intergraded release, Midland has hand-picked none other than Edinburgh-based duo Hi & Saberhägen.
The pair first met Midland – aka Harry Agius – at Edinburgh's Sneaky Pete's where they booked him to play a gig. "He's the nicest guy," enthuses Kami Cullen, one half of Hi & Saberhägen, who is also a Sneaky Pete's resident and runs a regular night at the venue. "He's one of the nicest guys we've ever looked after... So yeah, I guess you could say we were a part of the team that got him to Sneaky Pete's."
This initial meeting led Agius to express an interest in hearing more of Hi & Saberhägen's productions, explains Cullen. "It was kind of by chance, really. The thing about Midland – Harry – is that he's really keen and eager to pass on any knowledge he's picked up, whether it's [about] DJing or producing. So the topic of conversation was basically 'Oh, you're using this interface? Just from how you talk I think you should get this one.' He kept giving me tips and techniques!
He sounds like the type of person who is genuinely interested in the music you're making and actively wants to help you make it better, we say. "Exactly, and that's what that label's all about," agrees Cullen. "He's a really giving person, and a really chill person. If you watch his programme on Resident Advisor (the recently released Behind the Beats episode) that all comes across.
"I was just down in London a couple of weeks ago, and he took me to his studio," Cullen continues. "Never once did I feel like I was hanging out with someone who was you know, a bit famous. He was just totally on the level. It's quite funny, one piece of advice that he gave me, which was when he was talking about creating a project using Ableton or whatever software you're using, was about not overcooking it. He was like, 'whenever you're making dance music, you should only be using eight or ten tracks' – I think I ended up using twelve," Cullen laughs. "He really made me slim it all down, kind of less is more, you know?"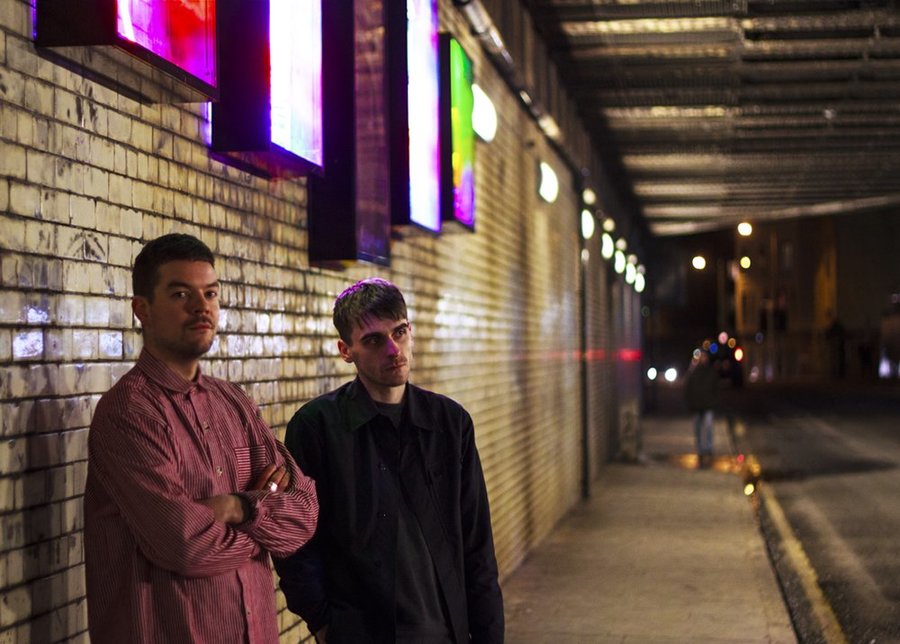 [Hi & Saberhägen by Monica Elizabeth Sgouros]
The new four track 12" Light On Leaves was released on 30 March. Whittled down from a huge number of selections, Cullen explains that Agius played a hands-on role in selecting which tracks would appear on the final product – with a bit of help from one of his well-known DJ contemporaries, Ben UFO.
"I sent him over a list of about 50 demos – which is quite a lot actually," Cullen laughs sheepishly. "There's our stuff, like me and Pete [Minn, the other half of Hi & Saberhägen], plus we also have a bunch of our own tracks. So we just sent him a pot to go through. But it was actually Ben UFO who picked the four tracks for the record. Well, I don't know if he picked them, but he definitely picked the running order.
"It was interesting," Cullen adds, "because it was kind of backwards to how I would have ordered it. But when I listened to it, it just made sense. It's interesting that someone else can hear your music, and arrange it in a way that seems to have more continuity than the order you initially went for."
With previous releases on labels such as Yumé, Permanent Vacation and Anthony Naples' (now defunct) Proibito imprint, Hi & Saberhägen specialise in leftfield house music, employing out-there effects and samples to a blueprint of dancefloor-driven deep house melodies. Their self-titled debut EP was released back in 2015 via Andrew Thomson's Huntleys + Palmers label.
"He gave us our first start," Cullen says of Thomson. "It was a huge deal for us. I remember when we got the vinyls, the three of us just went out and had a couple of drinks. I remember getting back to my flat and lying on my bed with a glass of wine and I took the record out and just started smelling it," admits Cullen as he bursts into laughter.
Fast forward a couple of years and Light On Leaves is one of their strongest productions to date. The opening track and lead single Loveless perfectly encapsulates the duo at their songwriting best. "I think it's probably the one that grabs you, with the most kind of instant, intriguing sound," Cullen agrees. "The vocal sample really sends through some strong emotion."
A crackling, hissing, down-tempo eight minute affair, Loveless features a beguiling vocal sample of influential Japanese underground musician Jun Togawa. "When we were writing these tracks I was kind of going through a pretty strong Japanese 80s pop phase," reveals Cullen with a slight laugh. "Her music itself is really fascinating and sporadic; it goes all over the place. There's operatic stuff, there's punk stuff.
The EP marks a new chapter for the duo; after a period of living and working together in Glasgow, they both made the move to Edinburgh last year. Light On Leaves is comprised of the first four tracks that the pair started writing following their relocation to the capital. "The reason it's called Light On Leaves, it's not poetic or anything like that, it's just because we moved to Leith," Cullen laughs. "It's just a kind of pun.
"That track (Light On Leaves) was actually the first thing we wrote," continues Cullen. "I didn't actually finish it until we got up to writing Loveless, so it was sitting there for about six months. I just kept going back to it and chipping away at it, and I think you can kind of hear that in the track. There's so many layers in it – it's almost a bit too heavy, I think. But it kind of works!"
Hi & Saberhägen's music is frequently catergorised as an 'outsider' or 'weird' take on the house genre. "I honestly think I'm incapable of writing something not weird. I think there is an art form to writing mainstream music. Being able to put something together that is really accessible, and mixes really well, and is conventionally a good track – for me, it's really hard to do something like that. For me, I almost hide behind the weirdness."
---
Light On Leaves is out now; Hi & Saberhägen play The Mash House, Edinburgh, Friday 13 April