Aim High: 11 Years of Hawkchild DIY
For eleven years now, Hawkchild DIY has offered up some of the most unorthodox and musically subversive artists in Scotland's clubs, with bookings includes Yung Lean, Kamixlo, Malibu, Oli XL, Doss, Bladee, and Casual Gabberz
Hashim Ali, also known by his night's name Hawkchild DIY, has been a mysterious yet consistent force within Scottish nightlife for eleven years. He first hosted gigs at the age of 15, at The 13th Note in Glasgow. Hashim laughs as he explains; "The staff thought I was a lot older than 15 at the time, due to the genre of music I was putting on." He notes how his journey into electronic music wasn't exactly conventional. "I kind of started with noise and power electronics, so I ended up working my way backwards in electronic music. For me, I ended up listening to house music at 21, rather than much earlier like a lot of people, I feel that's what maybe has made [my nights] a bit off-piste compared to a lot of others."
After having a few successful gigs during this earlier part of his promoting experience, Hashim remarks how he didn't necessarily make the most of the opportunities in front of him mainly due to his age – a lot of these early punk artists would later go on to have successful careers. However, for him putting on punk gigs became slightly stale; the scene had changed for Hashim, and he felt his gigs weren't going anywhere. In Hashim's sixth year of high school, he was really into artists like Lil Bean and Lil Ugly Mane. Hashim states, "it was the early days of Soundcloud rap, unchartered territory for producers and rappers in 2012/13.
"In the summer of 2013, I came across Yung Lean and the Swedish cohort. I got on well with their manager Emilio Fagone [co-founder of Year 0001], and we spoke about doing a Glasgow show with Yung Lean – this was not long before he first went viral with Kyoto in December 2013. I just knew I had to book him fast after that.
"I quickly messaged Emilio after this and locked in the Glasgow date, this was a part of Yung Lean's first tour. I was 18 at the time and they were roughly the same age, it was surreal. Ever since then, we've kept in touch. A relationship has been built with those guys in Sweden and has been reinforced since then. Ultimately this led me to go down a load of different paths since then, like meeting Dark0, MissingNo and Kamixlo and bringing them up to Glasgow at The Art School. I suppose it was like one network which we all knew each other from."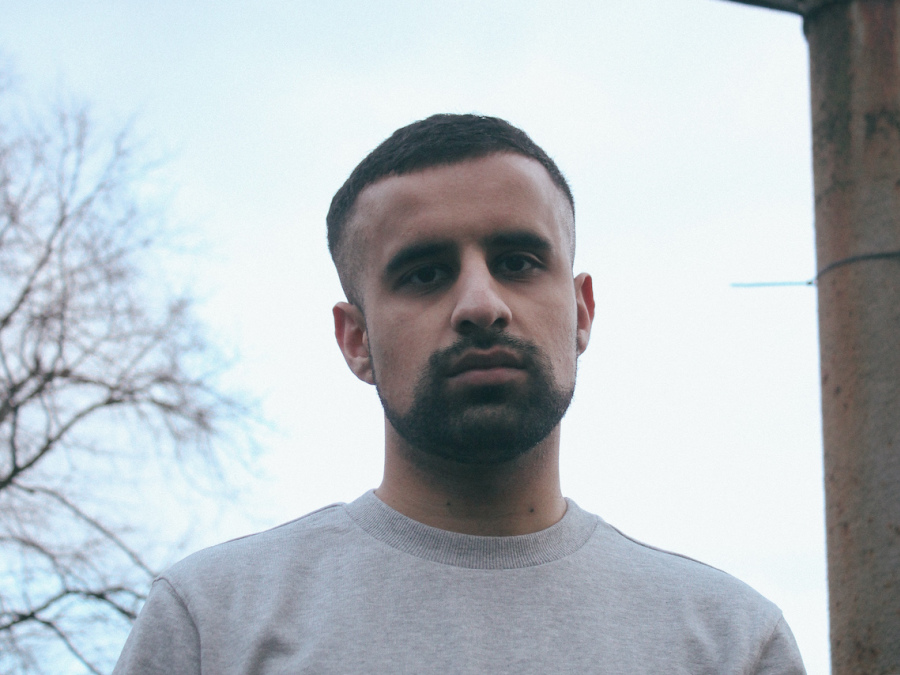 Hashim Ali, aka Hawkchild DIY. Photo: Euan Pearce
Hashim's luck of always being ahead of the curve with trends for artists who are about to make it big seems to be a recurring theme. Being involved with the early bookings of Drain Gang members in Scotland eventually led him to meet many other alternative artists, propelling him to produce bigger parties – arguably with festival-sized lineups. Hashim increasingly had been entrusted with booking lineups at the Art School in Glasgow after an array of sell-out shows, including another appearance from Yung Lean.
Eventually, this led to Evian Christ and Trance Party at the Art School and SWG3. Trance Party, like Hawkchild DIY, offers a compelling experience of understanding UK club culture; with a twist of satire. Increasingly the night (now mainly based in London) is at the forefront of bookings while preserving clubbing as a ridiculous phenomenon, one which promoters can often take too seriously – it is just people in a club dancing, after all. An evening at Hawkchild DIY and Trance Party bypasses egos and presents euphoria – people who are just in a club dancing and are open to music regardless of how weird the genre or song is.
Like a lot of promoters, Hashim hit a crossroads during the pandemic; he assumed his best years had passed him, and that the artists he had brought to Glasgow wouldn't appeal to a new generation of clubbers. "I decided to go down swinging and put on my first show since summer 2019 – Mechatok + Malibu. It went well, I thought there's been a huge appetite shift, this music isn't obscure anymore. There's been a generation of kids that have completely missed out on clubs, so their main foray is still up for grabs. A lot of the stuff I had pushed previously like Drain Gang seemed huge with the younger generation."
During Hashim's despair over whether he'd be able to put nights on again after 2020, he created the Hawkchild DIY Instagram as an archival tool of his previous gigs. This resulted in a dialogue between him and previous attendees of his nights, leading him to create a Discord. "There's not a space where you can discuss things like this anymore, RA got rid of its comment section, and it left a gap for people to chat online. I just created the Discord as a filler for this, some sort of forum replacement, where people can vent about music and make it light-hearted. I didn't expect so many people to join. It's nice, it also allows other promoters and artists to promote. My current successful nights wouldn't be without Discord – it's spread the night to other people."
---
Follow Hawkchild on Twitter @Hawkchild and Instagram @hawkchild.diy