Glasgow School of Art's Union Reborn
After two years residing in a temporary venue while the building was refitted, the Art School is back – we take a look at the refit, the upcoming clubs and gigs, and speak to Art School regulars including JD Twitch, Casual Sex, Lovers Rights, and Autechre
A little under two years ago, the Union of the Glasgow School of Art closed its doors to begin an extensive refurbishment project, bringing to a close a rich chapter in the city's cultural history. From the live debut of Orange Juice in the late 70s, to its significance as a cultural melting pot in the 80s, hosting gigs by everyone from visiting legends like The Clash to local heroes such as The Jesus and Mary Chain and Teenage Fanclub – a melting pot that also provided inspiration and a proving ground for artists like Jim Lambie, Douglas Gordon and Martin Boyce – to its role as a key player in the development of Glasgow's reputation as one of Europe's most important cities for rave culture and electronic music, helping to inspire and give birth to nights and labels like Optimo and LuckyMe, the Art School had enjoyed nearly four decades as the locus of the city's thriving alternative culture.
In October, The Skinny was lucky enough to take a tour of the new, purpose-built Art School Union. Walking through the building site to reach the new, re-designed building brings back a flood of memories from my own time as an Art School clubber, attending early-noughties nights like Freakmoves, Mungo's Hi-Fi and Test. Having retained the internal structure and several of the original walls, the exterior of the building has a pleasing familiarity, wrapped in an ultra-modern glass exterior, fusing modernist architectural minimalism with the original facade constructed in the 1930s by the architects who worked under Charles Rennie Mackintosh on the first designs.
Inside, the space has been reimagined, but with a careful and considered respect for the dynamic of the old venue. Alex Misick, the current Events Convenor for the GSA Students Association, tells us that the Vic Bar, on the lower level, will retain its original signage. "There was a student project in 1976 which was basically to build the Vic Bar," he explains. "There was a cafe down on the Victoria Road, in the Southside, and when it closed down, the students went and salvaged the interior of this 1930s cafe. That's where the Victoria Cafe sign comes from, and a lot of the interior elements."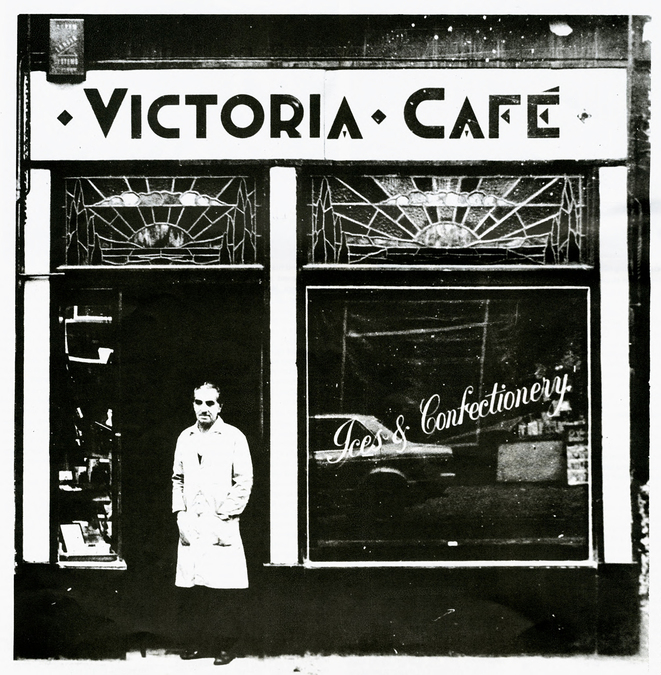 Moving upstairs into the formerly cavernous Assembly Hall, the main room which has played home to so many legendary club nights - from the almost mythical indie disco Splash One, to Andrew Divine's seminal Divine, through to more recent Art School institutions like Numbers – you can see what the project is aiming for. Dead space has been cut away, with cantilevers leading off the central space into bespoke project and gallery spaces, focusing the room on the newly-sprung dancefloor, overlooked by the tall Art Nouveau windows which are still a strong visual reminder of the original venue. Standing in the centre of the hall, I can feel the hairs on the back of my neck raising. The Art School is back, and when the refit is complete, it will be home to one of the highest-spec soundsystems in Glasgow.
---
"We want up and coming promoters, acts and managers to have a space here where they are able to try out new things, and to be given the opprtunity to experiment, and to take risks" – Joe Leightley
---
Misick, veteran Art School mover and shaker Alan Miller, and new Programmer and Live Production Manager Joe Leightley have big plans for the re-launch. Over coffees in the GSA Union's temporary home on Sauchiehall Street, they sit down to tell us about the history and importance of the venue, its enduring cultural significance and influence, and the exciting plans for the relaunch.
THE PAST
"The return of the Vic, and its adoption into the school, having been pulled into the main building, demonstrates a massive investment," says Alan Miller, who has run his own nights at the Art School in the early 2000s ad beyond. "It positions the Vic as an incredibly important creative space." The re-fit will allow he and his colleagues to bring the Art School back to its position as Glasgow's premier venue for alternative and electronic music: "It's now one of the best spec venues in Glasgow, but it's going to continue in that very creative direction, with a total focus on doing things which are new and different. Allowing stuff space to grow is a great thing, and it's a real testament to the Art School that they have done that."
The Art School Union has always been a place where people gathered to have fun - too big to house just the student population, it was throwing open its doors to the wider community of Glasgow from its opening in the 30s. Throughout the war years, it was used as a space for social dances and balls. Falling into disuse in the 50s and early 60s, the first generation to adopt it as a site for creating a cultural melting pot of artists, musicians and creative types came to the GSA as students in the 1970s – among their number was a young Muriel Gray, recently appointed to the GSA's Board of Governors.
"The moment it really developed as a music venue was when the rest of the campus was redeveloped in the 60s and 70s," says Alex. "The school ran out of money, and the Union was going to be demolished. But it was retained, and at that point it was passed over officially and became the Students Association." Gray's booking of the young Orange Juice would prove a model for things to come. By the mid 1970s, the GSA Union had "become this kind of cultural hub in its own right," says Misick. "It developed from there, through to The Clash playing there in the 80s, into the era of the development of electronic music in Scotland, in which it played a crucial role."
Miller, who witnessed the transition to electronic and alternative music which took place in the 90s and beyond from both sides of the decks, explains the importance of the Art School's role: "The real embryonic point came in the early 90s, when Divine took up residency there," he says. "Prior to Andrew Divine, the Vic didn't open on a Saturday. They didn't really have any club nights – it had sort of fallen out of usage. Divine really kicked it off as somewhere where clubbing happened."
Playing a mercurial mix of psychedelic 60s pop, Northern soul, krautrock, classic house, dub reggae and whatever else came to hand, Divine soon attracted a loyal following, and legendary indie disco Splash One, previously located at the now-defunct 46 West, also joined the roster of regular nights, providing a meeting place and hedonistic paradise for the crop of Scottish bands who had emerged from the post C86 music scene, including members of Primal Scream, Teenage Fanclub, The Soup Dragons and others.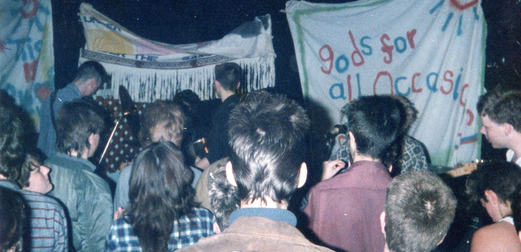 • Gods For All Occasions at The Art School, by Neil Menzies
Even then, the architecture played a huge part in the venue's appeal, according to Miller. "It was almost like because the building was so old, it retained a sort of charge.You would walk in and even though it was a bit manky, and stuff didn't really work, everyone would still get excited in a way that if you walk into a newer venue, you just wouldn't feel. Other clubs have kind of a wipe-clean personality. That means the energy is smeared out of it as well. In the Art School it was just charged with all the crazy stuff that had gone on there. The dirt and sweat was built up on the floor... but it retained that energy."
Divine was "the first club that began to mix up genres in a way that was simply not done," according to Miller. "It seems completely normal now, but back then it was completely new. It predated things like the Heavenly Social." One of the people in the crowds at those nights was a young Keith McIvor, later to be known as Optimo's DJ Twitch, a man whose influence on the modern Glasgow music scene cannot be overstated. Divine was one of his early inspirations. "Andrew Divine was incredibly influential, he's probably one of the only DJs Keith would cite as an influence on his music," says Alan. There were other legendary nights in the early days – the Far Out nights connected Glasgow to the emergent London beat scene, home to James Lavelle, head of the Mo' Wax label and the man behind UNKLE.
Optimo's JD Twitch has some strong memories of the Art School, remembering a "Bacchanalian rave" thrown as a wake for a local promoter and friend, and the final night before it closed down as some particular highlights. He speaks of the "huge outpouring of raw, unbridled creativity" which the venue has given birth to over the years, through the students who came to GSA and the clubbers who joined them at the Union. 
What would Twitch like to see coming out of the reviatlised Art School scene? "A lot of iconoclastic art and music," he says. "Music and art that forsakes any notion of forced coolness, that pays little or no attention to what is in vogue elsewhere, that doesn't fit into any easily pigeonholed genre, that takes risks and blows minds, that inspires ecstatic highs and kaleidoscopic flights of fancy, that doesn't care about and and isn't easily disseminated through social media 'channels." 
The Art School "began to be a place for people who wanted clubbing to be about new music, music that didn't fit in elsewhere," says Miller. "Glasgow had a very narrow idea of what club music was. There was the Sub Club, and other venues, there were house nights, but it was quite narrow – a London house idiom. That was considered to be clubbing – everything else was an indie disco. So the Art School was instrumental in this idea of clubbing fracturing."
The next generation of Art School devotees included a band called The Yummy Fur, featuring a young Alex Kapranos – Yummy Fur were one of the key projects he pursued before founding Franz Ferdinand. Members of Belle & Sebastian could regularly be found on the dancefloor, or at the bar. Jim Lambie, who had graduated from the Art School in 1994, was still a regular punter. Johnny Wilkes, who would later team up with Twitch to found Optimo, was one of the students who took part in the 1994 re-design of the Union. "You had a whole generation plugged into this little scene that was doing something incredibly new that the rest of the city didn't really consider to be 'club music,'" says Miller. "That really influenced a lot of people to go and do different stuff."
We discuss the long list of bands to have emerged from the social scene centering around the Art School –some of the people in these bands were graduates, others interested parties drawn in by the heady mix of glamour, fashion, avant garde aesthetics and an anything-goes, hedonistic atmosphere. The list is a long one – Older Mother, some of whom went on to become first Mother and The Addicts, and then Casual Sex; and Shitdisco, whose singer Joel Stone is now in Ubre Blanca with Andy Brown of Divorce – another band to emerge from the same melting pot; and Pro Forma, whose Paul Thomson went on to join Franz Ferdinand.
"The Glasgow art community is a village," says Stone. He and Joe Reeves, who founded Shitdisco, grew up together, but "the Art School was where the band came together. The social side of it, centred around the union, was where the band formed. The first stuff we did was in art projects. It was a cabin project where a guy got shipping containers and put them all around the city, and then people did installation pieces in them. That was how Shitdisco began. It was very much a product of that melting pot."
Sam Smith of Casual Sex recalls a particularly hedonistic Mother and The Addicts gig: "I remember our drummer Ian was in the throes of a deep psychedelic immersion, and was walking round the stage claiming he'd lost his drum kit which was neatly packed up at his feet. He then proceeded to tangle himself in the hardware." Why was the Art School so important to the city? "It was a great social hub, everyone at some point would be passing through the union, especially on Thursdays when it was a pound a pint." It was "the collision of many well lubricated minds," he says. "Many of the people I've been involved with musically I met hanging out at the Vic bar." Furthermore, "Glasgow provides an environment where artists can get on with doing what they want without the financial and social pressures of London. You're in an international city that feels like a village," he continues. "Glasgow is a very creative place. A unique environment, and this needs to be cherished and fostered above and beyond purely commercial developments."
"If you look back, many of these bands came from the post-Optimo scene, and were playing the CCA and the Art School in various different combinations," Miller recalls. "There are so many people who have been in so many bands, it gets crazy. Someone should do an insane family tree. It would be absolutely mental. You'd need funding. Maybe the Glasgow Miracle should out some money into that, instead of completely ignoring the music factor."
The Glasgow Miracle to which Miller refers is, of course, largely focused on the visual artists who have graduated from Glasgow School of Art, including Lambie, and also Douglas Gordon, Martin Boyce, Martin Creed, Richard Wright, David Shrigley, and Toby Paterson, to name just a few. Traditionally, as Miller points out, it is the visual arts towards which the main efforts of funding and investment have been directed. The Union building, although popular and vital right up until it closed its doors in 2011, was rarely acknowledged as a decisive factor in enabling the creative practice of these artists.
Miller believes that the art and music of that era are completely inseparable. "Jim Lambie was hanging about with the likes of Teenage Fanclub – his contemporary art practice is absolutely loaded with musical references, it's completely steeped in it. But when art critics look at his work, they don't really see it. So there's a massive under-development in that scene, which is conversely hugely powerful. It thrives at a grass roots level, which is difficult to understand, given how small Glasgow is compared to places like Manchester and London. It's massively represented in terms of music, electronic performance and contemporary art, in a way that other European cities simply aren't."
Furthermore, being around such a diverse cultural stew in their Art School Union drinking den encouraged an idiosyncratic approach in the work of these artists. "None of them represent a specific 'scene.' Their work is actually really very different," says Miller. "For a series of artists all of whom came out of the same institution in the same city to have a series of artistic gestures that they make which are all completely different from each other is quite surprising in itself. You would expect there to be a dominant style, like the Bauhaus school. What's also important is that they retained links with artistic mediums that weren't their own."
He points to Jim Lambie's ambitious project to open The Poetry Club in Glasgow, and to David Shrigley's artwork for Belle & Sebastian. "These projects demonstrate that these artists are still very well connected with other scenes. People like Toby Paterson – he came out of the skateboarding culture, and was constantly haunting nights like Hi Karate. When someone is so embedded in that kind of thing, there is a sensibility that draws in to their work."
And yet, the key role played by the musical culture around the Art School has never been properly acknowledged. "There is a lot of investment in the infrastructure of contemporary art, and that branch of artistic practice. But apart from the SAY Award, there's not a great deal of investment in the music sector, and there never really has been," says Miller. "That's strange, because it's really healthy, and it's one of the first creative mediums that drew attention to Glasgow." He cites the emergence, circa C86, of bands like The Pastels, The Jesus and Mary Chain and Primal Scream as an example of one of the most significant waves of Art School-related talent.
Reopening the Art School Union with a high-end soundsystem and a custom-designed, purpose-built site is key to redressing this balance, and as all three of the team behind the launch believe, it represents a massive vote of confidence in the importance and cultural significance of the Union from the Art School itself.
As the storied past of the Union is archived for exhibition, post-relaunch, the legacy of the Art School scene can not only be appreciated anew, and seen in context with the Glasgow Miracle – it can also ready itself to become the incubator for a new generation of creative talent.
THE PRESENT
"The first time I came up here was when I was thinking of coming to the Art School," remembers Alex Misick. "My friend took me down on a Thursday night. It was amazing. You walk in, and it almost kind of doesn't fit with the rest of the city – the way other bars and clubs present themselves. That's what struck me. It had a certain atmosphere – this sense of freedom. I just thought 'How can this place still exist?' It was this old, decrepit, huge venue that was almost owned by the students. It was one of the major things that attracted me to coming here."
Hugely passionate about the relaunch, Misick becomes very animated when discussing plans for the reopening - he believes it is "a miracle" that parts of the old building have been maintained, from the beautiful windows to the original steel beams supporting the structure. "The cost of doing that in relation to the ease of flattening it and starting from scratch is considerable, but it was recognised that not only did the students want it retained, but that the fabric of the building – the walls themselves – were so important." Most importantly, however, the new building contains a behemoth of a sound system, which will allow he and his colleagues even more scope to put on era-defining clubs and gigs. "That we'll be able to produce that clarity of sound is really important," he believes. "It's no longer just a great party space. It can actually deliver now, at the level it needs to, and cater to the acts who play."
Joe Leightley, who takes the lead in booking new club nights and electronic artists for the venue, is equally excited about the new space. "The new elements which have been built into it aren't particularly apologetic about the fact that they are new – instead of trying to create a museum piece, it's a refit. For all the nostalgic talk of the manky, comfortable, lived-in vibe, it was kind of falling down. The building had been literally shaken apart by bass."
What he and the team behind the relaunch have tried to focus on is maintaining what he calls "the intangibles" that made the space so significant. "What we have tried to do with the soundsystem is to facilitate building that atmosphere. The soundsystem is amazing – the spec if fantastic, so we have the opportunity to produce nights which create an atmosphere, and which return the venue to being a strong centre for art and music. We've done everything we can to facilitate that."
The old building is fondly remembered by the likes of Autechre's Rob Brown, who says: "It's up there as one of my favourite buildings in the country." He also recalls the energy of the Art School crowd, describing them as "very up for it."
The Niallist, who has been a regular DJ at the Art School since the early 2000s with nights like Menergy, says the venue has always had "a certain open-mindedness that lends itself to unusual collaborations and interesting work." He will be rocking the decks at the opening party. "GSA has always been very gay-friendly. Some of the most exciting dance music is coming out of the queer scene at the moment, and the Arty is always very forward thinking in those terms."
With the new soundsystem carefully attuned to bass frequencies, and a new lighting rig at his disposal, Leightley is looking forward to taking some creative risks, and programming an absolute who's who of experimental, electronic and alternative music. "With the audiovisual refit, the way we've approached that is to give the space the ability to change round very quickly." Misick agrees – the most important function of the new building is its adaptability. "It can cater to a whole diverse range of functions and audiences, so we can continue that tradition," he says. "We now have the facility to actually incorporate new stratas of artistic and musical performance."
Miller puts it into context: "The old building was never constrained by imagination, but it was heavily constrained by technical ability. There were lots of things which just could not be done., in terms of lighting, and dressage, and the spec of the soundsystem. But now we are in a position where we are not constrained by those technical restrictions at all. It's absolutely a brilliant, adaptable, high-tech space."
Another returning, but much improved feature will be the gallery spaces incorporated into the venue, each of which looks out on to the floor of the Assembly Hall. "Historically, there were always two gallery spaces - they've gone back, they're just built into different parts of the building," Misick explains. The new spaces are multifunctional: "It won't just be fine art projects that they can accommodate. There will be a high turnover of students using them. There could be two exhibitions, or installations, or happenings occurring in those spaces, potentially, every week. All of that links in with everything else occurring in the space. The new website will tie all those things together as a platform, and present them as a unified thing. Before, these kind of events happened in isolation. We're making a real effort this time to put them on the same platform." With the spaces freely available for installations, exhibitions and 'happenings' to every GSA student, the potential for new crossovers between the city's musical and visual art scenes is inherent.
Misick has also been overseeing the compilation of an archive of material about the history and significance of the Union, some of which will be on show after the re-launch, but which will continue to grow over the years to come. The collected material already includes fancy dress party photographs from Halloween balls in the 60s and 70s, an image of Martin Boyce in a bra at a GSA fashion show, and other curios. "There is already an element of this stuff in the GSA archives, but its under-represented, in terms of the amount of activity that actually took place in that space," says Misck. "It's an untold story about the Art School at large." Post-relaunch, that story will be told in full – and it will continue to unfold.
THE FUTURE
In terms of their plans for the future, the trio give me a very impressive taster menu of nights coming up in December and beyond, but I can tell from the way they glance furtively at one another that this is just the tip of the iceberg. "We have a good balance between in-house promotions and external promoters," says Leightley. Some legendary nights with a legacy at the Art School will be returning, including Mungo's Hi-Fi, who will be bringing along London grime collective Butters to man the Vic Bar.
"Our first ever show at the Art School was way back in 2001 for one of the old RADAR parties, and since then it's always been part of what we were up to in some way or another," says James Whelan of Mungo's Hi-Fi. "We moved our regular sessions there in 2006 when the Woodside Social Club shut down, and looking back now it was definitely the start of us putting together a proper heavy sound system and running some really memorable sessions, with a real stand out being our night with Jamaican rub-a-dub legend Ranking Joe." For Whelan, a vital part of the Art School's approach is their booking policy: "It's like a creative hub in itself. Rather than constraining promoters and artists, the venue encourages them."
Celebrating their 10th anniversary, Numbers will be returning with Hudson Mohawke and residents Jackmaster and Spencer. Leightley is also enthused about a series of high-profile 'in-house' nights, the first of which will host bass music innovators Shackleton and Appleblim, with support from Highlife and Auntie Flo. Gig-wise, there is a very special Chemikal Underground showcase planned, with a star-packed bill kept closely under wraps for now.
Other names mentioned for live appearances and DJ sets are CHVRCHES, Young Fathers and No Ceremony, who recently supported Foals on their European tour. "Then there are a lot of nights coming back which could only exist at the Art School," Misick chimes in. "Croque Monsieur versus Croque Madame, Balkanarama, Sub City, Vitamins, Cry Parrot, LuckyMe, Freaky Freaky, Optimo on Hogmanay - they will all be coming back."
Uppermost in their intentions is the effort to "reconnect with the history of the Glasgow music scene," says Leightley. Two forthcoming gigs that will do just that will feature Edwyn Collins on 15 December, and later on a gig from seminal Glasgow indie band The Pastels. Next year, the venue will host gigs as part of Celtic Connections, giving the Art School a strong connection to traditional and folk music in Scotland.
Katrina Mitchell of The Pastels shares a memory from her time at the Union: "Calvin Johnson once played a club night at the art school. He came on around midnight with his acoustic slung over his shoulder, after the DJs had been spinning for a couple of hours. He likes to play off-mic but the crowd was loud and mostly didn't notice he'd started. So after a couple of songs he decided to move the show outdoors, and invited anyone who gave a fuck, as he said, to follow him. A few of us trooped outside to the enclosed space between the Vic Bar and the Newberry Tower where we sat on the ground for an incredible performance which came to a gentle finish when a downpour threatened. We stood up after the song finished and the dry shapes on the concrete spotted over with heavy drops of Glasgow night rain..."
Another Glasgow duo who have strong memories of the Art School as a venue are recent graduates, duo Richard McMaster of Silk Cut and Golden Teacher, and Tom Marshallsay, aka Dam Mantle, who play together as Lovers' Rights. McMaster recalls the final night of Croc Monsieur vs. Croc Madame. It was "the second to last night of [the Union] being open. I walked into a packed room full of people watching Ian Campbell drink about 6 litres of milk without any pants on and proceeding to throw up all over stage while Fritz Welch did some pretty mind bending music..."
Asked what he thinks made the Art School such a successful place for the enjoyment of both art and hedonism, Marshallsay is reticent: "I really don't know, and even if I did I wouldn't want to reveal the secret," he says with a smile. "This city is just a magnet for good people... people who share a similar attitude towards making and organising things for the right reasons." Asked about his hopes for the future of the venue, he says: "My only hope is that people keep partying."
"The best thing about the new building is that it is way over spec'd," says McMaster. "It'll keep on having some great parties in it and the sound quality should be amazing. The Vic is really the only alternative mid-sized venue in the city and since it shut a lot of interesting nights have either stopped or have drastically had to change over the last few years."  
Perhaps the most exciting (and for the new venue, the most promising) event planned is the Scottish debut of Leisure System, a club night usually found in the legendary Berlin club Berghain, and run by electronic maverick Jon Hopkins. His first outing in the new venue will feature live sets from Dopplereffekt and Warp legend Clark. A night of this scale, appeal and renown coming to Glasgow is a landmark – it shows exactly how highly thought of the venue still is, even after a two-year absence, and following an as-yet untested refit.
Looking ahead to February, expect a visit from Hyperdub luminary Kode9. Leightley flashes me a broad grin, clearly keen to say more, but also eager to keep a few aces up his sleeve. "The longer we look forward, the more artists are involved," he says.
And what of the next wave of Glasgow bands, DJs and promoters – what kind of deals can they look forward to at the Art School? "We are striving to enable their progression in their chosen career and area of music," says Leightley. "Everything we are doing is about including the city – trying to maintain those clutural aspects of the music of Glasgow, and develop in line with other areas, where maybe there hasn't been so much of certain types of music. We're trying to expand. We want up and coming promoters, acts and managers - whatever realm of the music industry exists within the city - all to have a space here where they are able to try out new things, and to be given the opportunity to experiment, and to take risks. We want to encourage that, and build a sphere around that for constant development of innovative music and events."
Leightley talks of the most recent crop of Art School graduates and affiliates, many of whom have been putting on nights in the temporary space on Sauchiehall Street. "It's a very rich and talented bunch – Golden Teacher, Aggi Doom, Silk Cut, Dam Mantle. They're all recent graduates who have gone on to colonise different aspects of the Glasgow music scene. It's very much our aim to bring all of these people back. The Vic being smaller and more intimate makes it a perfect platform for people to try out their first thing, whether DJing, or playing live. We've got an amazing venue, a diverse programme, and brilliant facilities in place. We'll be back with a bang, and we will sustain that over the years to come."
---
• UPDATE (Tuesday, 19 November): At time of going to press the above information regarding the Vic's December events was correct, however the reopening has since been postponed. To read more on the matter read the official statement here, and keep an eye on The Skinny for more information on the new date.