Spread Your Wings: Giant Swan shake up the electronic status quo
Giant Swan are breaking down all kinds of barriers in the electronic music scene. Ahead of the release of their debut album and first ever headline tour this month, we speak to the progressive duo
Trying to describe Giant Swan is no easy feat, and it's probably best it stays that way. The Bristol duo, comprising of Robin Stewart and Harry Wright, are currently one of the most exciting acts in electronic music, and a large part of that excitement is due to the inability to put them in any kind of box.
There are no restrictions when it comes to their fanbase either, and you're as likely to find a techno-head at one of their gigs as you are a mosher, such is their diverse and widespread appeal. At their raucous live shows, you can usually find the pair thrashing around and riling up the crowd, as well as each other, with their infectious energy, while performing a largely improvised set using guitar pedals, amps and drum machines.
Giant Swan are definitely not your typical techno duo, but that's a good thing. They're a breath of fresh air in an industry that has for too long suffered from a purist attitude and that is too often at risk of turning into a parody of itself. "We learned a lot about DJ culture just from feeling that we were kind of dropped in it really," says Wright. "There are certain etiquettes that exist almost just within DJ culture."
Stewart adds: "People who bitch about it, they create the environment where it's part of it to care about that and it's just weird… It doesn't encourage people to contribute in new and exciting ways if you're just devout to something in a really close-minded fashion... it just goes against the spirit of techno and dance music completely."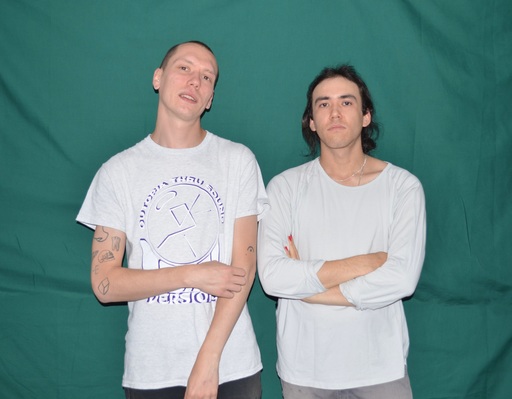 Robin Stewart (left) and Harry Wright of Giant Swan. Photo: Keith Leaf
Much of the duo's lack of pretentiousness can be attributed to their humble musical beginnings and close relationship, having grown up together and spent their formative years in previous band The Naturals. It was a chance incident almost ten years ago, though, that eventually developed into what we now know as Giant Swan, when Stewart enlisted Wright's help mixing some music for a project he was working on for Bristol art gallery Arnolfini.
"About that long ago we started playing, just the two of us, with the idea of doing something different," says Stewart, before Wright retorts: "I don't think it was actually ten years… I think it's more like eight years actually." While they eventually agree – following a lengthy debate – that the groundwork for a future project was laid following that endeavour in 2009, it took them a good few years to properly consider it as a legitimate prospect.
"It was probably closer to like 2011/12 when we actually started putting together different circuits of gear and just pretending for a little," says Stewart. "It feels like different bands, like every three years we kind of changed quite dramatically… so I guess from, like, 2013/14 we were really getting into the way we were playing together in this new way."
Chance is something that has played a part in the development of Giant Swan on more than one occasion, too. When Wright broke his arm before they played their "first show in a dance context", he says, they were forced to improvise. "I bought this looper pedal, which would store guitar loops and had this sort of metronome on it that had this basic kick drum, and we used that as a basis to accompany the stuff I could do with one hand; from then it just kind of grew and we got used to having drums as an element," Wright continues.
Now nearly ten years into the band's existence, give or take, the duo are preparing to release their debut album and head out on their first ever headline tour as Giant Swan. With the announcement of their self-titled debut album also came the announcement of the launch of their own label, Keck, on which the album will be released. While launching your own label is becoming much more commonplace in electronic music nowadays, it's another move demonstrating the duo's uncompromising attitude to making and releasing music.
"As soon as you sign with a label, or not even sign, just if you release your music with any label that's already got an agenda, you do sort of compromise something… We've always felt quite on the outside of whatever scene we're in and I think just having our own label for our own album... we wanted it to be just completely ours," says Stewart. Wright adds: "Arguably, a good working relationship with a label is you both building something together and, for us, it didn't make sense to build something with someone else because we had such a clear idea of what we wanted to do."
That clarity extends to their aforementioned live shows. With them, the duo flip the idea of a live club set on its head and recontextualise what it means to perform in a club environment. There's an unrivalled energy to their shows unlike many other club performances, and they're breaking down barriers in their attitude towards these as much as they are through their music alone. "There was a gig we did in Paris a few years ago where we were still playing guitars and we had like a set; it was much less free-form than it is now," begins Stewart.
"We only played for about 20/25 minutes, and at this particular show we were playing at about five/six in the morning, and we were met with this really ridiculous response of people being like, 'what the fuck are you doing? You've got to keep going'...  and then I think our performance became more involved with what the club setting really is, like what it's for," he continues. "Our performance became more about, I guess, injecting what we want to see in the club, what we want to hear at a techno gig... you get our version of the rave, which has come from a really exploratory place."
Giant Swan are shaking up the status quo in the electronic music scene in such a massive way that's, hopefully, indicative of a bigger change looming on the horizon; it's one that is incredibly exciting and one that feels like it's been a long time coming. We'll gladly take their version of a rave any day.
---
Giant Swan is released on 8 Nov via Keck
Giant Swan play Room 2, Glasgow, 15 Nov
facebook.com/giantswanmusic