Introducing Rinse FM's Sneaky Pete's residency
With Rinse FM taking over Sneaky Pete's every Wednesday in June, we speak to Heaters' founder Chris Murray and Huntleys + Palmers boss Andrew Thomson about the month-long residency
Over the last 15 years, London-based community radio station Rinse FM has offered a platform to both emerging and established DJs to showcase their talents and musical interests through a series of regular or one-off shows on the online radio station. This month, the station is taking the magic beyond the airwaves and back into the clubs, with two month-long residency programmes.
While the London residency is set to take over Thursday nights at East London club The Pickle Factory, the Edinburgh edition slots in on Wednesday nights at Sneaky's regular midweek party Heaters. Chris Murray, aka C-Shaman, is the brains behind the night, having launched Heaters at Sneaky Pete's in January last year. "I was fortunate to come in at the time that I did because obviously Witness were moving on to do different things, which left the space," he says. "I never expected to be offered the weekly residency – that was a real amazing moment."
In anticipation of the upcoming residency, Murray assisted in programming a 12-hour Heaters takeover on Rinse FM, demonstrating the wealth of talent Edinburgh currently has to offer, with the likes of Sneaky's regulars Telfort, Percy Main and Miss World all contributing an hour each. "It's been such a good opportunity for me to get to work with such a diverse bunch of people who are into a really broad range of stuff, and then put them on a radio station that is massive, to be like 'this is a little slice of Edinburgh from this Wednesday club night at this 100-person venue'," says Murray.
When it came to booking the acts for the residency, the team at Heaters and Sneaky's focused on teaming up a headline act, each of whom present shows on Rinse, with a local support act for each night. "We obviously had a list of people that are Rinse residents, then we kind of went through them, whittled a few names down just with availability and stuff, then got the four guests that we've got, which we're really happy about," he says. "Then it was just kind of looking at, for example, Jess Cohen is like the perfect fit for warming up for object blue… And Andrew [Thomson] from Huntleys + Palmers…because he's done stuff with Lionoil before, I got Matt [Belcher, aka Percy Main] involved for that warm-up."
Thomson kicks off the residency on the first Wednesday in June, ahead of a trio of London-based DJs, and fellow Rinse show-holders, object blue, Willow and Laurence Guy. Now approaching his fifth year on the station, Thomson began his Huntleys + Palmers show with friend and fellow Glasgow-based DJ Auntie Flo, but as of last year he now presents the show himself, with Auntie Flo moving on to present a solo show on Worldwide FM.
In a similar vein to Murray's Rinse takeover showcasing Scottish talent, Thomson recently put together a 16-hour broadcast showcasing DJs and producers he came across during his recent travels in Latin America. "Since I stopped promoting – it was like the end of 2017 – I've just been DJing all the time… so now I've been able to explore different parts of the world," he says. "Over the years I've just been building up this network – and it was a totally organic, natural thing – but over time I was bringing over people whose music I liked, and then we became friends and the invitation was always there from them to bring me to wherever they lived.
"The one interesting thing for me, especially in that part of the world, is… like I was mostly the gringo guy in every place I DJed; I was almost considered this exotic being because I came from Europe and it was a little bit weird to be in that position. I became really self-aware of the privilege of just running a label and being based in Europe. If I was doing the same thing and I lived in Colombia or wherever it would be a different thing, you would feel like you were detached from this community."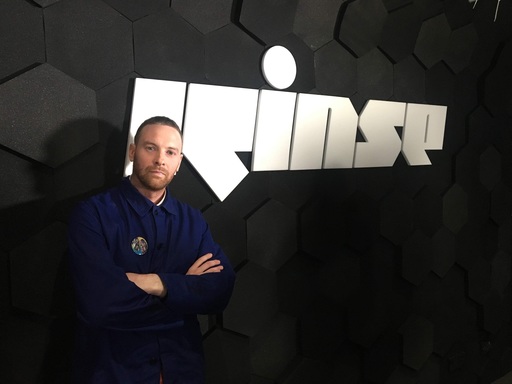 While Thomson was on his travels, Chile-born, Brazil-based producer Valesuchi called out renowned Amsterdam dance music festival Dekmantel for its failure to book a single Latin American artist on its 2019 line-up, despite the festival claiming Brazil to be its second home. This became a prominent topic of conversation during Thomson's travels. "That ended up defining my trip as well, as every city I was visiting I kept bumping into people who were affected by this in some way or they had an opinion about it, and it was really interesting. It became this continual talking point the whole time I was away," says Thomson.
With community radio seemingly having a bit of a moment in the dance music community, and with two new stations opening in Scotland in the last year alone – LP Radio in Glasgow and EH-FM in Edinburgh – there is clearly an increase in appetite for the platform. The ability to provide a platform for artists who don't often get that much exposure on this side of the world is one of the reasons Thomson says he is drawn to community radio. "One of the things I was beginning to find frustrating with promoting events was that my interest in new and diverse artists was at odds with the growing demand to book headliners and those who were guaranteed to sell tickets," he says.
"So radio has been an amazing outlet to allow me to pursue this and share the platform I have with amazing and emerging artists from all over the world; some of those have been on my radar and I'd love to have booked them at one point in time, others are people I've met on my travels and they've blown me away, and I'm really grateful for Rinse to allow me to do this without the pressure of having big names."
While on a more localised scale, with his weekly 6-8pm slot on EH-FM, the appeal for Murray comes from the ability to communicate and share ideas with fellow promoters and DJs on the local scene in less anti-social circumstances. "One of the big allures for me is having this non-club-orientated music space, and a more sober networking environment I think as well. There's actual room to make connections outwith 100 decibels and smoking areas," he says.
Community radio stations like Rinse FM have certainly helped pave the way for similar stations to crop up across the UK, and with this series of club residencies throughout the month it looks set to further prove its enduring relevance and importance in dance music culture.
---
Heaters & Rinse FM present: Andrew Thomson, 5 Jun; object blue, 12 Jun; Willow, 19 Jun; Laurence Guy, 26 Jun; all nights at Sneaky Pete's, Edinburgh
https://rinse.fm/sneakypetes/