Roald Dahl's Matilda turns 30
And to mark the occasion, the great Quentin Blake has drawn new illustrations imagining Matilda as an adult
Want to feel old? Roald Dahl's Matilda, the five-and-a-half-year-old bookworm with telekinetic powers, would now be in her mid-30s. This children's book was released 30 years ago today in 1988, and follows a precocious young girl called Matilda Wormwood, who has horrible parents, a bully for an older brother, and at school has to contend with a tyrannical, hammer-throwing head teacher called Miss Trunchbull. Luckily for Matilda, she has telekinetic powers that lets her get her own back at the horrible people in her life.
To mark this 30th anniversary, the great Quentin Blake, who illustrated Matilda and many of Roald Dahl's other books, has drawn a series of panels imagining who the character might have grown to be as an adult, which appear in the anniversary edition of Matilda.
"Since, as a small child, Matilda was gifted in several ways, it wasn't very difficult," writes Blake in the forward to his new illustrations. "I imagined that for each version of our grown-up Matilda one of her extraordinary talents would have come to the fore and shown her a role in real life."
In one of the illustrations, for example, Blake imagines her as the head of the British library. "I am sure that someone who had read so many books when she was small could easily have become chief executive of the British Library."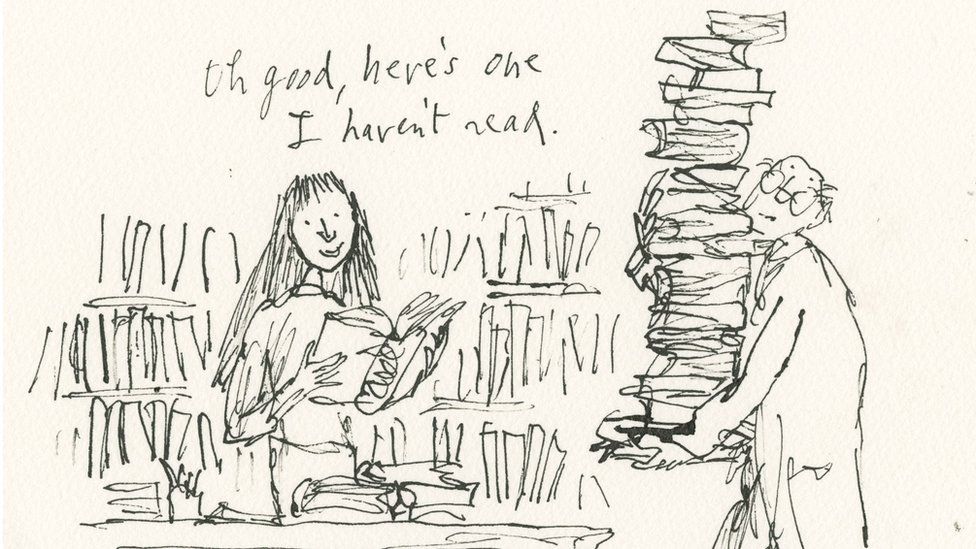 Matilda as CEO of British Library | image: Quentin Blake
The 85-year old illustrator also imagines Dahl's heroine as a genius physicist, an intrepid explorer, a hairdresser, the Poet laureate, a Hollywood FX whizz and a wrestler. "It has been very special to revisit her all these years later and marvel at the woman she would have become," writes Blake. All of the illustrations can be found over at the Guardian.
Whether you know Matilda from Dahl's book, the witty 1996 film adaptation directed by Danny Devito, or the multi-award winning musical by Dennis Kelly with music and lyrics by Tim Minchin, she's a rare role model for girls who's worth celebrating. In fact, she's such a rebellious icon that she's been made into a statue standing up to Donald Trump in a temporary artwork erected in Great Missenden, where Dahl lived for 36 years – full story on BBC.
Bernie Hall, from The Roald Dahl Story Company, said that Matilda is a great symbol of defiance for anyone feeling downtrodden in 2018. "Matilda demonstrates that it's possible for anyone, no matter how small and powerless they feel, to defeat the Trunchbulls in their own lives – a message that feels even more relevant today than it did 30 years ago."
---
Matilda at 30: 30th Anniversary Edition is published by Penguin Random House