Fancy joining Scotland's national quidditch team?
Scotland's first ever national quidditch team, the Scottish Thistles, will compete in the 2018 Quidditch Premier League!
Do you remember quidditch, that sport they play in the Harry Potter books that involves broomsticks and a flying gold ball called 'the golden snitch'? Well now there's a real life version of the sport that has its own official league and everything. If the idea of grown human adults pretending to be wizard jocks wasn't embarrassing enough, now Scotland has got in on the action.
The Quidditch Premier League (or QPL), described as "an elite quidditch league that represents the sport in the United Kingdom", has been going since 2017, and this year a team from Scotland (named The Scottish Thistles) and Wales (named the Welsh Dragons) are joining the fun.
A total of ten teams from across the UK will be competing to become national champions of the sport, with the Scottish Thistles playing in the northern division of the league, competing in divisional fixtures against the Northern Watch, East Midland Archers, West Midlands Revolution, and the Yorkshire Roses before heading to the 2018 Championship.
Fancy playing yourself? Tryouts for the Scottish Thistles are being held in Spring 2018 and will be open to anyone residing in Scotland during the summer of 2018 or of Scottish birth, with both new and experienced players expected to compete for a spot on the team.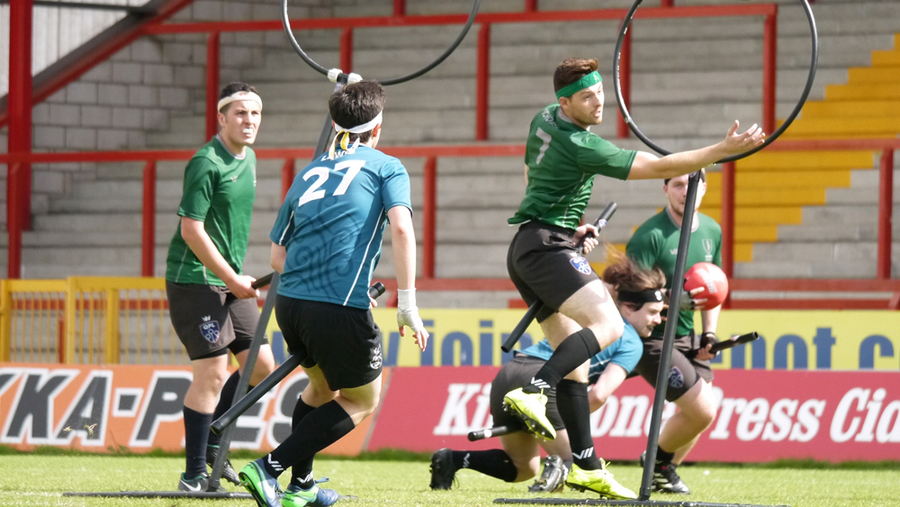 People playing quidditch – image: Jessica Cornelius
"I am so excited to be launching the Scottish Thistles and the Welsh Dragons within the Quidditch Premier League in 2018," said the league's director, Jack Lennard. "When we started last year, we were disappointed at having to limit our reach; now we can finally do justice to the amazing communities of players in these countries.
"To now have Welsh and Scottish national teams is incredible, and I hope it really galvanises engagement with the sport there. We want as much local support as possible – including local businesses sponsoring the teams! So make sure you keep an eye out for the 2018 tryout and fixture dates so you can cheer your country on."
While the idea of adults pretending to fly around a hockey field on broomsticks is pretty daft, there are some cool aspects to the sport. It's mixed gender, for example, and with an emphasis on LGBTQ+ inclusivity. If you want to learn more about the Quidditch Premier League and the Scottish Thistles, you can visit quidditchpremierleague.com and their Facebook page.